DSW Participates in Woodhull's 2019 Freedom Summit (August 18, 2019)
DSW's Kaytlin Bailey attended the 10th annual Woodhull's 2019 Sexual Freedom Summit hosted in Washington, DC. She connected to sex worker rights activists and sexual freedom advocates from all over the country. Attending panels, presentations, and performances, Kaytlin was able to get a broad perspective on the issues plaguing sex workers and their allies in different states.
Kaytlin was especially moved by DC's Helping Individual Prostitutes Survive (HIPS) and the transgendered women willing to speak to the systemic issues that bar them from fully participating in some advocacy organizations. She connected with criminalized sex workers in Nevada, got to hang out with living legend Carol Leigh, participated in an incredibly informative discussion about using a human rights framework to advocate for sex workers' health and safety led by Dr. Jill McCracken, and had many conversations about strategy and pushing for a better future for all of us.
Sex workers are not a homogenous group. We come in all colors and creeds, we come to this work for different reasons, and we have wildly different experiences—but allies from across the political spectrum can work together toward a future where our lawmakers listen to sex workers and stop the arrests.
DSW Makes Its Case at National Conference of State Legislatures (August 6-8, 2019)
Melissa Broudo, DSW's general council and RI coordinator, and Kaytlin Bailey, DSW's communications director, met with state legislators from all over the country at the National Conference of State Legislatures annual meeting, which was hosted this year in Nashville, TN.
DSW handed out fliers, t-shirts and buttons, and we started conversations with lawmakers pressing the point that the best way to end violence and exploitation within the sex trade is to stop arresting consenting adults engaged in sex work. To demonstrate the difference between trafficking and sex work, we compared the high-profile cases of Jeffrey Epstein—a serial predator who preyed on children and should have been stopped years ago—and Robert Kraft, a single 70-year-old man who payed a 40-year-old legally licensed masseuse to rub a different part of his body.
DSW was very well received. We ran out of t-shirts within the first hour and ran out of buttons on the first day. Legislators from across the political spectrum and country were ready to talk about decriminalization. Many lawmakers seemed to understand that this is not a problem we can arrest our way out of. Several legislators pledged to begin forming coalitions and pressing their colleagues using the information we presented.
Nevertheless She Existed: Kaytlin Bailey Presents a Sex Worker From History (July 31, 2019)
DSW's Kaytlin Bailey participated in Nevertheless She Existed, a live show and podcast produced at Caveat Theater. She told the story of Phryne, a famous courtesan in the classical Greek period who defended herself against blasphemy charges by disrobing in front of the all-male jury and declaring her perfect body a gift from the gods. She won her case.
This show specifically highlighted the contribution sex workers have been making to their communities for literally all of human history. Junior Mintt reminded us what an undeniable powerhouse Josephine Baker was in her lifetime. Solange Azor talked about one of the founding mothers of the sex worker rights movement, Margo St. James, who created COYOTE, and Anna Bianco talked about the incredible achievements of Theodora, who became empress of Rome in 527 after spending some time in a brothel in the Roman Empire.
Queer Liberation March: Pride Without Barriers in NYC, June 30, 2019
DSW attended the Queer Liberation March and political rally that followed on June 30, organized by the Reclaim Pride Coalition to commemorate the 50-year anniversary of the Stonewall riots. The march took place on the same day as the NYC Pride Parade, which also hosted World Pride this year, but without corporate sponsors or police officers present. The Reclaim Pride Coalition, represented in a WBUR interview by their attorney and former executive director of the New York Civil Liberties Union Normal Siegel, wants to ensure that Stonewall50 lives up to the original spirit and intent of the first marchers in the June 1969 uprising: "the freedom to be who you are and to take pride in that." The message of the Queer Liberation March is to stand "in solidarity with other oppressed groups, to demand social and economic justice worldwide."
Reclaim Pride Coalition Art Build
The Wednesday before Pride, the coalition hosted an art build in which all kinds of activists got their heads and hearts together to make art, signs, posters and banners for the Queer Liberation March and Rally. The build united criminalized bodies against corporate control, erasure, and violence and provided an understanding of the breadth of the movement and the identities for whom it holds significance. DSW Communications Director Kaytlin Bailey attended and collaborated on two signs representing our message: "Listen to sex workers" and "Prostitution isn't the problem, it's the patriarchy."
The Rally: Rights and Safety for All
Well before the march started, crowds had gathered at Sheridan Square, holding signs and sporting black, pink and gold attire. The energy and love in the streets was breathtaking. The march took place along the historic root, up Sixth Avenue and into Central Park, where a First Amendment political rally took place from 1-4pm, addressing the biases, homophobia and stereotyping of the LGBTQIA community that persist today. As the crowd walked up town, a moment of silence was held at 11am to commemorate those in the LGBTQIA* community lost to violence, stigma, racism, HIV/AIDS, and lack of access to safety or health care, particularly trans women of color.
The coalition wants to highlight that, though progress has been made, the queer and trans communities, especially individuals of color, are still stereotyped, harassed and criminalized on a day-to-day basis. The march was open to the public, without sidewalk barriers or police presence. It concluded on the great lawn of Central Park. The rally hosted speakers, performers and a display of the artwork that community members and allies had made for the event. Speakers included Larry Kramer and Jason Walker from ACT UP, Black Trans Media Representatives Sasha Alexander and Olympia Sudan, and many more. DSW feels so privileged to have been able to participate and see the wonderful community this march created.
St. James Infirmary 20th Anniversary Gala, June 2, 2019
DSW co-sponsored the St. James Infirmary 20th Anniversary Gala held on June 2. Kaytlin Bailey celebrated their incredible work in San Francisco along with hundreds of donors, activists, service providers, and celebrity guests.
St. James Infirmary is the first peer-based medical service provider created by and for sex workers. It started as a coalition between Call Off Your Old Tired Ethics (COYOTE), Erotic Dancers Alliance (EDA), and the San Francisco Department of Public Health.
DIGNITY — Law and Society Association Conference, June 1, 2019
DSW's Kaytlin Bailey and Melissa Broudo attended this year's Law and Society Association Conference in Washington, DC. Bailey attended an incredible meeting hosted by National Ugly Mugs, a peer-based group in the United Kingdom that helps sex workers exchange information about dangerous clients, and Helping Individual Prostitutes Survive (HIPS), a peer-based community support organization in DC.
Bailey presented an abbreviated history of the criminalization and censorship of sex workers on a panel about the impact of FOSTA and SESTA. Her co-presenters demonstrated the empirical evidence they have collected demonstrating the widespread detrimental impact this law has had on people both in and adjacent to the sex industry.
Broudo spoke on another panel, elaborating on the many interconnected strategies working towards decriminalization. Her co-presenters spoke to the competing frameworks, obstacles, and growing momentum behind the international movement to end the prohibition of prostitution.
stossel: Moral Panic Over Sex Work, May 14, 2019
DSW's Kaytlin Bailey made an appearance on John Stossel's show to draw attention to what multiple agencies in Florida called a "rescue operation." All of the women law enforcement claims to have "rescued" from "sex trafficking" are currently facing criminal charges. Robert Kraft's high-profile hand job drew national media attention to this case, but these stings are part of a disturbing national trend.
DSW Hosts Unity Reception in NYC, May 2, 2019
DSW hosted a delightful evening that was both a celebration and a rallying cry at the Cornell Club in NYC. With exquisite performances by Essence Revealed and sweet jams by DJ Mikey Palms, speakers included Dame Catherine Healy (from New Zealand), Ceyenne Doroshow, and DSW's Kaytlin Bailey. Activists, donors, and reporters came together to celebrate and commit to the long road ahead fighting for a future where we listen to sex workers and offer help — not handcuffs.
Our guest of honor, Dame Catherine Healy, is a former sex worker and lifelong activist who was bestowed the title "Dame" by Queen Elizabeth II for her successful campaign to decriminalize sex work in New Zealand. She has worked toward better working conditions for sex workers for over 20 years. She treated those gathered to some incredible insight and inspiring words. We will all look back on that night in the difficult years to come.
She came to the United States to meet with us and other activists to strategize and discuss her methods for achieving her legislative victories. In addition to joining us in New York, she also offered compelling testimony in Rhode Island and met with activists in San Francisco, Seattle, and Honolulu.
Dame Catherine Healy wows the crowd with words of wisdom May 2 at the Cornell Club.
Kaytlin Bailey, Kat Timf, Ceyenne Doroshow and Lee Quan stand in solidarity for sex worker rights.
Essence Revealed wows the crowd of supporters May 2 at the Cornell Club.
Essence Revealed strikes a pose with Ceyenne Doroshow at the Cornell Club on May 2.
DSW's Kaytlin Bailey lets those gathered know who we are and what we're trying to do on May 2 at the Cornell Club.
J Leigh Brantly, Melissa Broudo, Kaytlin Bailey, Crystal DeBoise, Avery Mauel, and Dame Catherine Healy on May 2 at the Cornell Club.
Experts Urge RI Legislators to Study Decriminalization, April 30, 2019
After months of planning and inviting an all-star cast of witnesses, DSW had its first hearing before the House Judiciary Committee of the Rhode Island Legislature. State Rep. Anastasia Williams (D) presented bill H5354, which would create a temporary commission to study the effects of laws prohibiting commercial sexual activity. Approximately 15 witnesses, invited by DSW and COYOTE Rhode Island, testified in favor of the bill, with no witnesses opposed. The potential study commission would be a crucial first step to legislative acceptance of decriminalizing sex work, as the commission is expected to provide accurate data and thoughtful recommendations to state officials in early 2020.
We had more than 35 letters of support from individuals and organizations all over the country including Amnesty International, St. James' Infirmary, Dame Catherine Healy, SWOP Behind Bars, and many more.
This lobby process and bill could not have been possible without the incredible work and partnership with COYOTE Rhode Island and students, faculty, and staff at Brown University.
Top photo: Kate Mogulescu, Esq., lead attorney for the ABA Survivor Reentry Project; Jillian Modzeleski, Esq., senior trial attorney for Human Trafficking Intervention Court; Dame Catherine Healy; Jill McCracken, PhD; Scott Cunningham, PhD; and Melissa Broudo, Esq. (L to R) work to prepare for their testimony before the RI House Judiciary Committee.
Bottom photo: Jillian Modzeleski, Esq.; Elena Shih, PhD; Bella Robinson from COYOTE RI; Malana Krongelb, Brown student; Dayana Taverez, Brown student; Dame Catherine Healy; Scott Cunningham, PhD; Jill McCracken, PhD; Kate Mogulescu, Esq.; Yeonhoo Cho, Brown student; Melissa Broudo, Esq.; and Meghan Peterson, MPH candidate from Brown University (L to R) celebrate after their testimony before the RI House Judiciary Committee.
Read the bill text here and watch the testimony here.
From UpriseRI: Rhode Island House considers creating a study commission to examine laws on sex work
DSW Billboard Challenges Lawmakers in Florida, April 27, 2019
Multiple police departments in Florida have recently staged news conferences to cast themselves as heroes who have "rescued" women from "slavery" … by handcuffing them. 
Devastating stings that result in criminal records and broken families are common, but when Robert Kraft, the widowed owner of the New England Patriots, received a high-profile hand job it provided an opportunity to show people what these "rescue" operations actually look like.
The billboard shows a Chinese woman being arrested, which is exactly what Florida police officers did to the 14 working at 10 massage parlors in south Florida. Handcuffs are not help. Arrest is not rescue. Policing is not protection.
We hope that what's happening to sex workers in Florida is a national wake-up call and a teachable moment. We all want to stop trafficking, violence, and exploitation within the sex industry. No one is more invested in stopping this abuse than sex workers themselves. Instead of arresting them, we should be listening.
This billboard, which DSW workshopped, designed, and sponsored, was up for 4 weeks in April and May 2019 to highlight the hypocrisy of doing prostitution raids in the name of "human trafficking"
Sex Workers Host News Conference in Florida, April 22, 2019
All eyes are on Florida because of the high-profile stings on massage parlors. DSW teamed up with sex workers and allies in Florida to draw attention to what criminalizing sex work actually looks like: vulnerable women in handcuffs. DSW and SWOP Behind Borders staged a news conference in Orlando to push the messages of LISTEN TO SEX WORKERS; JUST STOP THE ARRESTS; and HELP, NOT HANDCUFFS.
SWOP Behind Bars, SWOP Orlando, SWOP Tampa, the Sex Worker Solidarity Network, and FL NOW stood together to stand up for sex worker rights and the women of Florida. They spoke about the devastating impact of arrests and the bad bills being pushed through the Florida legislature that would create a prostitution registry and increase police surveillance of sex workers.
Lawmakers want to help victims of human trafficking, but they can't do that if they refuse to listen to sex workers.
The media is starting to take note of what's happening in Florida:
A Government Database for People Who Pay for Sex Is a Terrible, Dangerous Idea (Vice; May 10, 2019)
Florida Is Creating a New Sex Offender Registry Just for Prostitution Customers (Reason, May 9, 2019)
DSW & allies lobby RI legislators, March 14, 2019
DSW teamed up with COYOTE RI and allied organizations to educate RI legislators about the negative impact of criminalizing prostitution.
DSW's lobbyists and local RI advocates engaged legislators in one-on-one conversations on the House floor to push for a study commission that would reexamine the state's prostitution laws. Most RI legislators agreed that the laws aren't working, while there's uncertainty about what better laws would look like.  A study commission would provide the forum for discussing solutions.
DSW hosts soiree with Dan Savage, March 11, 2019
DSW hosted in Austin a soiree with Dan Savage, donors, local activists, and panelists, where advocates for decriminalization shared strategies and stories. Libertarians, progressives, harm reduction advocates, anarchists and provocateurs mingled despite their philosophical and tactical differences. Alex Andrews, Kaytlin Bailey & Dan Savage gave a toast to our shared goal of ending the prohibition of prostitution in the United States.
L to R: Alex Andrews, J Leigh Brantly, Melissa Broudo, Kaytlin Bailey, Dan Savage.
DSW & allies hold SESTA/FOSTA panel at SXSW, March 11, 2019
DSW teamed up with Alex Andrews from SWOP Behind Bars, Dan Savage, Larry Walters and River del Lano from Uncaged Love to discuss the dangerous implications of SESTA/FOSTA at a panel at SXSW in Austin. SESTA/FOSTA was the federal bill signed into law on April 11, 2018, which shut down services sex workers used to schedule and screen their clients.
The panel focused on the ongoing harm that SESTA/FOSTA is causing to the sex work community, in addition to the long-term implications for a broad range of civil liberties. Panelists also focused on the ongoing multi-pronged strategies to challenge or repeal the law—and the increased energy and urgency the legislation created within the growing sex worker rights movement.
Dan Savage lent his expertise as a longtime LGBTQI activist and sex educator. Alex Andrews spoke to and for incarcerated sex workers, and Larry Walters is currently embroiled in litigation challenging SESTA/FOSTA's constitutionality, echoing the other panelists' observation that its simply indefensible.
You can listen to Kaytlin Bailey and Dan Savage discuss Decriminalize Sex Work on episode 649 of Savage Lovecast!
L to R back row: River del Llano, Alex Andrews, J Leigh Brantly. L to R front row: Melissa Broudo, Kaytlin Bailey, Larry Walters.
DSW hosts panel at Seattle summit, March 2, 2019
DSW hosted a panel at the Seattle Annual Sex Worker Summit after the debut of the documentary War on Whores, which investigates the harms of criminalizing sex work.
The film features prolific writer and sex-worker activist Maggie McNeil and Reason Foundation's Elizabeth Nolan Brown, as they track the alarming institutional shift from the United States' failed "war on drugs" toward an increasingly militarized "war on whores."
Melissa with Bella, March 2019
Here is Melissa with COYOTE Rhode Island organizer Bella Robinson. We're looking forward to being in Rhode Island this Thursday for another lobby day!
from L to R: Bella Robinson, Melissa Broudo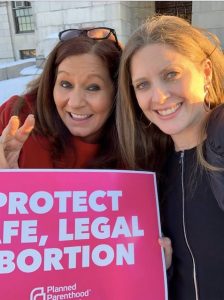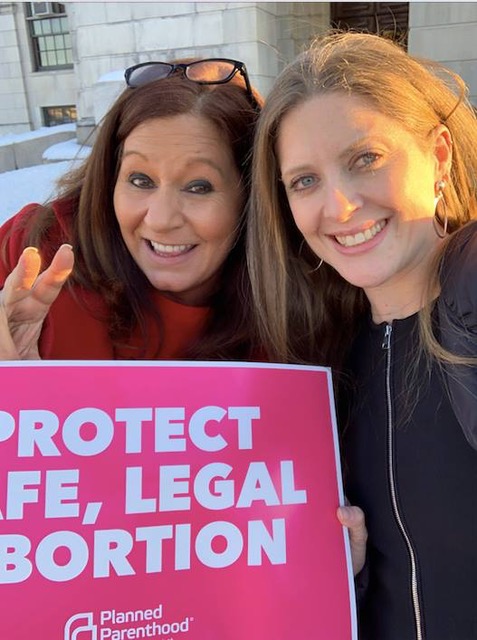 VIP with Erika Jayne, December 21, 2018
Melissa Broudo got to meet and greet Erika Jayne, one of DSW's VIPs, when she recently played in Brooklyn, NY, on December 21, 2018. Melissa was able to thank her for her vocal support of sex workers on her show, the Real Housewives of Beverly Hills. She is an inspiration to all people to live their greatest fantasies.
from L to R: Erika Jayne, Melissa Broudo
Melissa and Crystal at the New Hampshire Capitol Building, October 2018
Melissa Broudo and Crystal DeBoise visited Concord, NH, in October 2018 to engage in a series of key meetings to lay the groundwork for legislation.
from L to R: Melissa Broudo, Crystal DeBoise
Harm Reduction Coalition attorney panel, October 2018
Melissa joined providers from Legal Aid Society and Brooklyn Defender Services on a panel on representing sex workers at the Harm Reduction Coalition.
from L to R: Legal Aid Society (LAS) social worker Sara Weston-Shea, Brooklyn Defender Services attorney Jillian Modzeleski, LAS attorney Ryan Wall, and Melissa Broudo
canvassing (August 24, 2018)
Kaytlin Bailey talks to voters on behalf of Julia Salazar, who is one of the first politicians to run (and win) openly supporting sex worker rights.
canvassing (AUGUST 24, 2018)
Kaytlin Bailey led one of the first sex worker canvasses going door to door talking about decriminalization.
FOSTA panel with Ceyenne Doroshow, Stoya and Suraj Patel, June 2018
Melissa participated in a panel discussing federal legislation FOSTA/SESTA and its impact on sex workers, free speech, and the internet.
from L to R: sex researcher Dr. Zhoya, US Congressional candidate Suraj Patel, pornographer Stoya, advocate Ceyenne Doroshow, and Melissa Broudo
PS1 MOMA Sex Worker Festival of Resistance, March 2018
Melissa coordinated and led a panel discussing diversity of experience within the sex industry at the first-ever sex worker event hosted by MOMA.
legal panel from L to R: Melissa Broudo, [unknown], J Leigh, Ceyenne Doroshow, Giselle Marie, RJ Thompson
Women's March NYC, January 2018
Sex worker contingent
Melissa Broudo and members of the sex worker activist community, the NYC stripper strike, and allies marched together in the second Women's March in NYC.
Recorded Interview
Melissa has participated in dozens of interviews on video, podcasts, and in print. Here she is being interviewed in her home as part of a video for the website of GLITS, a sex workers' rights and transgender rights organization for which she serves on the advisory board.
The oldest profession podcast
Kaytlin Bailey poses with a red umbrella, the international symbol of sex worker rights, for The Oldest Profession Podcast.
sex worker's stand up, June 1, 2017
Kaytlin Bailey performs at QED during a show she produced, Sex Worker's Stand Up.
the stand, 2016
Kaytlin Bailey performs at The Stand in NYC.
Raising Funds at the Playboy Mansion, June 2008
Rob Kampia hobnobs with celebs at a benefit for the Marijuana Policy Project.
from L to R: Rob Kampia, Perry Farrell, Adrianne Curry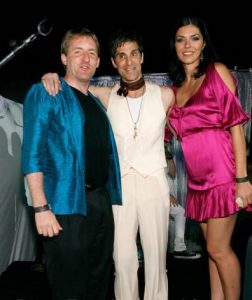 At peace with a former opponent, 2008
Rob Kampia poses with former U.S. Congressman Bob Barr (R-Georgia) during Barr's 2008 presidential campaign as the Libertarian candidate.
from L to R: Rob Kampia, Bob Barr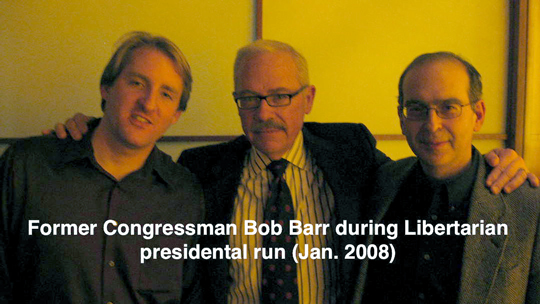 Attending Social Venture Network conference, 2001
Rob Kampia attends the Social Venture Network's conference in Los Angeles.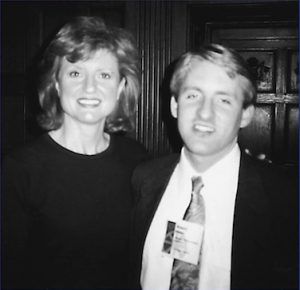 Debating on the Fox News Channel, fall 2000
Rob Kampia debates then-Congressman Bob Barr (R-Georgia) on national television.
from L to R: Rob Kampia, Paula Zahn, Bob Barr