December 1, 2019
DSW has gained two invaluable colleagues. Ceyenne Doroshow and J. Leigh Brantly will be joining the organization as Community Engagement Consultant and Research and Project Manager, respectively.
Ceyenne Doroshow is an author, activist, organizer, performer, and public figure in the trans and sex worker rights movements. She is the Founder and Executive Director of Gays and Lesbians Living in a Transgender Society (GLITS), an organization that works to provide holistic care to LGBTQ sex workers.
Ceyenne is an internationally renowned public speaker and has been featured in numerous international media outlets, TV shows, and documentaries such as The Red Umbrella Diaries, Miss Major, Showtime's Oz, and Netflix specials on sex worker rights. She has presented at The Desiree Alliance, Creating Change, Harm Reduction Coalition, International AIDS Conference, and many other events.
Her passion, warmth, respect, and tireless generosity have positioned Ceyenne as a thought leader in the sex worker rights movement, sharing her work and personal experiences as a black trans woman and former sex worker. She currently serves on the boards of Sex Workers Outreach Project-USA, Caribbean Equality Project, SOAR Institute, and the New York Transgender Advocacy Group (NYTAG).
At the intersection of policy, creativity, and research is where you will find multiracial genderqueer J. Leigh Brantly, who currently serves on advisory boards for GLITS and SOAR Institute and is the co-president of the New York State Gender Diversity Coalition. J. Leigh received the 2019 Marsha P. Johnson Community Leader Award from NYTAG and worked on an amicus brief with DSW's Melissa Broudo to challenge the bad federal law known as FOSTA/SESTA.
J. Leigh has spoken at MOMA/PS1's Sex Workers' Festival of Resistance (with Ceyenne Doroshow and DSW's Melissa Broudo) and the International AIDS Conference, and they co-curated sex worker films at both of these events. They have represented sex work on Showtime's Billions and Fox's The Following; been featured in TIME, VICE News, and TimeOUT NY; and spoken at the NYC Women's Rally, sandwiched between Gloria Steinhem and Congresswoman Alexandria Ocasio-Cortez (D-NY).
In collaboration with the Colectivo Intercultural Transgrediendo, they co-produced SEXHUM, an ethnographic sex worker short film for an international academic research project, which was funded by the European Research Council. In 2021, they will begin a Ph.D. research program focusing on sex workers with physically (dis)abled clients.
Ceyenne Doroshow (second from right) and J. Leigh Brantly (far right) at the 2018 International AIDS Conference in Amsterdam with Jill McCracken, Ph.D. (center), Alex Andrews (right of center) of SWOP Behind Bars, and other sex worker activists.
Ceyenne and J. Leigh are powerhouses within the sex worker and TGNCNB communities. They have worked together at GLITS, spoken on panels together, and organized for sex worker/transgender rights. They collaborated on a study of transphobia and queerphobia experienced by LGBTQ sex workers for the Global Network of Sex Work Projects.
Both acted as advisors to the Museum of the City of New York, where Ceyenne's groundbreaking cookbook (written while she was incarcerated on prostitution charges), Cooking in Heels, is now permanently featured in the museum's transgender activism exhibit. With unparalleled expertise in media, advocacy, and harm-reduction work, DSW is fortunate to have them on board.
As DSW takes on additional initiatives, our organization is expanding its capacity to better serve the goals of the sex worker rights movement. The progress we have made in 2019 motivates us, and we look forward to continuing the momentum into the new year.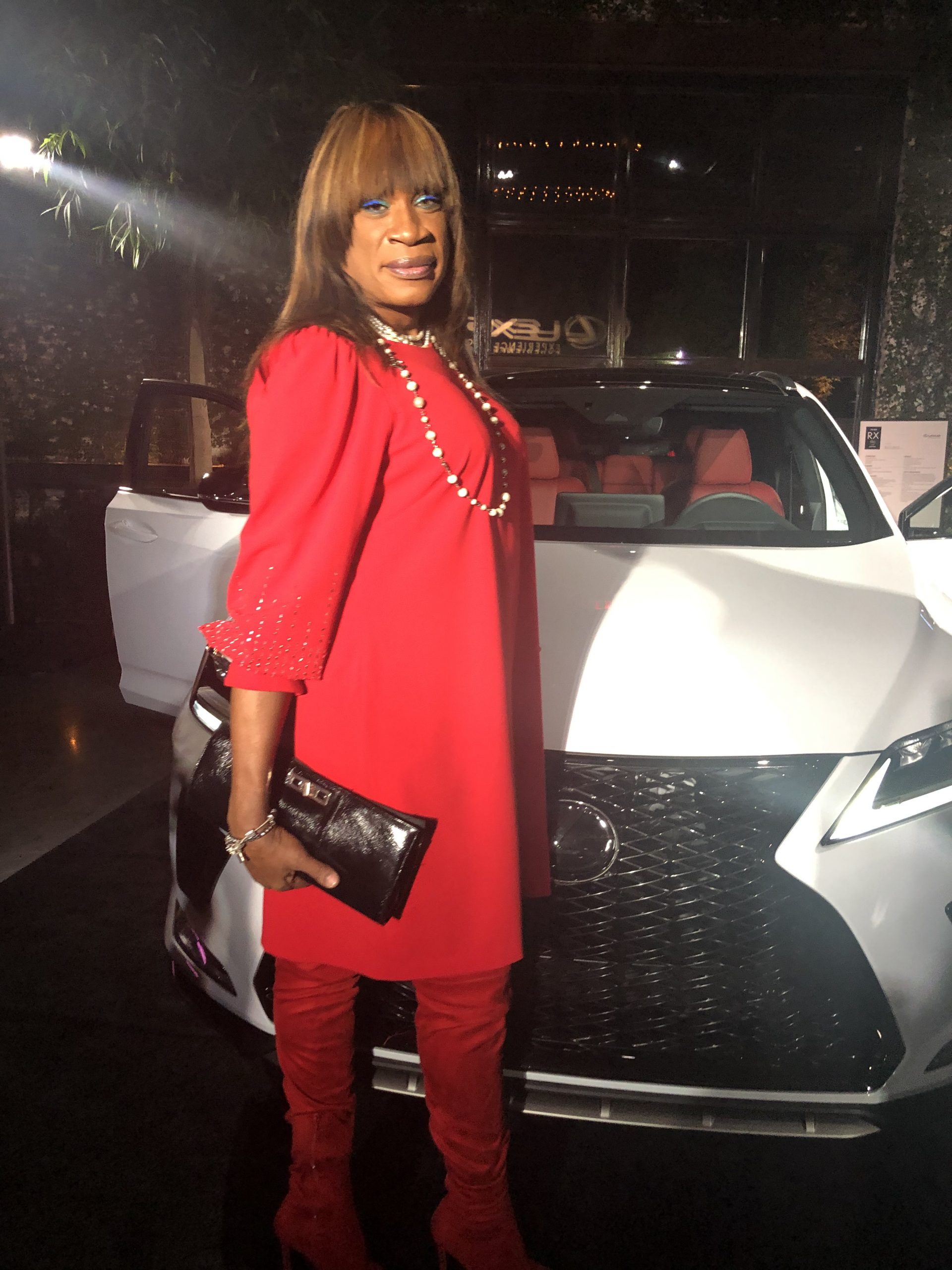 Ceyenne Doroshow: Author, activist, spokesperson, and public figure in the sex worker and transgender rights movements
J. Leigh Brantly: Researcher, filmmaker, and organizer
November 20-22, 2019
DSW attended the National Association of Criminal Defense Lawyers' (NACDL's) 2019 Defending Sex Crimes Seminar, an annual event that brings together defense attorneys and criminal justice reform advocates. NACDL is an opportunity for experts to exchange knowledge around protecting the rights of defendants and promoting a more equitable justice process.
This year's seminar, "Zealous Advocacy in Sexual Assault & Child Victims Cases," covered topics such as alcohol and memory, campus sex cases, DNA, false confessions, issues with juveniles in sex cases, and the psychology of the jury, among others. Melissa Broudo and Kaytlin Bailey of DSW got a warm reception at the conference. They enjoyed talking to compassionate litigators with decades of experience working on legal issues related to sex and crime.
DSW's booth illustrated the disastrous consequences of conflating consensual adult sex work with trafficking; the former should be decriminalized, and the latter should not. Defense attorneys visiting the booth expressed nearly unanimous support of DSW's work.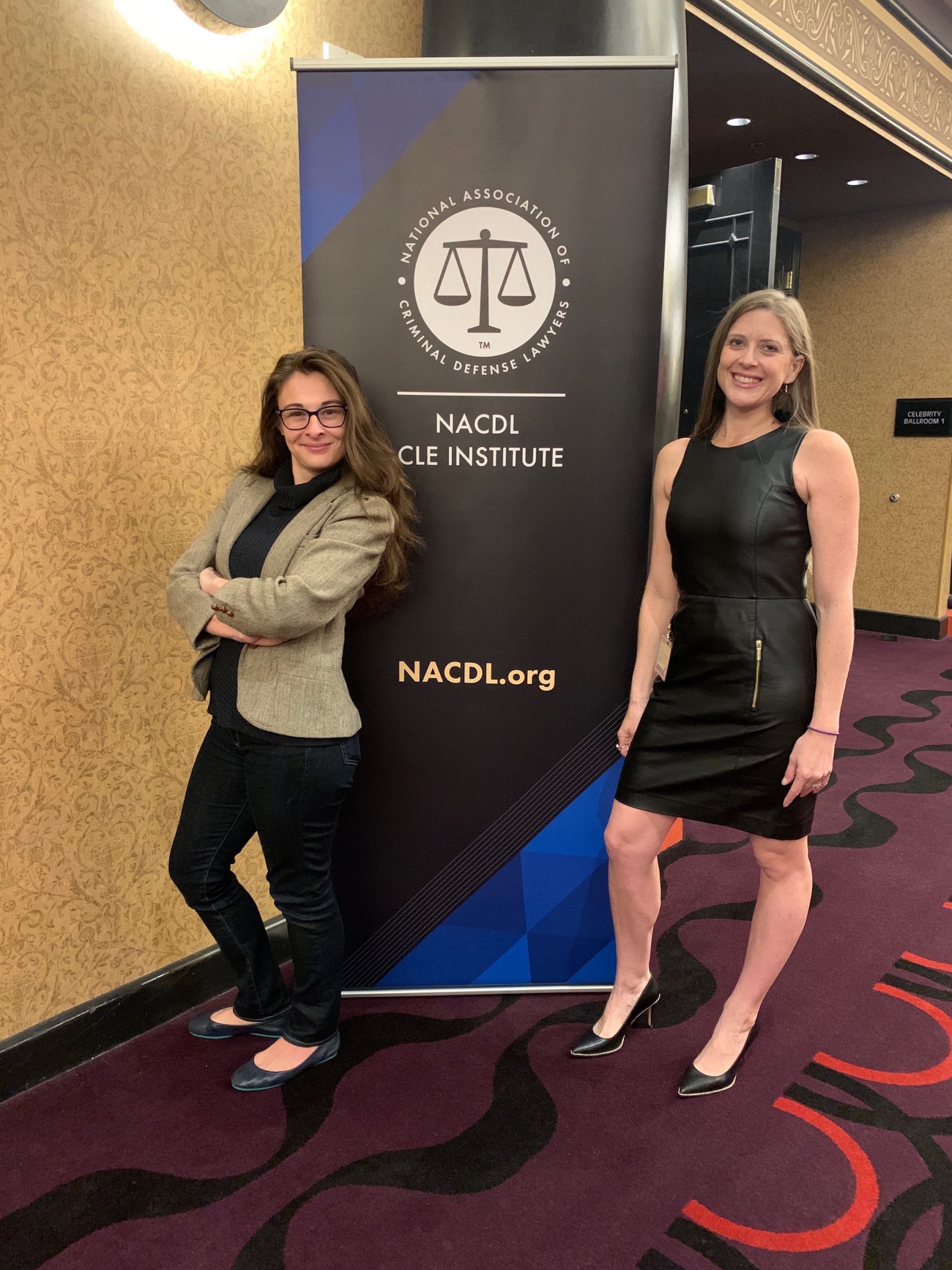 DSW's Kaytlin Bailey and Melissa Broudo (left to right) on the first day of the conference.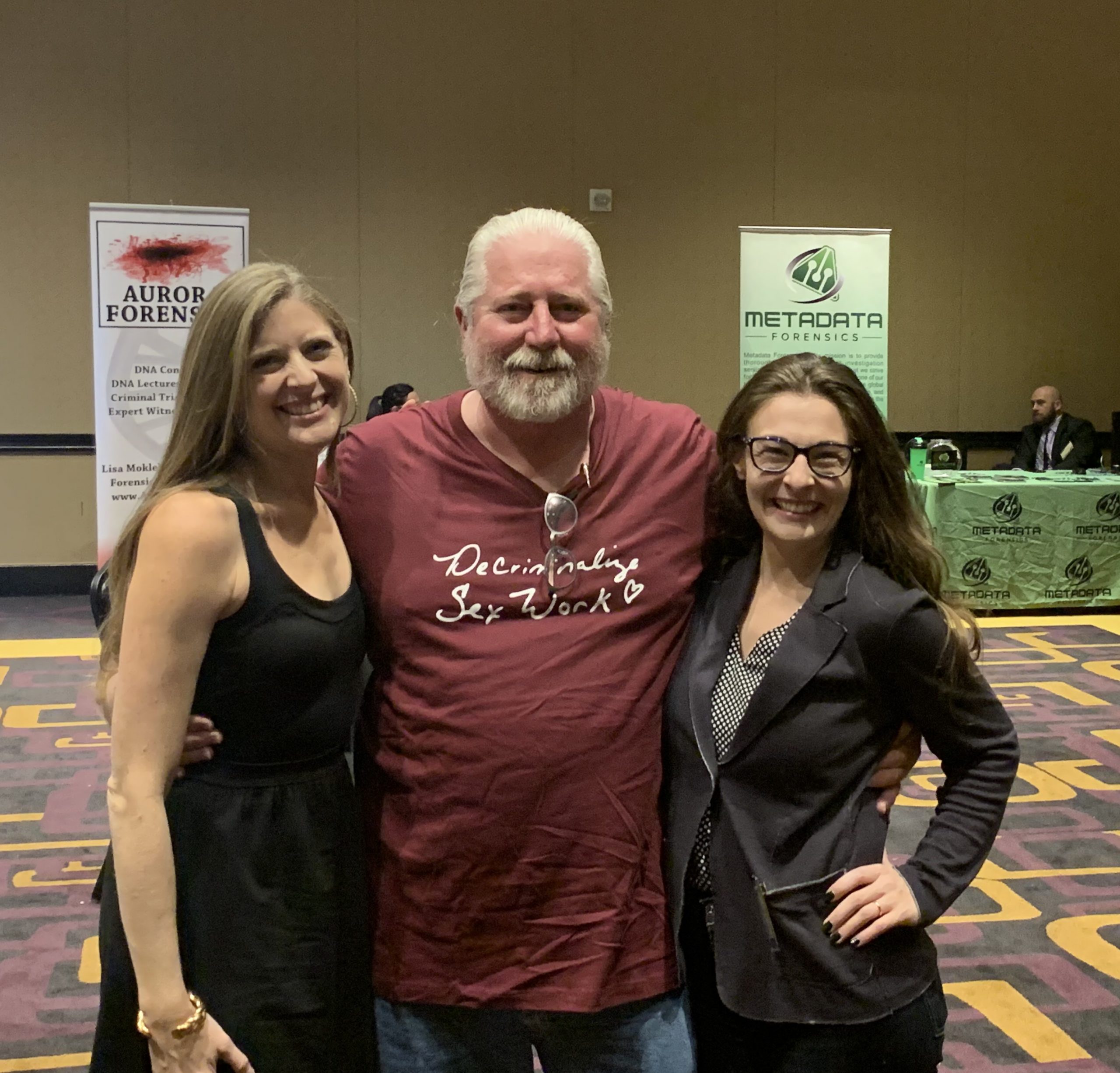 Making friends and gaining allies: DSW's Melissa Broudo and Kaytlin Bailey are pictured with new DSW supporter, criminal defense attorney Rick Horowitz.
November 6, 2019
Melissa Broudo joined fellow activists and attorneys for a panel discussion on the whats, whys, and hows of sex-work decriminalization. The panel was organized by the NYU Law School chapter of If/When/How—Lawyering for Reproductive Justice. Fellow guests included Tiffany Cabán, who is a career public defender, recent candidate for Queens District Attorney, and national organizer for the Working Families Party; TS Candii, committee steering member of DecrimNY and sex work activist; Jared Trujillo, staff attorney at the Legal Aid Society and steering committee member of DecrimNY; and Kate Zen, the co-founder and interim director of Red Canary Song. All speakers have a history advocating for marginalized communities in New York City, in particular, LGBTQ and TGNC folks, migrants, sex workers, and survivors.
The panelists brought a variety of skills, backgrounds, and experience to the panel, which led to an informed discussion articulating the compounding harms of current policies criminalizing sex work. Despite their diverse backgrounds, all five advocates vigorously emphasized that the decriminalization of sex work provides the best path toward decarceration, harm reduction, restorative justice, and community health and safety. The conversation included a history of the sex workers' rights movement, the conflation of sex work with human trafficking, the push for "End Demand" (partial criminalization), and the exclusion of sex workers from the Me Too movement.
It was exciting to see activists come together, share their expertise, and educate the next generation of social justice lawyers on decriminalization. The panel lasted nearly two hours. After the discussion concluded, the audience was allowed to ask questions and stressed how appreciative they were to learn about these issues, so often misportrayed or overlooked. It's time to start listening to sex workers.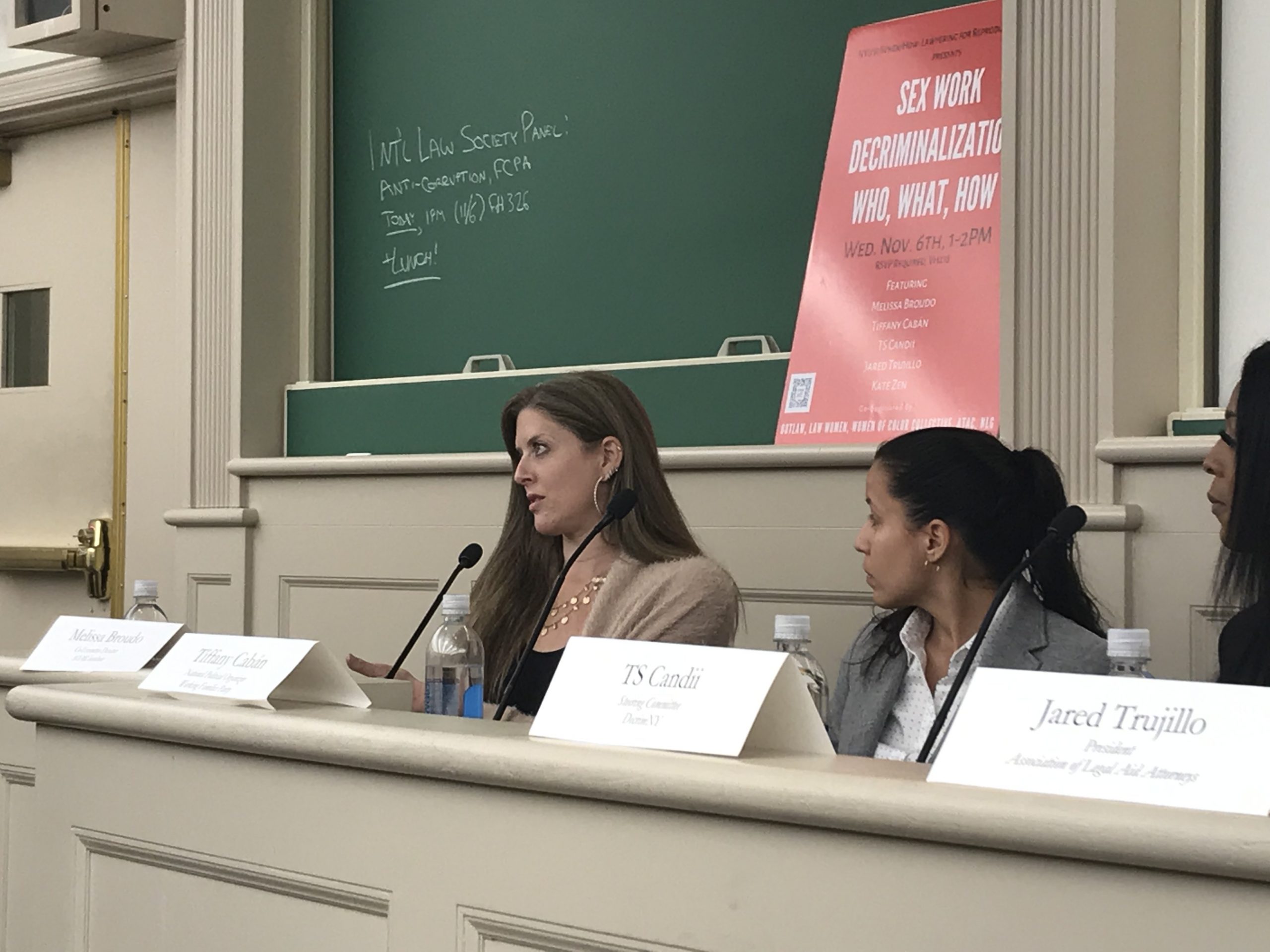 DSW's Melissa Broudo explains the difference between full decriminalization and partial criminalization.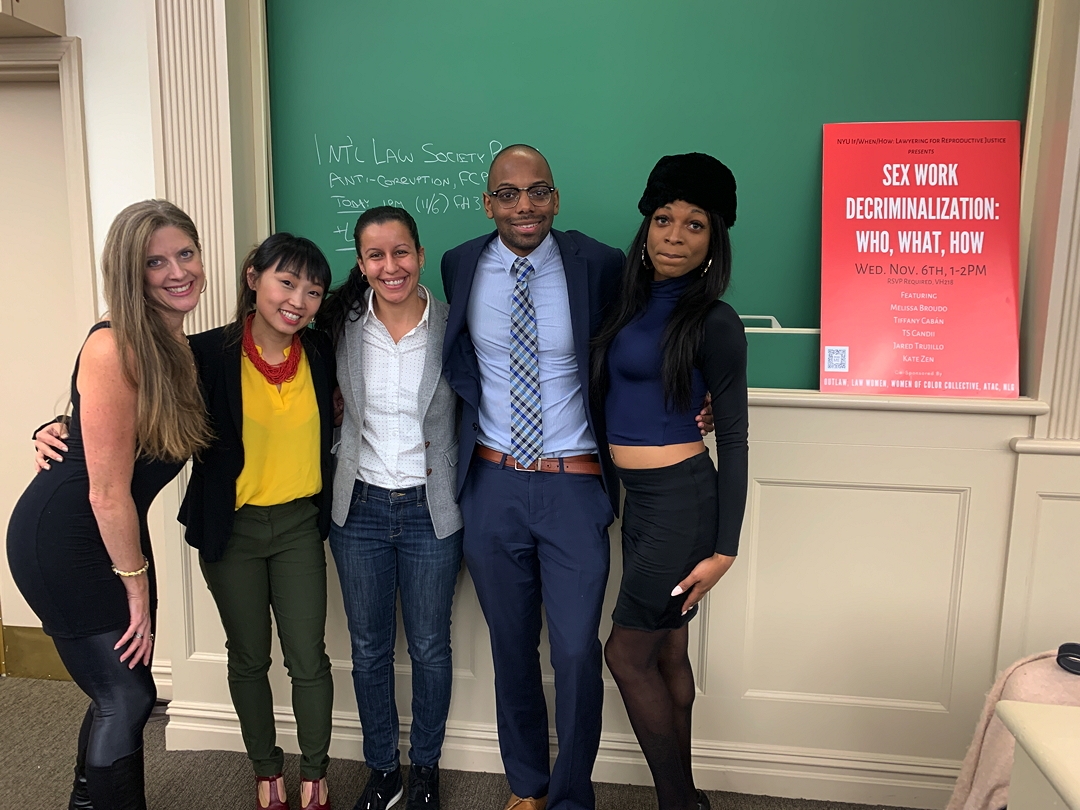 Melissa Broudo of DSW and the SOAR Institute, Kate Zen of Red Canary Song, Tiffany Cabán from the Working Families Party, Jared Trujillo of Legal Aid Society, and TS Candii of DecrimNY (L to R).
November 2, 2019
DSW grantee COYOTE-RI (Call Off Your Old Tired Ethics) hosted a coalition meeting with human-rights activists in Providence, RI. DSW's Melissa Broudo met with local organizations that are working to improve the lives of Rhode Island's most vulnerable communities. The coalition outlined a strategy for the upcoming state legislative session. DSW and allies are proposing bills that would promote the health, safety, and rights of sex workers and trafficking survivors in the Ocean State.
DSW values these partnerships, which deepen our understanding of how prostitution legislation affects communities and individuals at state and municipal levels. The meeting included representatives from the Alliance to Mobilize Our Resistance (AMOR) RI, Direct Action for Rights and Equality (DARE), Behind The Walls Committee, and COYOTE-RI. AMOR is an admirable coalition of grassroots organizations that work to resist individual and state-sponsored violence at the intersection of race, class, gender, sexual orientation, and immigration status. DARE is a Providence-based organization that organizes community members for social, political, and economic justice.
The voices and interests of impacted communities must be central to the legislation DSW drafts. Organizers had a productive and edifying conversation about the next steps for promoting harm-reduction, rights-based legislation for sex workers in Rhode Island. DSW is grateful to COYOTE-RI for organizing this meeting.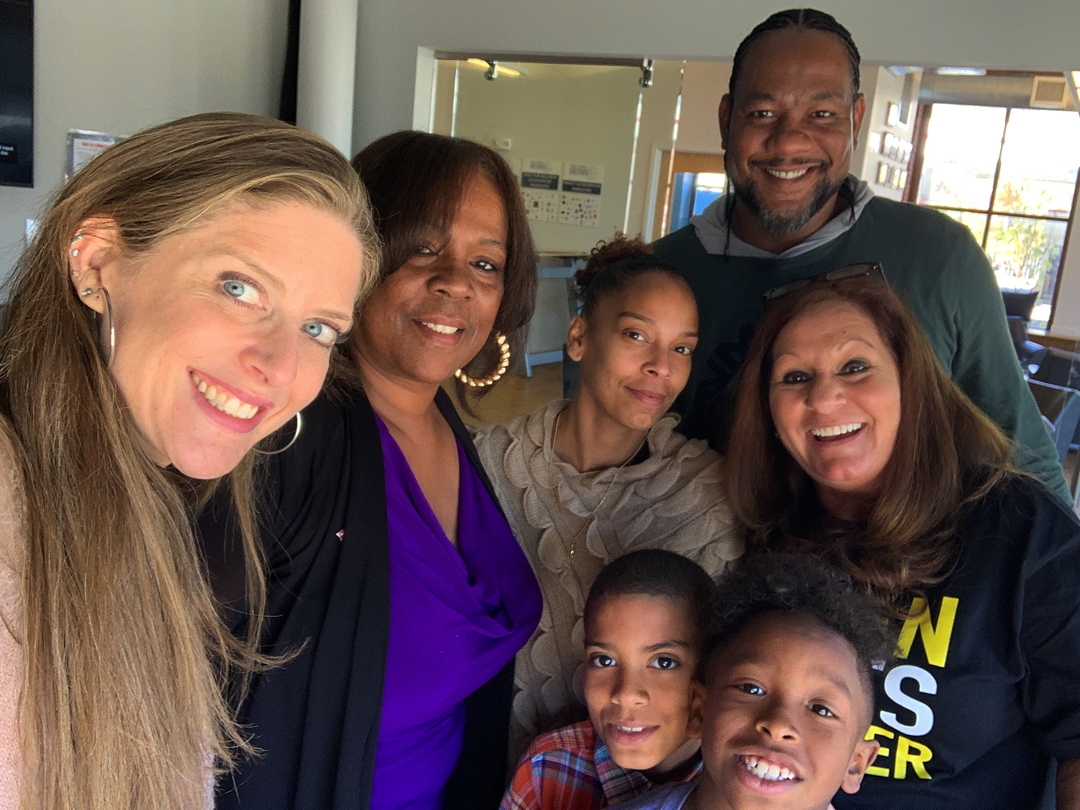 DSW's Melissa Broudo (left) is pictured with Bella Robinson (right) of COYOTE-RI, as well as allies from AMOR and DARE.
November 2-6, 2019
DSW highlighted the public-health implications of decriminalizing sex work at the American Public Health Association's (APHA's) annual international conference in Philadelphia. Attendees conduct harm-prevention research on STI prevention, drug use, the environment, migration, sexual health, and violence on national and global scales. The vast majority of public-health professionals who approached DSW's table agreed that the data from across disciplines support full decriminalization to improve public safety, health, and human rights for workers and communities.
Health professionals and researchers understand that decriminalization is the only way to combat violence, vulnerability, and health risks sex workers currently face. Many attendees have experience working in STI and gender-based violence prevention, and issues related to sexual and reproductive health. Their research informs their support and understanding of DSW's work.
The conference is the largest and most influential annual gathering of public health professionals in the world. This year there were close to 13,000 attendees. Melissa Broudo and Frances Steele presented DSW's work at the Expo and attended the Bloomberg School of Public Health Alumni event. Attendees expressed their appreciation for DSW's work and our presence at APHA. We are excited to return next year!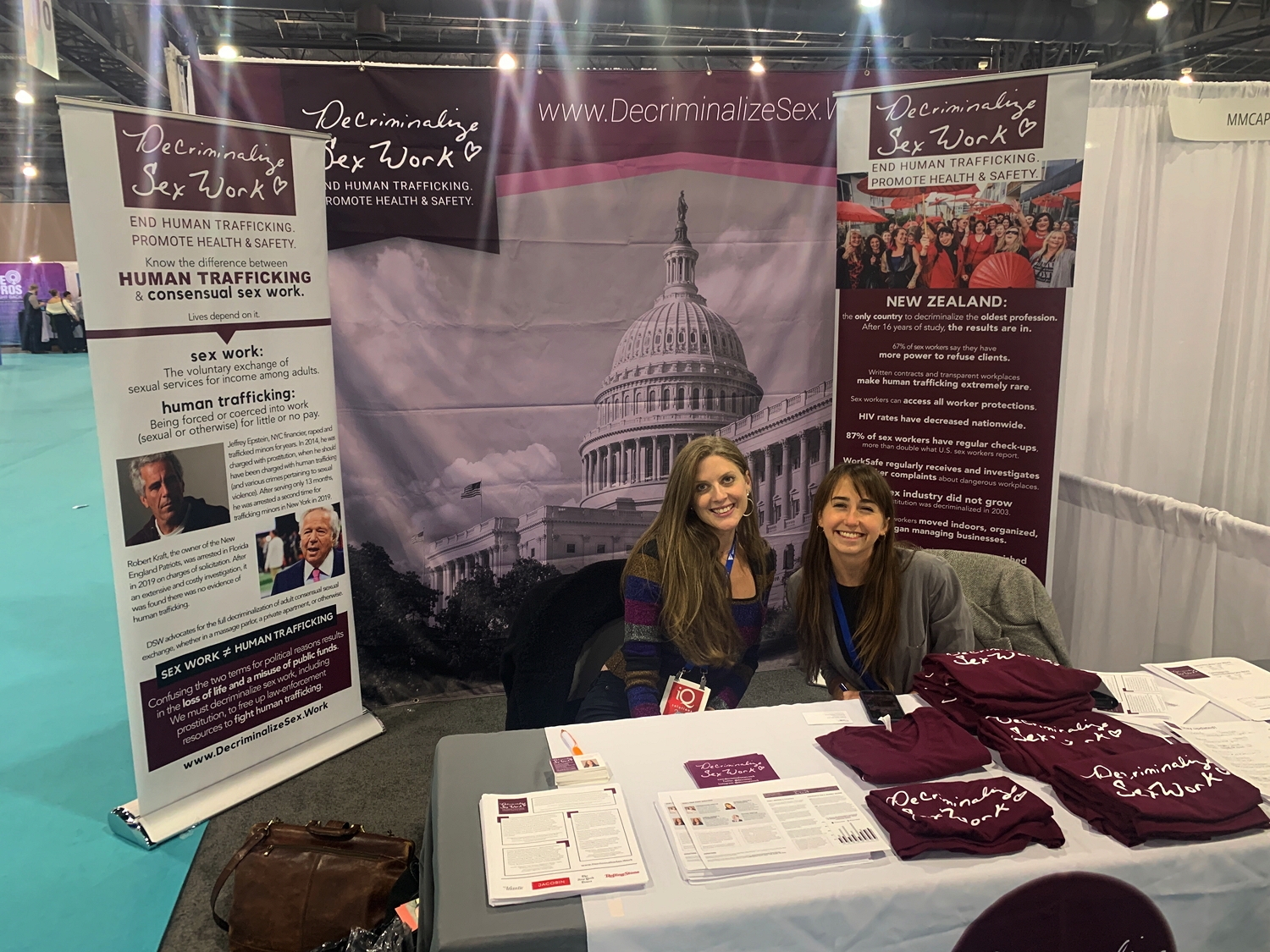 DSW's Melissa Broudo and Frances Steele work the table at the APHA expo.
October 17, 2019
The District of Columbia City Council held a hearing on the Community Safety and Health Act of 2019 (Bill 23-0318), which would decriminalize sex work in the nation's capital. This would-be historic measure addresses health risks, violence against women, and human trafficking in Washington, D.C. DSW Communications Director Kaytlin Bailey testified at the 14-hour hearing along with more than 180 other witnesses. Kaytlin spoke of her own experiences as a sex worker and how decriminalization might have provided her protection from violence and abuse. DSW General Counsel Melissa Broudo submitted expert written testimony to the Council. Though no official count was taken, an informal count by the Washington Globe showed a small majority of witnesses were in support of the legislation.
The Community Health and Safety Act was proposed earlier this year by Councilmember David Grosso, with the support of three colleagues. The bill removes criminal penalties for the buying and selling of sex. It does not create new regulations for sex work, nor does it create red-light districts in the capital. Coercion, human trafficking, and any involvement of minors in the sex trade would remain illegal. These violent crimes are nearly impossible to detect in an environment where sex workers and their communities are unable to contact the police because they are criminalized. Grosso sees the legislation as a small but essential measure to protect D.C.'s vulnerable populations. He rejects "putting people in jail simply [for] trying to make it in this world" (DCist, 2019).
Some organizations used the hearing as an opportunity to condemn the decriminalization of sex work based on the claim that this bill would encourage trafficking in D.C. They suggested this effort would increase violence and exploitation against women and children. Studies show the opposite is true. Current laws push sex workers into the shadows, making it impossible for consensual sex workers or victims of trafficking to report crimes committed against them. Criminalization of consensual adult sex work costs the U.S. millions of dollars every year. That money should be spent on protecting survivors and pursuing violent criminals. Theft, assault, and trafficking of vulnerable working-class people go unpunished. Organizations who profit from the conflation of prostitution and trafficking are ignoring the voices of sex workers, researchers, and human rights organizations.
No vote is currently planned for the Community Safety and Health Act, despite local support. Early in October, a coalition of LGBTQ activists and advocates delivered a letter to the Council stating: "the decriminalization of sex work in D.C. is critical to the health and wellbeing of the LGBTQ community." Over 70 organizations signed the letter supporting the Community Health and Safety Act. (DCist, 2019)
Those who engage in consensual, adult sex work are constituents and community members. They deserve protection. You can help hardworking activists and allies bring this bill to a vote. If you live in D.C., please reach out to your Council member or representative to show your support. You can also send a letter of endorsement by filling out a form on DSW's Take Action page.
DSW's Kaytlin Bailey testifies before the D.C. City Council in support of the Community Safety and Health Amendment Act of 2019.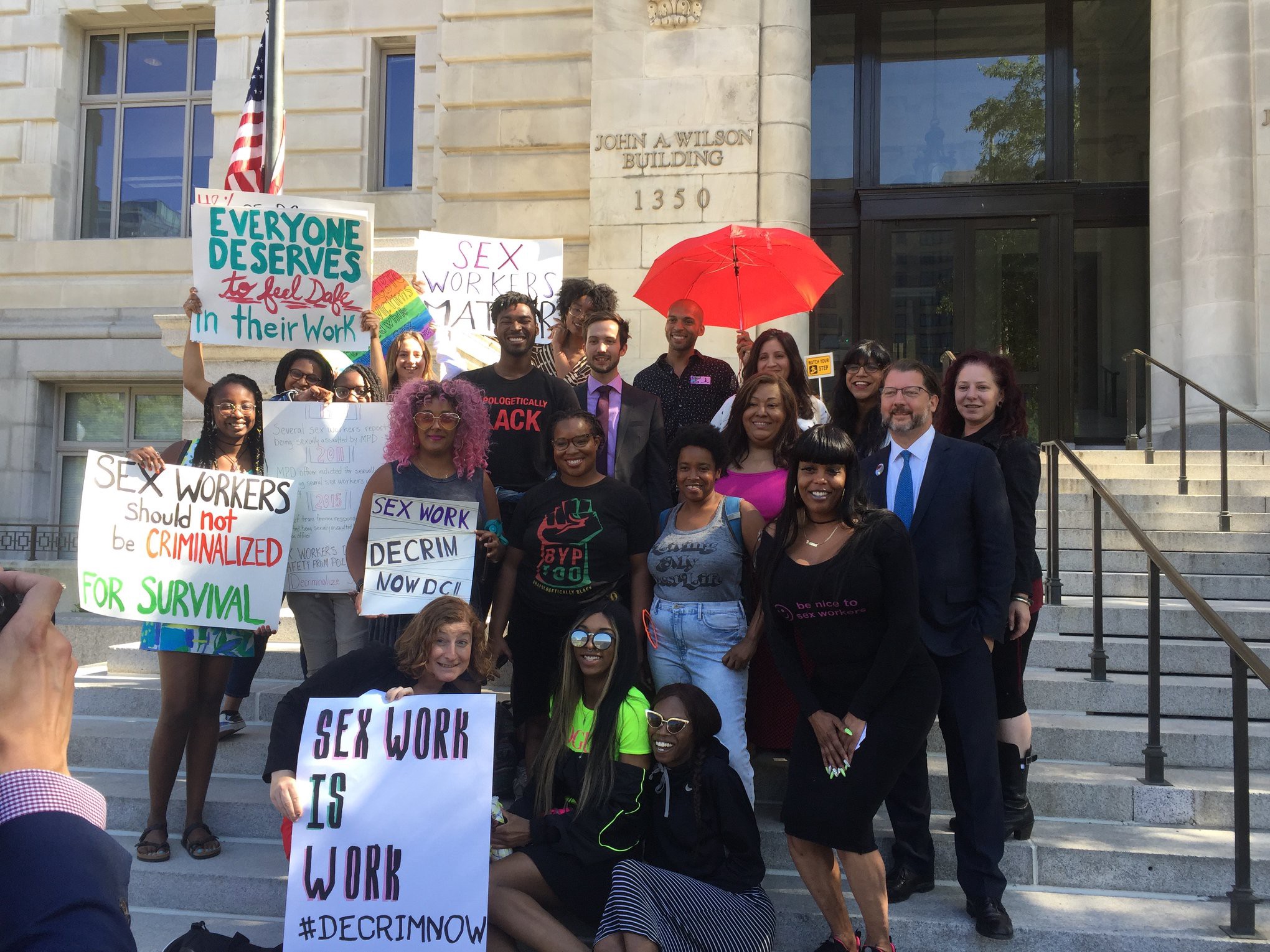 Members of the Sex Workers Advocates Coalition pose with Councilmember David Grosso (I) at the press conference after the introduction of the Community Safety and Health Act on June 3. (Photo: HIPS DC, 2019)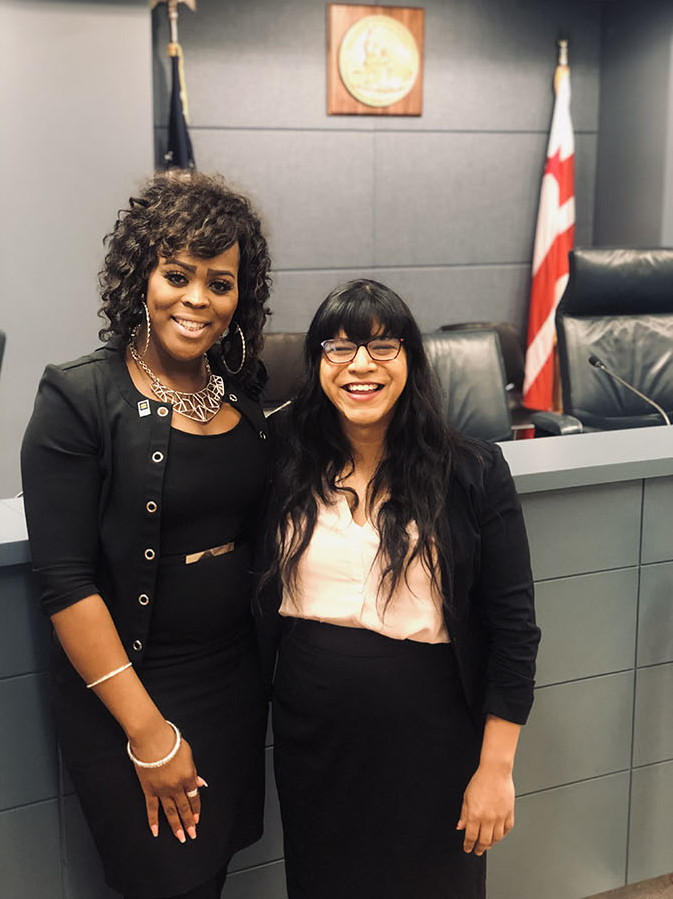 Many international human rights organizations support the full decriminalization of sex work, including Amnesty International, the Human Rights Campaign, and the World Health Organization. Carmarion Anderson, Human Rights Campaign's Alabama State Director, pictured here with HRC colleague, testified at the hearing in support of the bill. (Photo: HRC, 2019)