November 6, 2019
Melissa Broudo joined fellow activists and attorneys for a panel discussion on the whats, whys, and hows of sex-work decriminalization. The panel was organized by the NYU Law School chapter of If/When/How—Lawyering for Reproductive Justice. Fellow guests included Tiffany Cabán, who is a career public defender, recent candidate for Queens District Attorney, and national organizer for the Working Families Party; TS Candii, committee steering member of DecrimNY and sex work activist; Jared Trujillo, staff attorney at the Legal Aid Society and steering committee member of DecrimNY; and Kate Zen, the co-founder and interim director of Red Canary Song. All speakers have a history advocating for marginalized communities in New York City, in particular, LGBTQ and TGNC folks, migrants, sex workers, and survivors.
The panelists brought a variety of skills, backgrounds, and experience to the panel, which led to an informed discussion articulating the compounding harms of current policies criminalizing sex work. Despite their diverse backgrounds, all five advocates vigorously emphasized that the decriminalization of sex work provides the best path toward decarceration, harm reduction, restorative justice, and community health and safety. The conversation included a history of the sex workers' rights movement, the conflation of sex work with human trafficking, the push for "End Demand" (partial criminalization), and the exclusion of sex workers from the Me Too movement.
It was exciting to see activists come together, share their expertise, and educate the next generation of social justice lawyers on decriminalization. The panel lasted nearly two hours. After the discussion concluded, the audience was allowed to ask questions and stressed how appreciative they were to learn about these issues, so often misportrayed or overlooked. It's time to start listening to sex workers.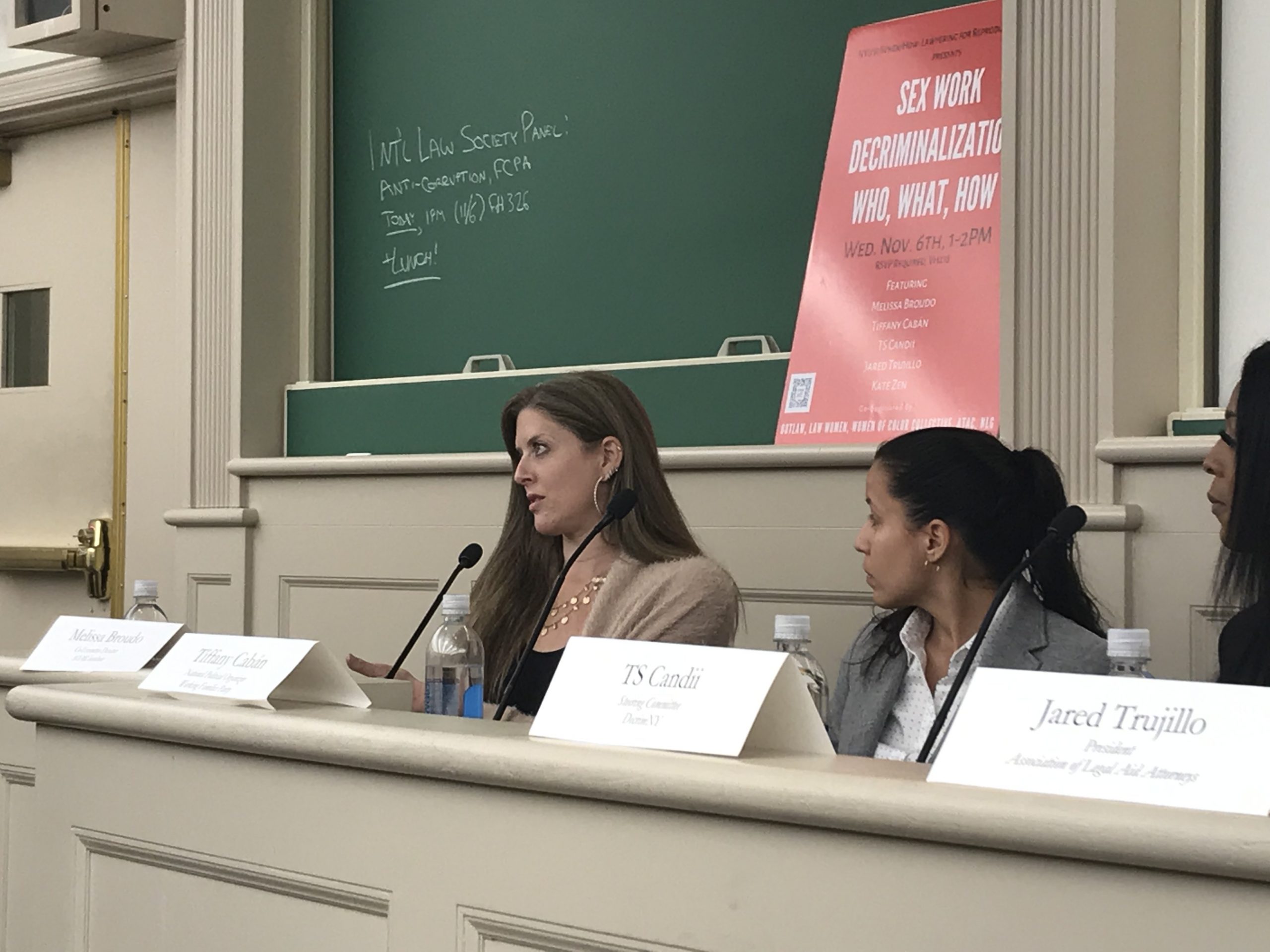 DSW's Melissa Broudo explains the difference between full decriminalization and partial criminalization.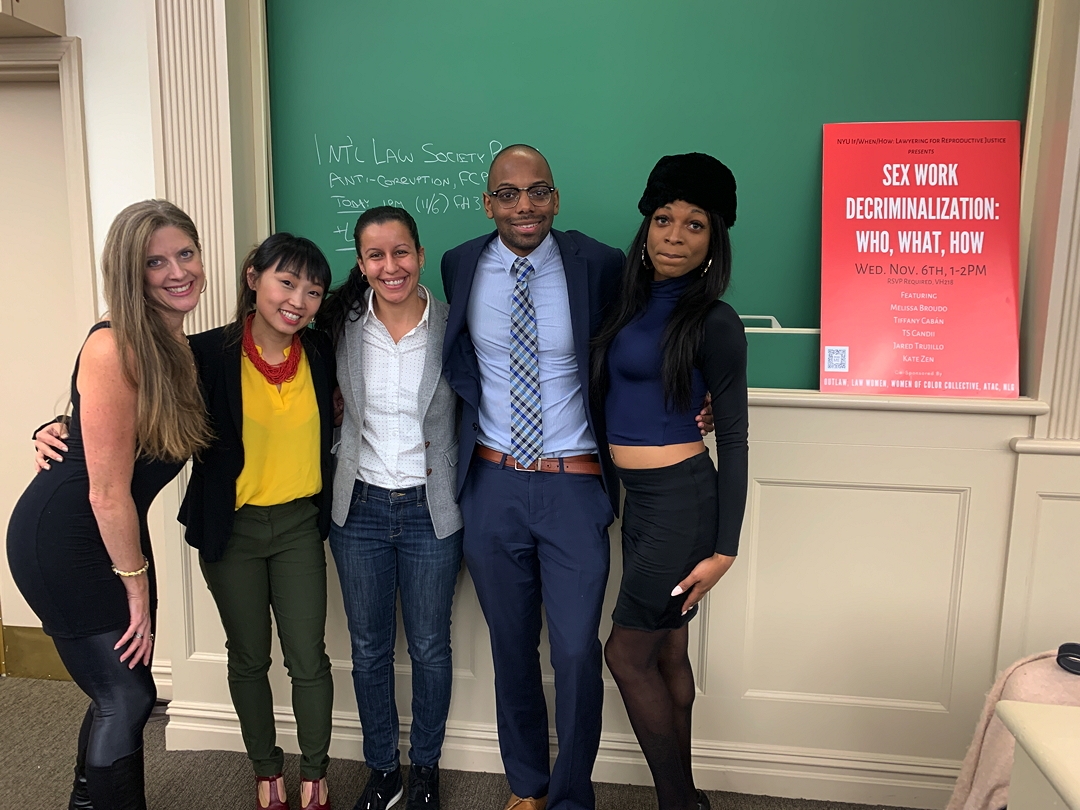 Melissa Broudo of DSW and the SOAR Institute, Kate Zen of Red Canary Song, Tiffany Cabán from the Working Families Party, Jared Trujillo of Legal Aid Society, and TS Candii of DecrimNY (L to R).
November 2, 2019
DSW grantee COYOTE-RI (Call Off Your Old Tired Ethics) hosted a coalition meeting with human-rights activists in Providence, RI. DSW's Melissa Broudo met with local organizations that are working to improve the lives of Rhode Island's most vulnerable communities. The coalition outlined a strategy for the upcoming state legislative session. DSW and allies are proposing bills that would promote the health, safety, and rights of sex workers and trafficking survivors in the Ocean State.
DSW values these partnerships, which deepen our understanding of how prostitution legislation affects communities and individuals at state and municipal levels. The meeting included representatives from the Alliance to Mobilize Our Resistance (AMOR) RI, Direct Action for Rights and Equality (DARE), Behind The Walls Committee, and COYOTE-RI. AMOR is an admirable coalition of grassroots organizations that work to resist individual and state-sponsored violence at the intersection of race, class, gender, sexual orientation, and immigration status. DARE is a Providence-based organization that organizes community members for social, political, and economic justice.
The voices and interests of impacted communities must be central to the legislation DSW drafts. Organizers had a productive and edifying conversation about the next steps for promoting harm-reduction, rights-based legislation for sex workers in Rhode Island. DSW is grateful to COYOTE-RI for organizing this meeting.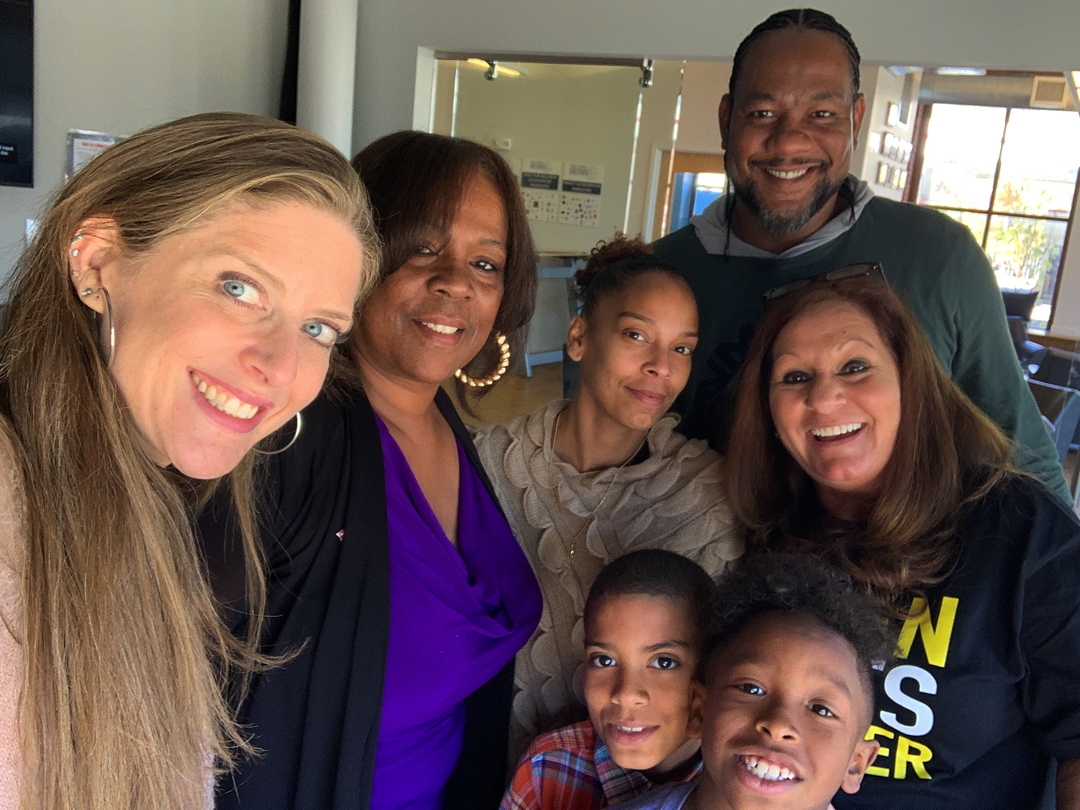 DSW's Melissa Broudo (left) is pictured with Bella Robinson (right) of COYOTE-RI, as well as allies from AMOR and DARE.
November 2-6, 2019
DSW highlighted the public-health implications of decriminalizing sex work at the American Public Health Association's (APHA's) annual international conference in Philadelphia. Attendees conduct harm-prevention research on STI prevention, drug use, the environment, migration, sexual health, and violence on national and global scales. The vast majority of public-health professionals who approached DSW's table agreed that the data from across disciplines support full decriminalization to improve public safety, health, and human rights for workers and communities.
Health professionals and researchers understand that decriminalization is the only way to combat violence, vulnerability, and health risks sex workers currently face. Many attendees have experience working in STI and gender-based violence prevention, and issues related to sexual and reproductive health. Their research informs their support and understanding of DSW's work.
The conference is the largest and most influential annual gathering of public health professionals in the world. This year there were close to 13,000 attendees. Melissa Broudo and Frances Steele presented DSW's work at the Expo and attended the Bloomberg School of Public Health Alumni event. Attendees expressed their appreciation for DSW's work and our presence at APHA. We are excited to return next year!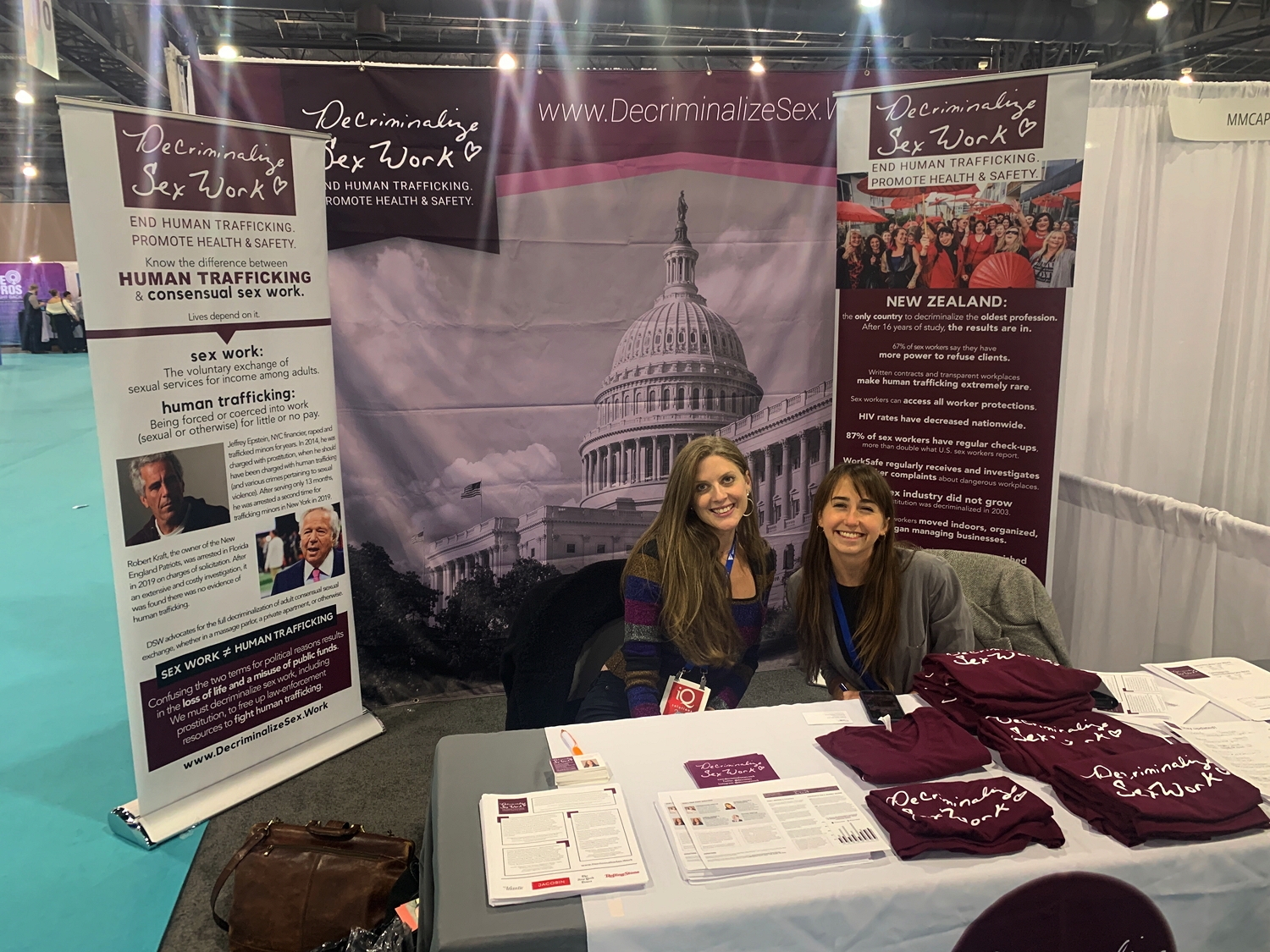 DSW's Melissa Broudo and Frances Steele work the table at the APHA expo.
October 17, 2019
The District of Columbia City Council held a hearing on the Community Safety and Health Act of 2019 (Bill 23-0318), which would decriminalize sex work in the nation's capital. This would-be historic measure addresses health risks, violence against women, and human trafficking in Washington, D.C. DSW Communications Director Kaytlin Bailey testified at the 14-hour hearing along with more than 180 other witnesses. Kaytlin spoke of her own experiences as a sex worker and how decriminalization might have provided her protection from violence and abuse. DSW General Counsel Melissa Broudo submitted expert written testimony to the Council. Though no official count was taken, an informal count by the Washington Globe showed a small majority of witnesses were in support of the legislation.
The Community Health and Safety Act was proposed earlier this year by Councilmember David Grosso, with the support of three colleagues. The bill removes criminal penalties for the buying and selling of sex. It does not create new regulations for sex work, nor does it create red-light districts in the capital. Coercion, human trafficking, and any involvement of minors in the sex trade would remain illegal. These violent crimes are nearly impossible to detect in an environment where sex workers and their communities are unable to contact the police because they are criminalized. Grosso sees the legislation as a small but essential measure to protect D.C.'s vulnerable populations. He rejects "putting people in jail simply [for] trying to make it in this world" (DCist, 2019).
Some organizations used the hearing as an opportunity to condemn the decriminalization of sex work based on the claim that this bill would encourage trafficking in D.C. They suggested this effort would increase violence and exploitation against women and children. Studies show the opposite is true. Current laws push sex workers into the shadows, making it impossible for consensual sex workers or victims of trafficking to report crimes committed against them. Criminalization of consensual adult sex work costs the U.S. millions of dollars every year. That money should be spent on protecting survivors and pursuing violent criminals. Theft, assault, and trafficking of vulnerable working-class people go unpunished. Organizations who profit from the conflation of prostitution and trafficking are ignoring the voices of sex workers, researchers, and human rights organizations.
No vote is currently planned for the Community Safety and Health Act, despite local support. Early in October, a coalition of LGBTQ activists and advocates delivered a letter to the Council stating: "the decriminalization of sex work in D.C. is critical to the health and wellbeing of the LGBTQ community." Over 70 organizations signed the letter supporting the Community Health and Safety Act. (DCist, 2019)
Those who engage in consensual, adult sex work are constituents and community members. They deserve protection. You can help hardworking activists and allies bring this bill to a vote. If you live in D.C., please reach out to your Council member or representative to show your support. You can also send a letter of endorsement by filling out a form on DSW's Take Action page.
DSW's Kaytlin Bailey testifies before the D.C. City Council in support of the Community Safety and Health Amendment Act of 2019.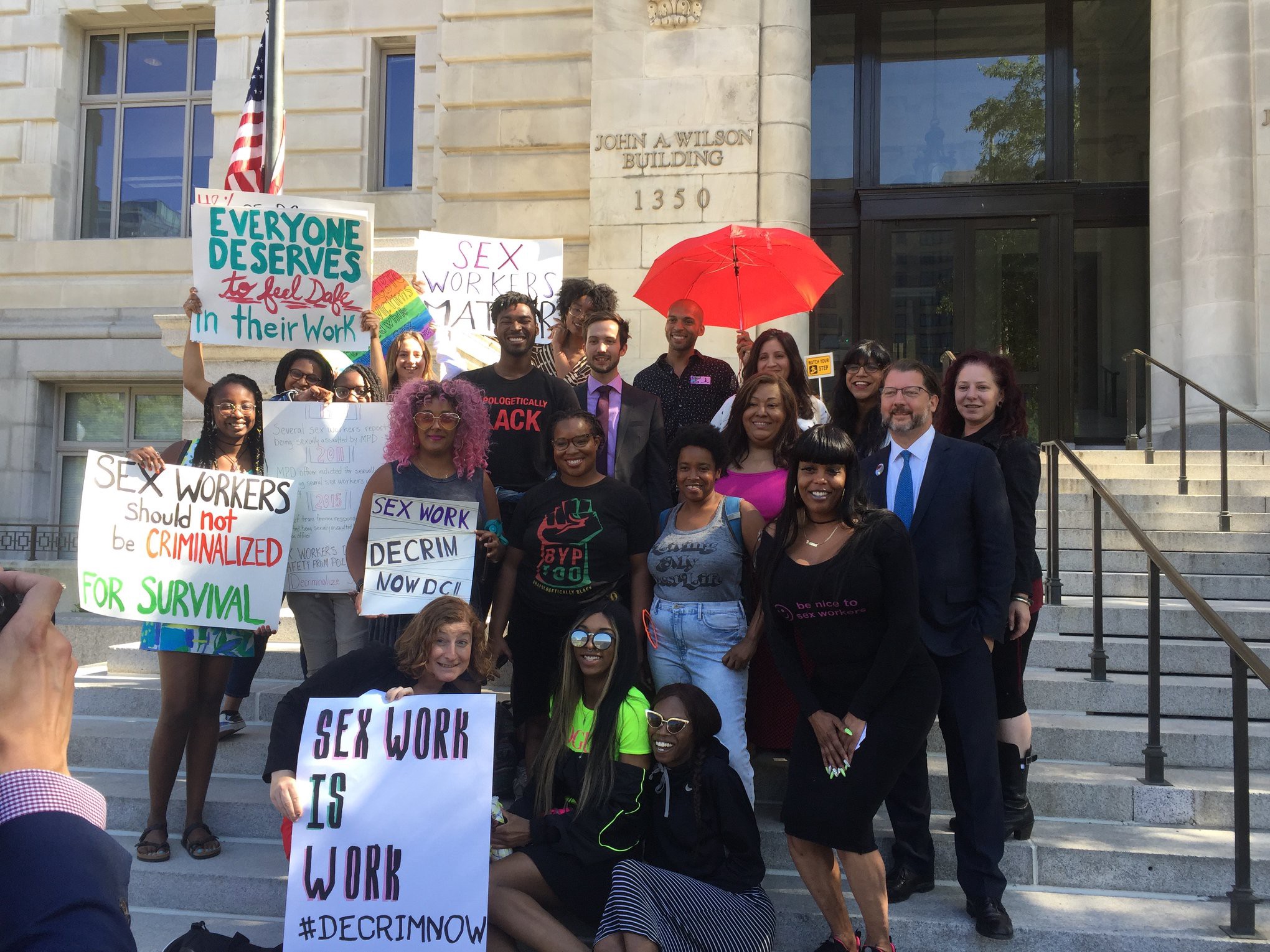 Members of the Sex Workers Advocates Coalition pose with Councilmember David Grosso (I) at the press conference after the introduction of the Community Safety and Health Act on June 3. (Photo: HIPS DC, 2019)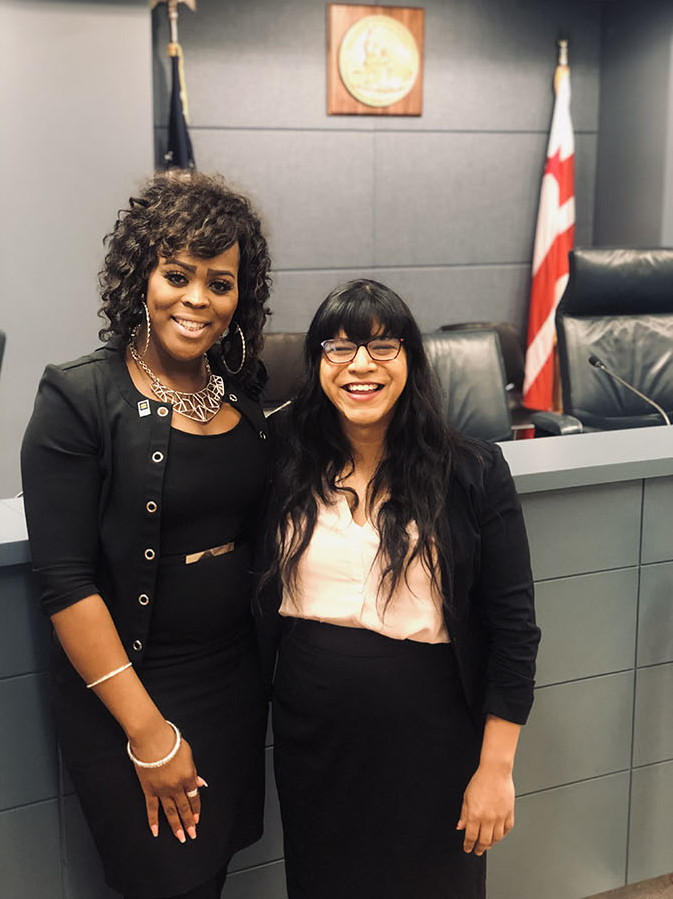 Many international human rights organizations support the full decriminalization of sex work, including Amnesty International, the Human Rights Campaign, and the World Health Organization. Carmarion Anderson, Human Rights Campaign's Alabama State Director, pictured here with HRC colleague, testified at the hearing in support of the bill. (Photo: HRC, 2019)
October 4, 2019
The New York State Gender Diversity Coalition convened at the Brooklyn Night Bazaar to exchange ideas about how to support gender diversity, equality, and sex worker rights in New York. This new coalition of sex workers' rights and LGBTQIA* activists highlights the important overlap between DSW's mission and the rights and safety of the LGBTQ community.
The event was organized by The New York Transgender Advocacy Group (NYTAG) and The Sharmus Outlaw Advocacy and Rights (SOAR) Institute, co-directed by Melissa Broudo and Crystal DeBoise of DSW. NYTAG and SOAR have a veritable history of fighting for both of these communities in the New York area and beyond. DSW was honored and excited to join them at this event.
Activists march for sex-worker and trans rights in Stockholm, Sweden, in October 2019. (Photo: Twitter/SWARM)
DSW's Melissa Broudo and Frances Steele join with the organizers and attendees of the Brooklyn event.
This alliance continues to be incredibly important to the policy we are striving towards. On October 2, LGBTQ advocates in Washington, DC, delivered a letter to DC Council members advocating for the full decriminalization of sex work on the grounds that it is "critical to the health and wellbeing of the LGBTQ community." There will be a hearing on October 17 in DC on the Community Safety and Health Amendment Act of 2019. If passed, the bill will decriminalize sex work in our nation's capital. Kaytlin Bailey will testify at the hearing.
September 20, 2019
Earlier this year, DSW filed an amicus brief in support of the lawsuit brought against the U.S. government by the Woodhull Freedom Foundation (WFF), Human Rights Watch, The Internet Archive, and two other plaintiffs in reaction to the terrible federal law known as the "Fight Online Sex Trafficking Act" (FOSTA). FOSTA chills speech and harms sex workers. It makes it harder for people to protect themselves from violence and personal risk and violates constitutional rights protected by the First Amendment.
The court wrongly dismissed the lawsuit, but the plaintiffs appealed. After a year of fighting for the case to be heard, DSW and our plaintiff allies finally got our day in court: On September 20, attorneys for WFF and the other plaintiffs addressed a panel of three appellate judges. They asked the court to issue a preliminary injunction to halt the future enforcement of FOSTA, meaning that ideally, people would no longer be arrested.
Kaytlin Bailey attended the hearing on September 20. No decision has been issued at this time, and it may take months for the appellate court to rule. WFF was joined by fellow plaintiffs from SWOP Behind Bars, related organizations, and brave individuals who put their reputations and livelihoods on the line by articulating for the courts how FOSTA/SESTA has impacted them. The current position of the federal government is that issues of free speech, sex worker safety, and trafficking are not impacted by FOSTA/SESTA — and that the law simply disrupts trafficking without endangering individual rights or safety.
After the oral arguments attorneys, plaintiffs, and advocates, including Bailey, gathered for a debriefing. Learn more about the case in a Peepshow Podcast interview with Ricci Levy. Our coalition is waiting for the judges' decision. No matter the outcome, we will continue to fight this transparently unconstitutional law.
DSW's Kaytlin Bailey is pictured with Ricci Levy, WFF's CEO, president and former executive director, named the lead plaintiff in the Woodhull v. USA case, as well as the team from Davis Wright Tremain Law Firm, litigating the suit. (L to R: Larry Walter, Ricci Levy, Robert Corn-Revere, Kaytlin Bailey and Ronald G London; Photo: DSW, 2019)
September 19: DSW's Kaytlin Bailey was invited onto Newsmax TV with John Tobacco and Frank Morano to chat about sex work, Robert Kraft, and why handcuffs almost never help.
September 22: Kaytlin Bailey appeared on "Morano in the Morning" to expand on the Robert Kraft case, why it matters for sex workers' rights, and field calls from listeners.
September 30: "No Such Thing As Love," a podcast hosted by Jesse Jolles and Claire Burns (two hilarious writers, comedians, and outspoken feminists), invited Kaytlin Bailey to come speak about her own experiences in sex work, confront stereotypes and stigma, and explain why decriminalization is the answer for the health, safety, and human rights of women everywhere. Listen here.
September 5, 2019
DSW attended the International Human Trafficking and Social Justice Conference in Toledo, Ohio. The conference has been an annual event since 2004, bringing together researchers, survivors, allies, and service practitioners to exchange expertise and ideas and collaborate on future initiatives to fight human trafficking and social injustice worldwide. As anti-trafficking work is central to DSW's mission, we were excited to attend and inspired by the amazing work that so many of our allies are doing.
This year's conference hosted attendees from 42 states and 30 countries, laying the groundwork for action in the social service, health care, and criminal justice fields. DSW's general counsel, Melissa Broudo, represented our harm reduction advocacy efforts on behalf of human trafficking survivors and sex workers across the globe.
At this year's conference, we were honored to be able to support Jill McCracken, Ph.D., Professor of Rhetoric and Writing Studies at the University of South Florida and the co-founder/co-director of Sex Workers Outreach Project (SWOP) Behind Bars as she received the 2019 Influential Scholar Award. Dr. McCracken presented her research on how decriminalization of prostitution helps to fight violence and trafficking in the sex industry. The seminar centered on a community based participatory research project with the New Zealand Prostitutes Collective. Following the decriminalization of prostitution in 2003, three months of fieldwork produced interviews with 33 sex workers and 34 service providers, clients, and health professionals.
Dr. McCracken presented data on how decriminalization specifically addresses harms; examples of individual sex workers and communities recognizing, preventing, or resisting violence; how they recover from it; how sex workers are able to control their work to greater or lesser degrees; legislative recommendations based on the perspectives of impacted individuals; and future areas of exploration. The audience walked away with an understanding of the stark and important differences between consensual sex work and trafficking, a greater understanding of different legislative models related to sex work, how said models affect violence, and a picture of decriminalization in New Zealand and its day-to-day impacts.
DSW tabled with SWOP Behind Bars, an ally that provides interdisciplinary community support for incarcerated sex workers in the US, as well as other fellow organizations working to fight sex trafficking through criminal reforms. Anti-trafficking and harm reduction is at the heart of DSW's work, and we were honored to collaborate with such amazing individuals and organizations promoting the health and safety of sex workers worldwide.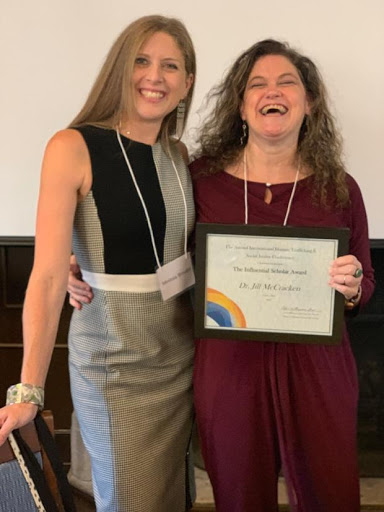 L to R: DSW's Melissa Broudo poses with Dr. Jill McCracken after the latter was presented with the 2019 Influential Scholar Award for her work on decriminalization of sex work, anti-trafficking and harm reduction. (Photo: DSW, 2019)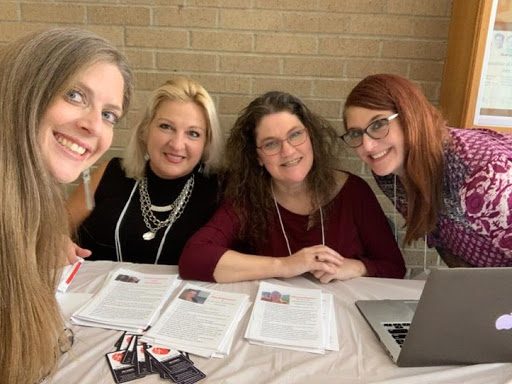 L to R: DSW's Melissa Broudo, Alex Andrews and Jill McCracken, PhD, of SWOP Behind Bars, and Danielle Bastian, LCSW, table at the conference. (Photo: DSW, 2019)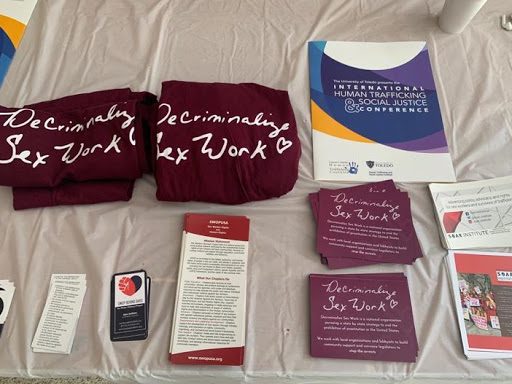 DSW information at the SWOP Behind Bars table at the conference (Photo: DSW, 2019)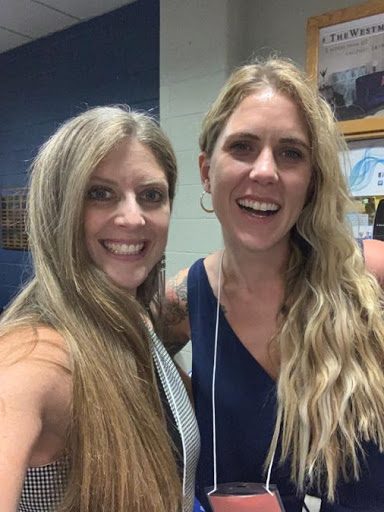 L to R: DSW's Melissa Broudo and Logan Dee of We Are Dancers USA catch up and take a selfie the first day of the conference. (Photo: DSW, 2019)