June 27, 2021
The New York City Pride Parade, one of the most famous celebrations of Pride Month and historically the largest parade in the world, canceled its in-person festivities last year due to the COVID-19 pandemic. This year, the parade so central to New York's identity was back with a vengeance. The celebrations were streamed on news stations to minimize crowding, but that did not stop the city from showing up with pride in many colors.
DSW's own Ceyenne Doroshow was named a Grand Marshal of this year's event, leading the parade that kicked off on 25th Street, processed down 5th Avenue, before making a right into the West Village, past the Stonewall Memorial, and ending just before the Christopher Street Pier. Melissa Broudo, J. Leigh Oshiro-Brantly, Rebecca Cleary, and Frances Steele of DSW processed just behind her. Doroshow, a cornerstone figure of the international transgender and sex worker rights movements, was interviewed by Angelica Ross of Pose before commencing the march.
Ceyenne Doroshow is the founder and executive director of Gays and Lesbians Living in a Transgender Society (G.L.I.T.S.) Inc. The Organization works to provide holistic care to LGBTQ sex workers and recently broke ground on the first-ever trans-owned and run housing cooperative for transgender sex workers. In addition, Doroshow is on the board of SWOP Behind Bars, the Caribbean Equality Project, the SOAR Institute, the Sex Workers Project, TGJIP of San Francisco, and the New York Transgender Advocacy Group (NYTAG). Doroshow was honored to act as Grand Marshal for Pride. In an interview with ABC 7, she said, "I've been doing this work for 30 years, not wanting to be a part of just one thing, but wanting to be a part of the bigger picture … making sure people get what they need. So Pride to me and being a part of this year looks very different. It's kind of a hot and spicy feeling or a sweet and spicy feeling."
DSW staffers also took part in the Queer Liberation March that occurred later that day. The Reclaim Pride Coalition organized the parade as a protest to the Heritage Pride March two years ago. It began at Bryant Park and processed down 7th Avenue with rainbow flags and signs that included "Liberation and Justice." Later, the celebration continued in and around Greenwich Village.
The week before Pride, Governor Cuomo signed the Gender Recognition Act (GRA) into law in New York State. The GRA recognizes non-binary gender designation on official documentation and eases the process of name changes and birth certificate alterations. J. Leigh Oshiro-Brantly and Frances Steele attended the ceremony.
As DSW's work highlights, LGBTQ justice is intimately connected with sex worker rights, health, and safety, an intersection that organizers and policy-makers have increasingly recognized. This year's event is a reminder of how far we have come since the Stonewall Uprising inaugurated NYC Pride in 1969. It also recognizes how far we have to go. Marsha P. Johnson and Sylvia Rivera, two leaders of Stonewall, marched for sex worker rights and the abolition of HIV/AIDS, as well as LGTBQ pride, but sex workers are still criminalized and abused across the country. To address issues of gender equity and diversity and sexual identity justice, we must decriminalize consensual adult sex work as a legitimate form of labor that allows resource access for disenfranchised and marginalized individuals.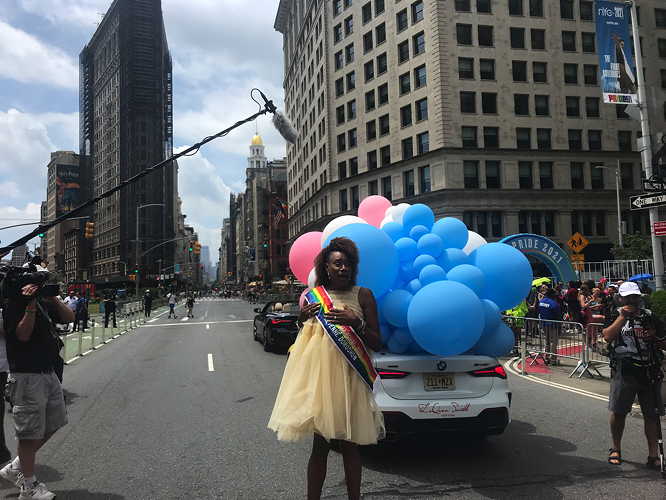 Ceyenne Doroshow pictured just before the parade commenced on Fifth Avennue (DSW 2021).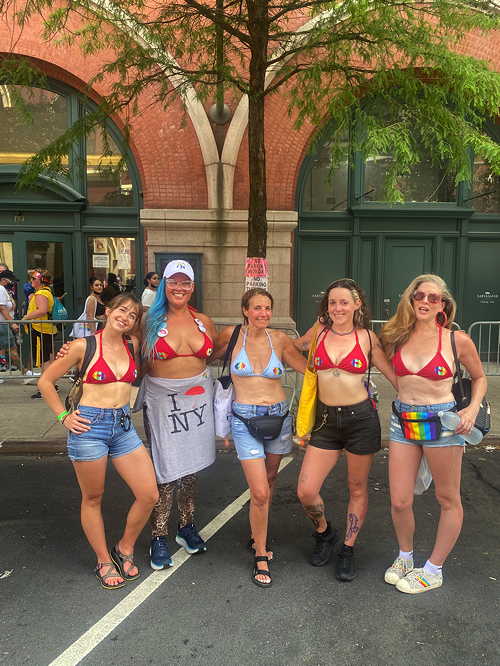 DSW's Frances Steele, J. Leigh Oshiro-Brantly, Allison Kolins, Rebecca Cleary, and Melissa Broudo celebrate the conclusion of the Heritage Pride March (DSW 2021)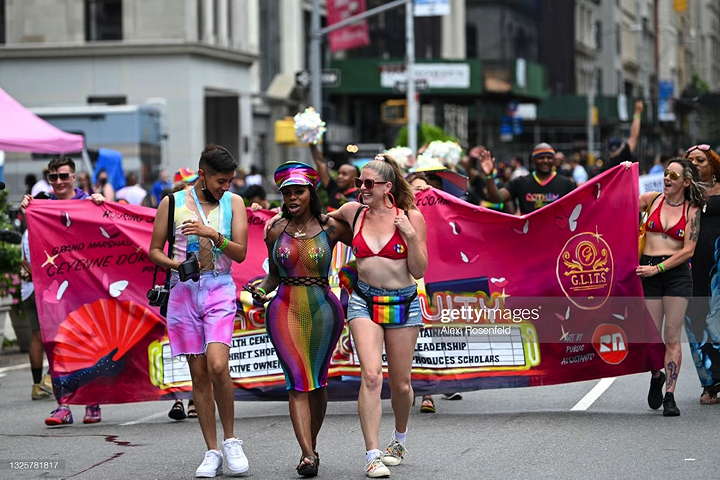 DSW's Frances Steele, J. Leigh Oshiro-Brantly, Allison Kolins, Rebecca Cleary, and Melissa Broudo celebrate the conclusion of the Heritage Pride March (DSW 2021)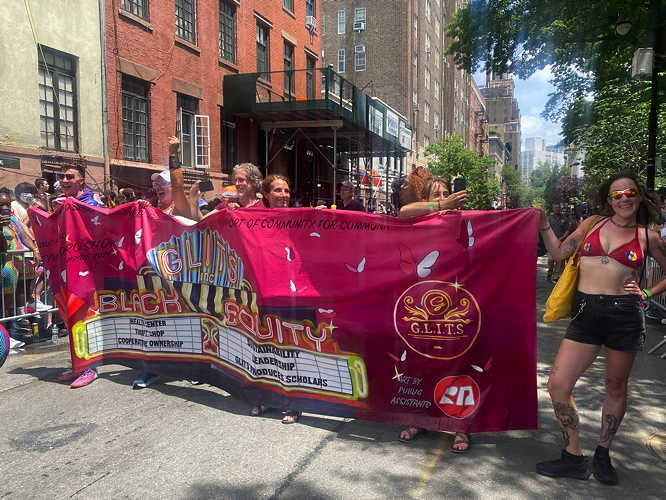 DSW and G.L.I.T.S. Inc. staffers carry the G.L.I.T.S. banner through Greenwich Village towards the end of the march (DSW 2021)
DSW Newsletter #27 (June 2021)
June 13, 2021 Elisa Crespo is fighting for a world where all people feel "included, safe, seen, and heard." Right now, she is focusing on the rights and dignity of...
Read More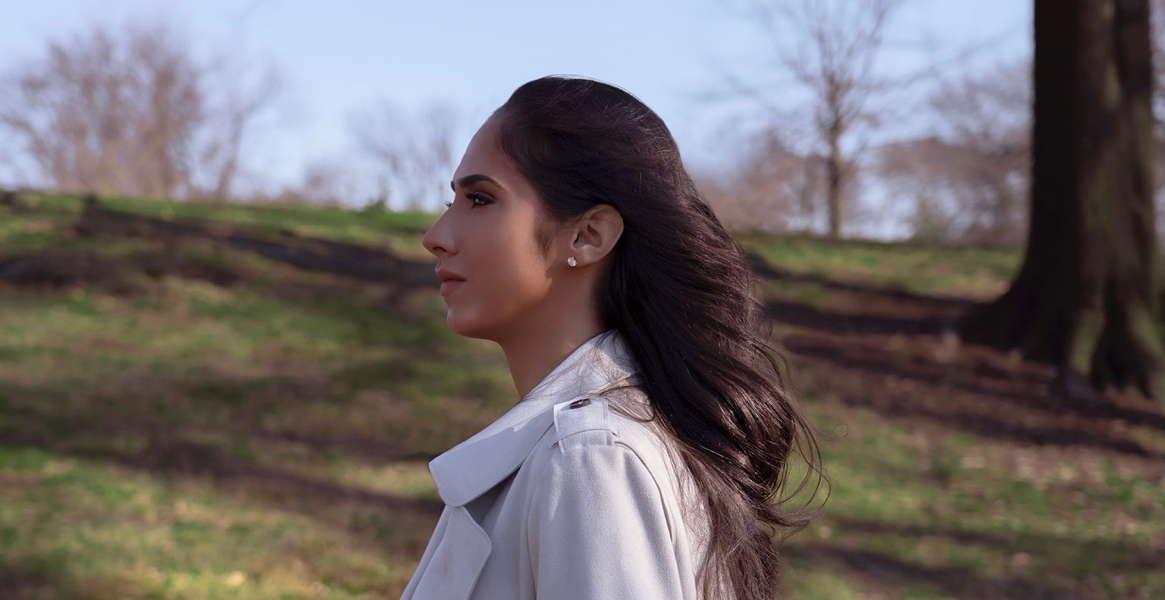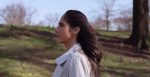 Hero of the Month: Elisa Crespo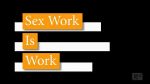 DSW Staff Featured in Documentary on...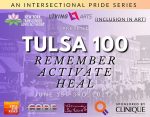 Tulsa Race Massacre Centennial Is Marked...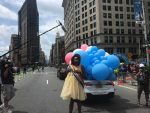 DSW's Ceyenne Doroshow Is Grand Marshal...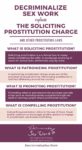 The Charge of Soliciting Prostitution