August 1, 2020
More than six hundred activists, community members, and allies, including DSW's Ceyenne Doroshow and Frances Steele, filled Manhattan's Times Square on a Saturday at 5 p.m. The crowd gathered for the Black Sex Worker Liberation March & Vigil. When the event concluded five hours later, it was conclusively the largest demonstration for sex worker rights ever to take place in the U.S.
The lead organizers of the event were TS Candii, SX Noir, and Gizelle Marie.
SX Noir is an activist, researcher, podcast host, and vice president of the Women of Sex Tech, a movement championing the intersection of sex work and sex tech. Her podcast, "Thot Leader Pod," frames the conversation around sex, love, dating, and tech, "holding space for authentic conversations with innovators, influencers, and activists about how we navigate developments in the sex tech industry." Noir's work uplifts sex workers through storytelling, looking at the reality of this work in an ever-changing world. Her podcast "aims to unpack how empathy in digital spaces can enhance our human experience in physical spaces" and has featured other movement leaders such as Kate Zen from Red Canary Song and Jacq the Stripper.
TS Candii is a Black transgender woman, sex worker, organizer, political activist, and public speaker. A fixture in the NY sex worker and transgender rights movement, she is an organizer with Decrim NY and the Repeal the #WalkingWhileTrans Ban Coalition. Candii is currently producing a documentary called "Policing Our Bodies," sharing the experiences that have shaped her life and her identity.
Gizelle Marie is a NY-born dancer and founder of the New York City Stripper Strike. Always active in her community, Gizelle Marie's organizing work with the Stripper Strike has been the impetus for her becoming a national figure in sex worker rights. The labor movement was launched in October of 2017 to bring awareness to the abuse and discrimination faced by exotic dancers in NYC and around the country.
Many 'upscale' clubs engage in racist hiring processes, setting low caps on the number of dancers of color allowed on the floor. In contrast, 'urban' clubs, which discriminate less by race, are more dangerous and less profitable for dancers, and generally dancers have to pay high house fees to management and bouncers. The Stripper Strike partnered with DSW's Melissa Broudo and Crystal DeBoise through their organization, the SOAR Institute, garnering support from the national Women's March movement. The International Women's Strike has also spoken out in solidarity with the Stripper Strike.
Collaboration for the event began months ago. Gizelle Marie launched a fundraiser this past June to support Black sex workers amidst the pandemic. As her work gained momentum and support, making a notable difference in the community, the idea for the march followed.
The march featured speakers including DSW's Ceyenne Doroshow, who highlighted the critical vulnerability of transgender, gender nonconforming, and nonbinary (TGNC) sex workers of color, and how they have prevailed and built community against all odds. Doroshow's organization, Gays and Lesbians Living In a Transgender Society (G.L.I.T.S.), has been working to establish safe and equitable housing for transgender sex workers in NY. State Sen. Jessica Ramos; Melania Brown, sister of Layleen Polanco; U.S. Congressional candidate Jamaal Bowman; and Manhattan District Attorney candidate Dan Quart also spoke. 
The Times Square rally exhibited the unity and resilience of the sex worker rights movement amidst COVID-19. The march highlighted experiences of sex workers of color, particularly transgender or gender nonconforming folks, who bear the brunt of the stigma and criminalization faced in the industry. But those who showed up represented all corners of sex work, from immigrant massage workers in Queens organized by Red Canary Song, to Melania Brown, sister of Layleen Polanco, a transgender woman who died at Rikers Island while being held on prostitution charges.
In her Instagram post, SX Noir thanked all of those involved: "The mutual aid, legal observers, paramedics, security team, speakers, and volunteers. None of this is possible without you all! We literally took over Times Square!!! To everyone who donated THANK YOU 🙏🏾 as the lead organizer of this event, I am blessed and proud to honor my community with this action. ✊🏾 The fight continues! We are still accepting donations. Link in bio!"
If you are able, please donate to this incredible, ever-growing movement.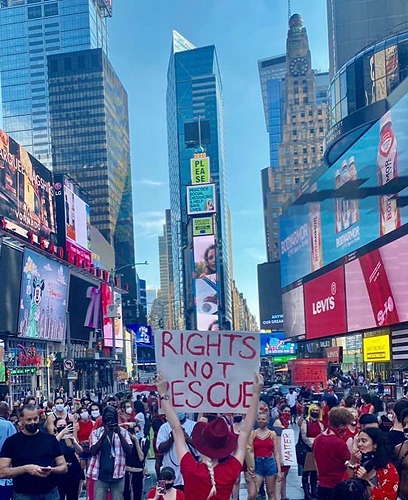 The vigil filled Times Square with protesters clad in red, the color of solidarity for sex worker rights. (Photo: @thegizellemarie/Instagram)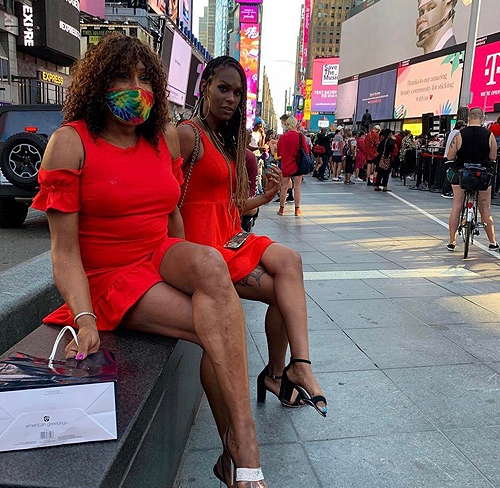 Ceyenne Doroshow (left) and Vanessa Warri (right) pictured before Doroshow spoke at the rally. (Photo: @glits_inc/Instagram)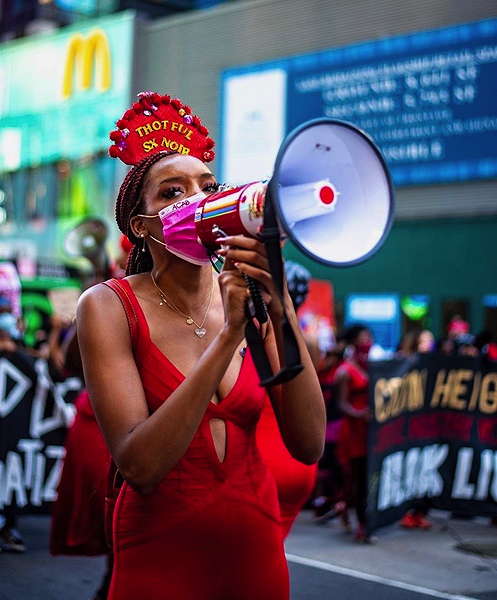 SX Noir addresses protesters, speaking on how tech censorship has targeted, censored, and criminalized sex workers. (Photo: @sxnoir/Instagram)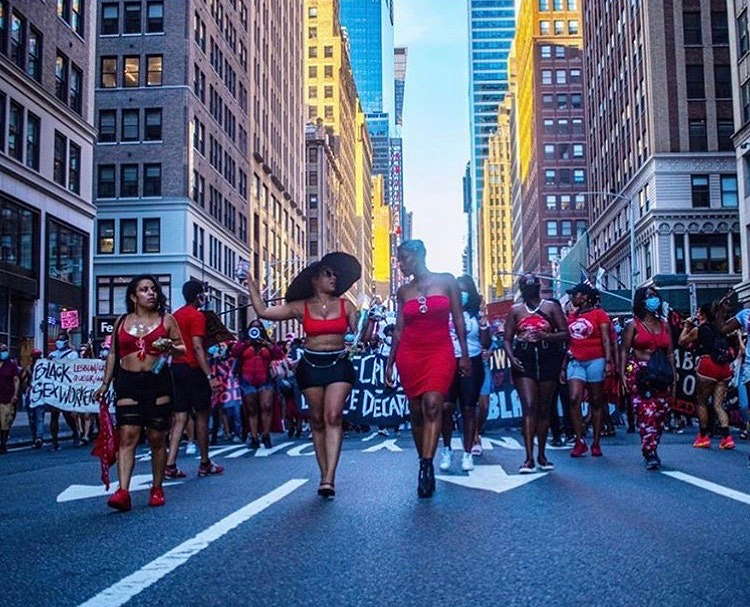 Gizelle Marie leads the march downtown. (Photo: @thegizellemarie/Instagram)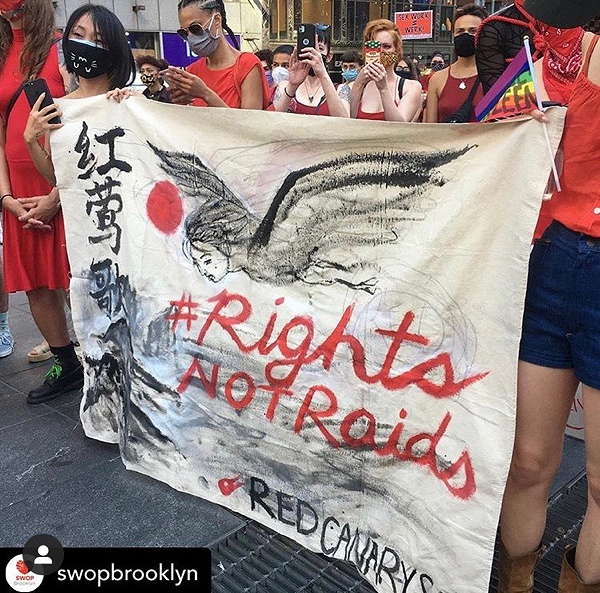 Demonstrators from Red Canary Song, an organization representing migrant sex workers and survivors, listen to speeches at the rally. (Photo: SWOP Brooklyn)
DSW Newsletter #17 (August 2020)
August 1, 2020 More than six hundred activists, community members, and allies, including DSW's Ceyenne Doroshow and Frances Steele, filled Manhattan's Times Square on a Saturday at 5 p.m. The...
Read More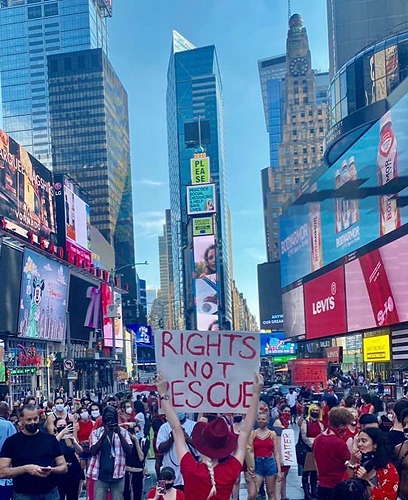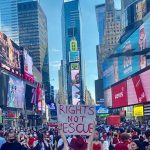 Hero(es) of the Month: TS Candii,...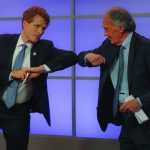 MA Democratic Senate Candidates Are Listening...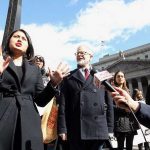 NY Senate Fails Trafficking Survivors, Again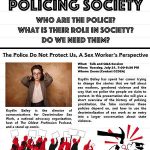 DSW's Kaytlin Bailey on Sex Work...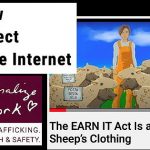 DSW Takes Action Against EARN IT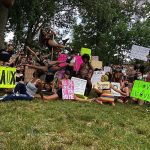 The Stripper Strike Goes National