July 21, 2020
Through our work with the New York Anti-Trafficking Network (NYATN) and the START Coalition (named for this bill), DSW has been tirelessly advocating for the Survivors of Trafficking Attaining Relief Together (START) Act, a bill allowing survivors of trafficking to clear their criminal records of arrests stemming from exploitation. NY-AB 6983 (Gottfried) passed the Assembly 104–38. Despite urging from advocates and activists, Majority Leader Andrea Stewart-Cousins failed to bring the Senate version of the bill, sponsored by Sen. Jessica Ramos (D-Queens), to a vote.
The 2019 version of this bill, also sponsored by Assemblymember Richard Gottfried (D-Manhattan), passed the Assembly last June. Despite support from immigrant rights groups, public defender organizations, numerous district attorneys, and the NYC Bar Association, the Senate never brought the bill to the floor.
Criminal convictions create enormous barriers in the lives of trafficking survivors. For many, criminal records preclude them from most employment opportunities, public health benefits, and other resources. They also increase the risk of deportation for immigrant survivors, all because they were trafficked. That the Senate continues to stall on this urgent issue, despite having the votes, is a glaring failure of leadership.
In 2010, New York became the first state in the U.S. to allow victims to clear their records of prostitution-related convictions. While working as a staff attorney at the Sex Workers Project in NYC, DSW's Melissa Broudo won the first motion in the nation to offer relief to survivors of trafficking with criminal convictions. Attorneys for survivors say that, although district attorneys are willing to clear sex-work-related offenses in most cases, the process is long and arduous. But these protections are inadequate to support survivors fully. Traffickers force their victims to perform various crimes in addition to sex work, such as theft, drug use, and trespassing. These charges pose the same collateral consequences but are ineligible for vacatur, a legal term referring to an order that sets aside a judgment or annuls a proceeding.
Mateo Guerrero-Tabares, lead organizer for transgender, gender non-conforming, intersex, and queer (TGNCIQ) justice with Make the Road New York, an immigrants rights group in NYC, told the Queens Daily Eagle that "not removing charges given to survivors of human trafficking — as a result of the coercive environment — specifically for undocumented folks means that they will face a lot more challenges in trying to adjust their immigration status, and therefore drive them more into the shadows and expose them to more danger."
Advocates will keep fighting. Many, like Broudo and Crystal DeBoise of DSW, have spent their careers supporting survivors in forging a better life, which includes removing prior convictions. "There is a real need to expand vacatur so that the law can allow more survivors to move forward without a burdensome and unjust criminal record, which presents myriad barriers to employment, housing, immigration, and other critical areas. We owe it to survivors to not be continually revictimized and retraumatized by the criminal justice system," says Broudo.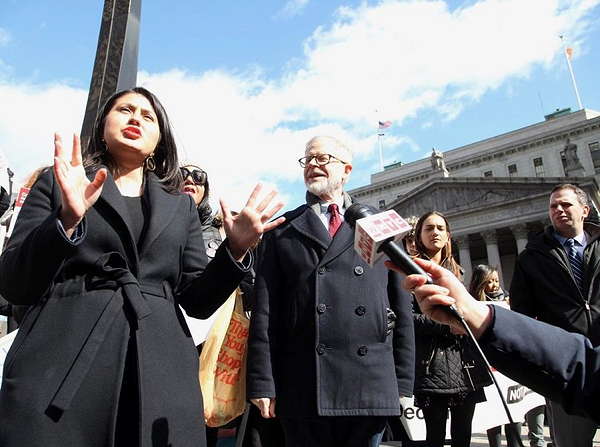 NY state Sen. Jessica Ramos and Assemblymember Richard Gottfried speak in June of 2019 on the bill they sponsored, which enables survivors of human trafficking to get their criminal records cleared. (Photo: Danielle Blunt/Queens Daily Eagle)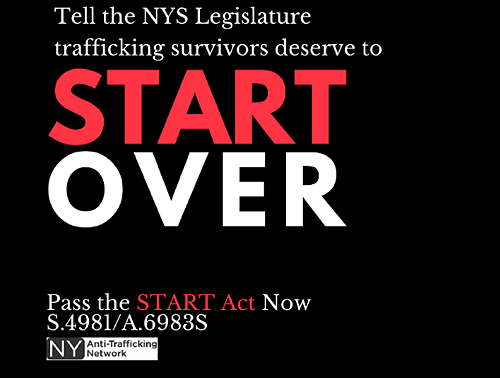 In NY state, trafficking victims may face deportation for offenses they were forced to commit. (Photo: NYATN/Twitter)
DSW Newsletter #17 (August 2020)
August 1, 2020 More than six hundred activists, community members, and allies, including DSW's Ceyenne Doroshow and Frances Steele, filled Manhattan's Times Square on a Saturday at 5 p.m. The...
Read More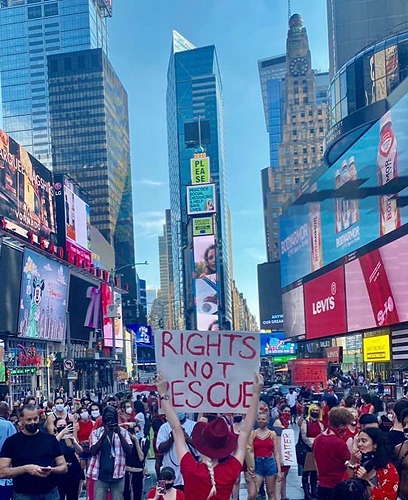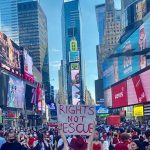 Hero(es) of the Month: TS Candii,...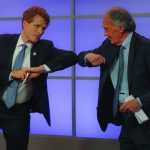 MA Democratic Senate Candidates Are Listening...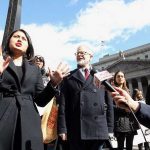 NY Senate Fails Trafficking Survivors, Again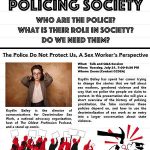 DSW's Kaytlin Bailey on Sex Work...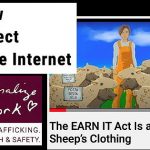 DSW Takes Action Against EARN IT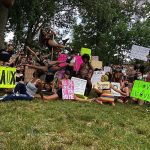 The Stripper Strike Goes National