June 27, 2020
The Philadelphia Stripper Strike, organized by Stilettos Inc., a local organization promoting labor rights for dancers, hosted a rally at Malcolm X Park. Demonstrators gathered there with picnic blankets, signs, and cash to tip the dancers performing throughout the day. DSW's Rae Wilkins attended the event.
Amidst nationwide protests to put an end to the legacy of white supremacy and police profiling, demonstrations for strippers' rights have also been emerging. In Los Angeles, NYC, Minneapolis, Portland, and beyond, communities have mobilized to protest a variety of injustices in the adult entertainment industry in the form of "Stripper Strikes," a sex worker resistance movement.
The Philadelphia protest was a beautiful show of solidarity between sex workers and allies. Toward the end of the event, each member of Stilettos Inc. gave a short speech about their own experiences, goals for the organization, and hopes for the future. While they haven't released a formal list of demands yet, the organization's primary goals include equal employment opportunity and representation for BIPOC dancers, safer working conditions and properly installed equipment, and protection from sexual violations in the workplace.
Last year the CA state legislature passed a law that classified independent contractors, including strippers, as formal employees. The decision sought to provide more protections for informal employees, but in reality, contracts harmed dancers' agency. Under the new law, management was able to withhold tips, demand high house fees, and regulate how much the dancers were paid. As a result, the organization Soldiers of Pole was formed in the Los Angeles area, founded by stripper and UCLA Extension teacher Antonia Crane, to advocate for unionization and worker protections.
In Portland, the Haymarket Pole Collective and PDX Stripper Strike, both founded by activist Cat Hollis, have mobilized to successfully pressure over 30 strip clubs to adopt racial justice and non-discrimination policies. The legislation's goal is to level the playing field for black dancers and fight predatory management structures. The organization has grown to include members in 18 states across the country.
The New York City Stripper Strike was started by Gizelle Marie of the Bronx in 2017. Gizelle Marie has since partnered with organizations, including the SOAR Insitute and the International Women's Strike U.S., to uplift Black strippers and other sex workers alike. The New York City Stripper Strike cites many of the same grievances shared by those in other cities including racism from management and staff members, discrimination based on race or body type in the hiring process, race quotas, bartenders and "bottle girls" stealing tips meant for dancers, and sexual harassment.
Many movements have already impacted club dynamics, but systemic racism and misogyny persist. As Black Lives Matter gains momentum and demands systemic change, we must fight for adult entertainment reform. To support Stilettos Inc.'s mutual aid fund or to apply for their cash giveaway, click here.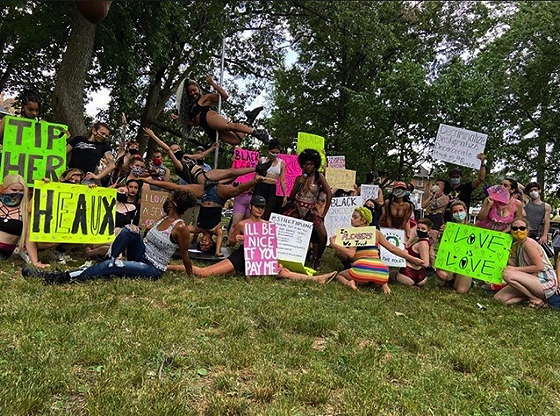 Demonstrators at the Philadelphia Stripper Strike gather for a picture in Malcolm X Park. (Photo: Stilettos Inc./Instagram)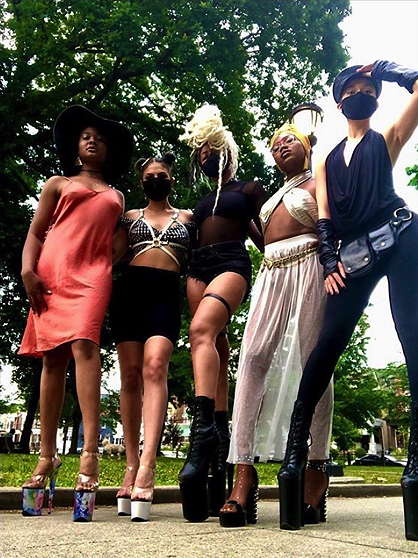 Organizers from Stilettos Inc. deliver remarks towards the end of the event and thank attendees for their solidarity. (Photo: Stilettos Inc./Instagram)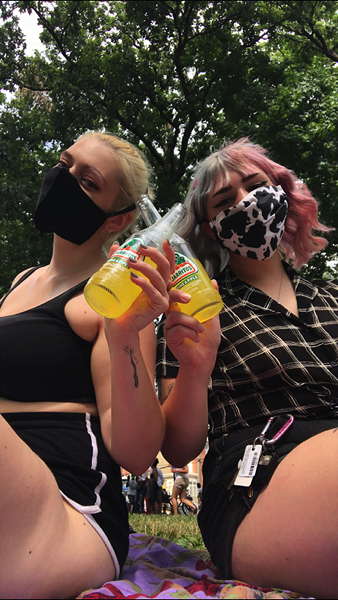 DSW's Rae Wilkins (left) and a friend toast to the demonstration. (Photo: DSW)
DSW Newsletter #17 (August 2020)
August 1, 2020 More than six hundred activists, community members, and allies, including DSW's Ceyenne Doroshow and Frances Steele, filled Manhattan's Times Square on a Saturday at 5 p.m. The...
Read More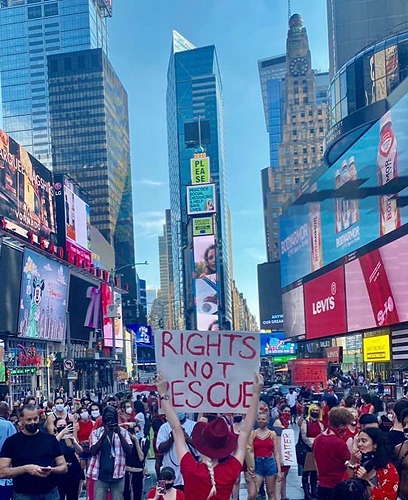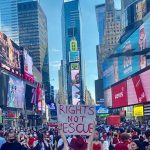 Hero(es) of the Month: TS Candii,...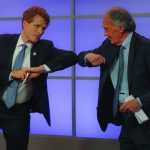 MA Democratic Senate Candidates Are Listening...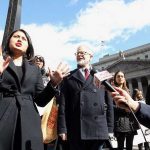 NY Senate Fails Trafficking Survivors, Again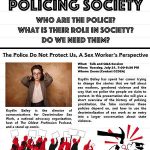 DSW's Kaytlin Bailey on Sex Work...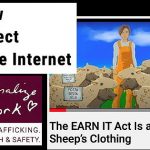 DSW Takes Action Against EARN IT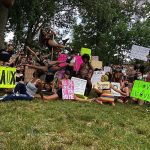 The Stripper Strike Goes National