September 7, 2021
In the latest episode of The Frontier Psychiatrists entitled 'OnlyBans?', hosts Dr. Carlene MacMillan and Dr. Owen Muir explore the impact of Sex Negativity online. The episode focuses on OnlyFans' since reversed decision to ban sexually explicit content. DSW's J. Leigh Oshiro-Brantly was interviewed for the episode, describing the ways in which online content creators, including sex workers, are ultimately at the mercy of online platform regulations. Oshiro-Brantly expanded on this, describing the need for platforms designed by and for the communities they serve in order to prevent exploitation and abuse online.
The episode explored the importance of OnlyFans and other sex-positive spaces online that meet the needs of individuals with identities often overlooked or marginalized on other platforms. Muir and MacMillan discussed a research study conducted by Hacking/Hustling which revealed how censoring the online platforms sex workers use to find and vet clients increased economic instability for 72.45% of the survey participants, with 33.8% reporting an increase of violence from clients. The episode also featured sex workers and sex educators who had been banned from online platforms because of their work.
The Frontier Psychiatrists is a profile on clubhouse focused on reimagining mental health and the discussions we have around it. MacMillan and Muir are also the co-founders of Brooklyn Minds, "a team-based, tech-enabled comprehensive mental health practice offering services for individuals and families across the lifespan." Brooklyn Minds is one of the first mental-health practices to have developed a sex positivity program, run by clinicians specifically focused on "serving sex workers, LGBQTIA+ individuals, and others with marginalized sexual identities and practices."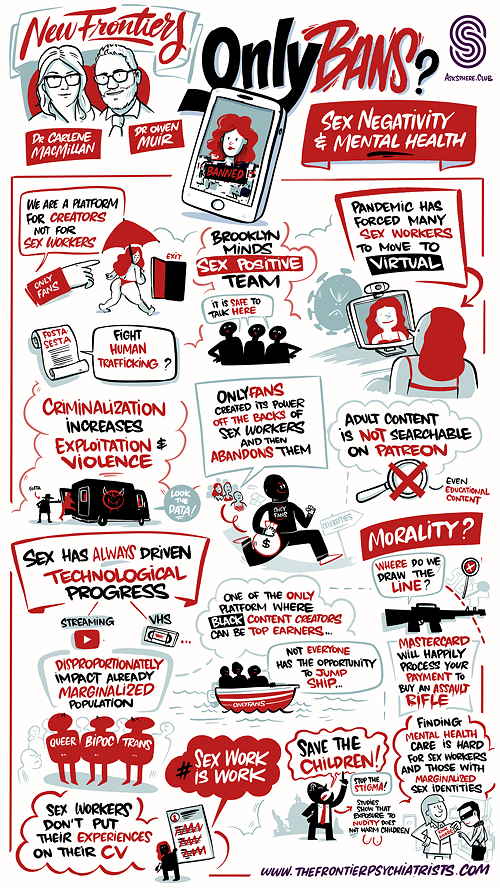 (Adrian Liard, 2021)
DSW Newsletter #29 (October 2021)
October 15, 2021 "The first act of resilience is to take a breath and acknowledge that we have a right to exist," Kiara St. James told the Human Rights Campaign in a 2019 interview. St. James has been an...
Read More