October 15, 2021
Despite widespread concern from adult content creators, Mastercard has proceeded with enforcing "special merchant" regulations for platforms hosting sexual content. The specific regulations have not been published by Mastercard, but the Adult Industry Free Speech Coalition reports that they will increase documentation requirements for performers and platforms will be required to review and moderate all content posted, including live streams. Senior vice president of communications for Mastercard, Seth Eisen, justified the new regulations saying, "banks need to certify that the websites selling adult content have effective controls in place to monitor, block and remove illegal or unconsented content. This program does not impact legal adult activity created by consenting individuals or studios."
But sex workers and other content creators feel far from protected. The new requirements make it harder for them to survive online and endanger anonymity, a critical element in an industry facing so much stigma and marginalization. In an interview with Vice, a sex worker reported that "by forcing me to fill out a consent 'contract' or upload an ID that protects producers, platforms, and banks from liability, I would have a harder time winning a case against an abusive producer. Sex workers themselves are rarely involved in legal or civil liability for trafficking, CSAM [child sexual abuse material], or other problematic content. I only see this surveillance and these policies as further exploitation not help; they make me less safe."
The credit card company met with a group of sex workers earlier in the month and the result was less than encouraging. Mastercard refused to validate workers' concerns, saying that the new regulations would not have an impact on the ability of platforms to accept Mastercard payments.
Adult websites have pre-existing consent regulations in place and are held to higher standards than non-adult social media platforms. The result is that websites like Pornhub and OnlyFans actually have fewer cases of abuse and exploitation than Facebook, Instagram, and the like. Even still, Mastercard, Discover, and Visa pulled services from Pornhub last year, with devastating consequences for creators' livelihoods. In August, when OnlyFans rolled back plans to ban explicit content on their platform, they cited pressure from banks as their reason behind initial action. Often, this pressure is motivated by misguided anti-trafficking rhetoric and stigma and discrimination against sex workers.
On their call with Mastercard, sex workers "made [it] very clear that payment processors should not be in the position to offer guidance to banks on how to do business with the adult industry, or make policies that affect the lives of LGBTQ+, BIPOC, and survivors working in the adult industry," Pixie, who attended the meeting, told Vice. "This needs to be up to those … who policies actually affect to come up with proper guidance on how to make our industry safer." Including impacted communities in policymaking is critical in all areas, but particularly for historically marginalized communities, whose needs and concerns are often misconstrued or erased.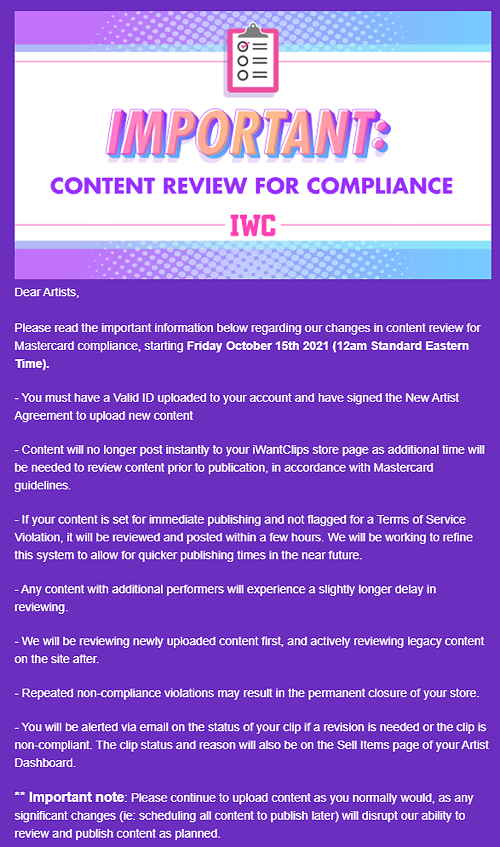 iWantClip, an adult content platform, updated users on its policies in order to comply with Mastercard's regulations. (Vice Media, 2021)
DSW Newsletter #29 (October 2021)
October 15, 2021 "The first act of resilience is to take a breath and acknowledge that we have a right to exist," Kiara St. James told the Human Rights Campaign in a 2019 interview. St. James has been an...
Read More