April 11, 2022
The Oregon Sex Workers Committee (OSWC) hosted its second Human Rights Commission Hearing. The hearing, held in Eugene, OR, brought together a diverse group of individuals including sex workers, allies, and members of law enforcement, who testified regarding the numerous and critical reasons to decriminalize consensual adult sex work.
Current and former sex workers described the devastating consequences that contact with the criminal justice system has had on their lives and their family members. Amber Batts, who turned to sex work to support herself and her children after escaping an abusive relationship, testified that after she was arrested her children were forced to live with their abusive father.
Because sex work is criminalized and misunderstood, consensual adult prostitution is often conflated with human trafficking in laws and policy reponses. Batts, from Alaska, was charged with trafficking, though Alaska's vague law lacks the federal guidelines of force, fraud, or coercion, which define trafficking. The law, in essence, conflates human trafficking and consensual adult sex work. She testified that her bail conditions were more stringent than someone charged with murder. She was sentenced to five and a half years in prison for a "crime" in which no one was hurt. On the day of her sentencing, a woman who killed another individual was sentenced to three years.
Batts never intended to be public about her engagement in sex work, she was outed and malinged in the media following her arrest. Prior to her arrest and time in prison, Batts owned a home and was able to support herself and her children on her own. After her release, she was not able to obtain employment in the social services, for which her college education had prepared her, or in any field that would provide benefits or sufficient compensation. Sex work had allowed her to be independent.
J. Leigh Oshiro-Brantly, research and project manager at DSW, as well as a sex worker and long-time sex work activist, testified about the harms of the Entrapment/Nordic/End Demand/Equality model. They spoke powerfully about keeping moral and ideological frameworks out of decisions around public policy, and reminded viewers that decriminalization is the only legal framework governing sex work that gives agency to the worker.
The hearing also included an interview with a former high-ranking member of law enforcement in New Zealand. He discussed how and why the 2003 Prostitution Reform Act (PRA), which decriminalized sex work in New Zealand, led to an increase in public health and safety and a decrease in exploitation. Watch the informative and enlightening video here.
We encourage you to to watch the full Human Rights Commission Hearing here.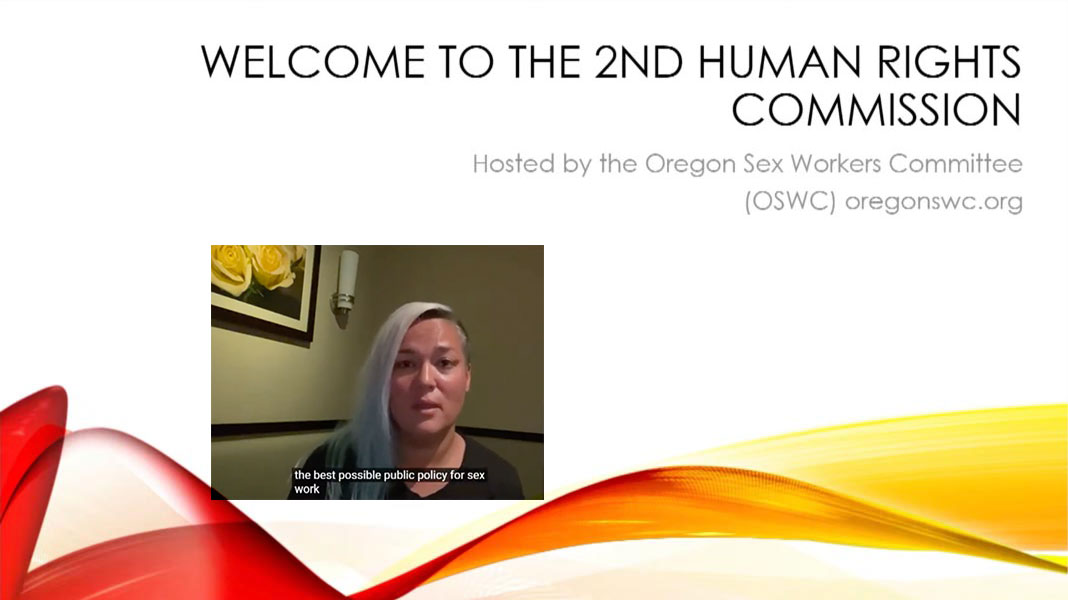 J. Leigh Oshiro-Brantly testifies during the commission hearing.
DSW Newsletter #35 (April 2022)
April 5, 2022 DSW's legal director, Melissa Broudo, and staff attorney, Rebecca Cleary, traveled to Rhode Island to testify in support of three important bills making their way through the Rhode Island legislature. As DSW works towards...
Read More