April 1, 2022
Each April, the American Sexual Health Organization (ASHA) recognizes Sexually Transmitted Infection (STI) Awareness Month. Additionally, the Centers for Disease Control and Prevention (CDC) recognize STI Awareness Week from April 10-16.
According to ASHA:
• There are 20 million new STI cases in the U.S. every year;
• The medical costs for these new cases are $16 billion;
• Adding the new cases each year with existing infection, there are an estimated 110 million total STIs among Americans.
Numerous public health agencies, including the World Health Organization, UNAIDS, the Global Commission on HIV and the Law, support the decriminalization of sex work as an essential step in the global fight against HIV, AIDS, and other STIs. Research shows the decriminalization of sex work would reduce HIV transmissions by 33-46% worldwide. Where sex work is criminalized, sex workers have less agency and are more likely to engage in risky behaviors such as having unprotected sex.
Criminalization and policing practices greatly impede sex workers' ability to protect themselves and their clients from STI transmission. The possession of condoms is often used by law enforcement as evidence that an individual has the intent to engage in or has engaged in prositution. According to the ACLU, "Research indicates that certain police practices related to enforcement of sex work criminalization may put sex workers (and their clients) at greater health risk. Interviews with sex workers in Sacramento Valley, California revealed that the threat and incidence of detention increased if sex workers had condoms in their possession. Some sex workers in a New York City study reported that police confiscated or destroyed their condoms, even outside the context of arrests. A number of these workers stated they carry fewer condoms due to their fear of arrest, but several indicated that this did not deter them from their commitment to practicing safer sex."
In addition to criminalization, the stigma associated with sex work can make it difficult for sex workers to obtain adequate sexual and reproductive health services. Sex workers often face discrimination by medical health professionals who may choose to condemn them for their choice to engage in sex work instead of simply providing them with the medical care they seek. Both the CDC and ASHA recommend regular testing for STIs as the most important measure to both treat and prevent STIs as many have no symptoms.
The United Nations Reproductive Health and Rights Agency (UNFPA) found that nearly 1 in 4 sex workers have been denied health care because of their occupation. It is imperative that sex workers are able to seek regular testing and routine care without worrying about being shamed or, worse, denied services for how they earn their income.
DSW is advocating in Rhode Island for the passage of H7672, currently in committee,  which mandates that a patient shall "be afforded respectful, considerate care" not be be discriminate against on any basis including age, sex, gender identity, sexual orientation, or income source or profession. This would ensure respectful access to all medical care for all workers.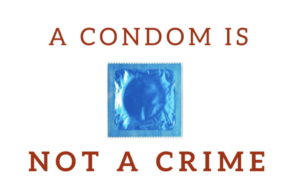 Courtesy of AIDS Healthcare Foundation (2019).
DSW Newsletter #35 (April 2022)
April 5, 2022 DSW's legal director, Melissa Broudo, and staff attorney, Rebecca Cleary, traveled to Rhode Island to testify in support of three important bills making their way through the Rhode Island legislature. As DSW works towards...
Read More