December 14, 2022
International Day to End Violence Against Sex Workers (D17) is a day of remembrance and solidarity observed on December 17 by sex workers and their allies, families, and communities. It originated as a vigil for the dozens of victims of a notorious serial killer who targeted sex workers in the Pacific Northwest.
Sex work is not inherently exploitative or dangerous. In fact, many sex workers love their jobs, but criminalization makes the profession unsafe.
The criminalization of consensual adult sex work creates hostility between sex workers and law enforcement, leaving them without a means to report abuse for fear of being arrested. Since their profession is illegal, sex workers don't have the same labor rights as the rest of the population. Instead, they‌'re forced to work in secret, where they face dangerous situations that they can't report.
Without access to safe working conditions or police protection, sex workers are left vulnerable. This creates the perfect environment for law enforcement to target them. There are countless instances of police misconduct against sex workers in the United States.
It's these circumstances that make D17 so important.
Every year, human rights advocates come together in a powerful display of solidarity to promote the rights of sex workers, defend the safety of trafficking victims, mourn the lives of those lost to violence, and celebrate the liveliness and diversity of sex worker communities worldwide.
Throughout the month of December, organizations of all sizes hold fundraisers, marches, vigils, and more to support the health and safety of sex workers.
This D17, UCLA's Global Lab for Research in Action, in collaboration with Decriminalize Sex Work (DSW), New Moon Fund, Old Pros, and Woodhull Freedom Foundation, has launched the Red Umbrella Campaign (RUC), which will address the structural barriers faced by sex workers and advocate for a world with safe sex work through decriminalization. RUC worked with dozens of real sex workers to share their stories of the violence and stigma they face under criminalization.
Each of these stories will be shared anonymously, along with meticulously researched infographics highlighting the systemic failures that affect the safety of sex workers. By providing authentic insight into the real lives of real sex workers, RUC will raise awareness about why the decriminalization of sex work is so necessary.
Follow UCLA's Global Lab for Research in Action on Instagram for updates on the Red Umbrella Campaign.
More D17 events:
♦ Ceyenne Doroshow, founder of Gays and Lesbians Living in a Transgender Society (G.L.I.T.S) and community engagement consultant at DSW, will host a fundraiser along with Qween Jean in London.
♦ The Minneapolis and Los Angeles chapters of the Sex Worker Outreach Project will host virtual events.
♦ The Philadelphia chapter of the Red Umbrella Alliance will host an event focusing on the struggles of disabled and disposessed sex workers.
♦ St. James Infirmary will host a community panel and celebration in San Francisco.
♦ Veronica Vera will host a gathering at Judson Memorial Church in New York City honoring the beloved Carol Leigh, who passed away last November.
♦ Maggies Toronto will host a Memorial and Sex Worker Celebration.
♦ The Erotic Laborers Solidarity Alliance of El Paso will host a vigil and altar-building event.
Regardless of how activists and organizations observe D17, we all have the same mission at heart: To guarantee the health, safety, and freedom of all sex workers.
As one of the most marginalized groups in society, sex workers face targeted discrimination and violence at alarming rates. The only way to ensure their safety is to decriminalize consensual adult sex work.
DSW stands in solidarity with all sex workers and supports their right to work without fear of criminalization, cruelty, and violence.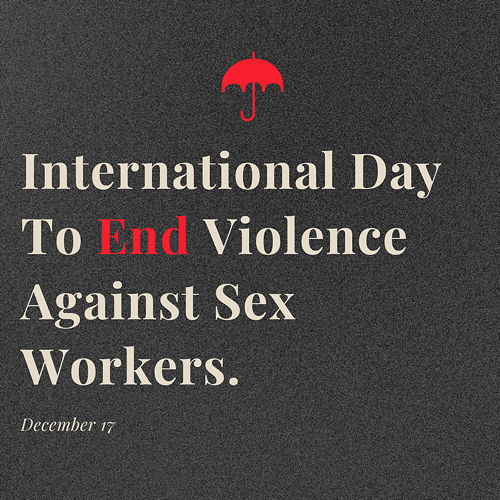 DSW Newsletter #43 (December 2022)
December 5, 2022 Decriminalize Sex Work (DSW) was proud to participate in the inaugural New England Sex Work Summit (NESWS) in Manchester, NH. It was hosted by New England sex work...
Read More