December 1, 2022
On November 25, 2017, New York City Police Department (NYPD) officers raided a Flushing, Queens massage parlor as part of a sting operation against consensual adult sex work. Amidst the panic and brutality of the raid, a massage parlor employee named Yang Song fell from a window on the building's third floor.
Song sustained fatal injuries and died the next morning. This week marks the five-year anniversary of her death.
In the aftermath of her passing, Song's family shared that she had been sexually assaulted by an undercover police officer after she was arrested for prostitution just a few months prior. Song had faced relentless harassment from the NYPD as they blackmailed and attempted to coerce her into being an informant. The harassment and threats grew increasingly ruthless the more she refused until she was finally targeted in the sting operation that ultimately led to her death.
Song's story galvanized hundreds of local decriminalization advocates, who immediately organized protests and vigils in her honor. It was among these activists that the organization Red Canary Song was born. Originally founded with the intent of helping Song's family pay for legal support and healthcare expenses, Red Canary Song now fights to promote the well-being of Asian and migrant sex workers through labor rights, mutual aid, and advocating for the decriminalization of consensual adult sex work.
Unfortunately, Song's story is only one of countless instances of law enforcement targeting and brutalizing sex workers for their profession. The criminalization of sex work regularly enables situations like these, where immigrants and sex workers are powerless against law enforcement for fear of arrest or deportation.
Police stings are violent, brutal, and traumatizing. Asian-owned massage parlors are frequent targets of these raids, where law enforcement claim to be saving "victims of trafficking" by arresting them. However, as demonstrated by Yang Song's tragic story, it's clear that this isn't the case. In fact, rarely, if ever, do these stings actually uncover human trafficking.
All they do is enable police to freely brutalize and assault sex workers.
The only way to create an environment where sex workers don't have to fear law enforcement is by decriminalizing sex work.
Only then will sex workers be safe.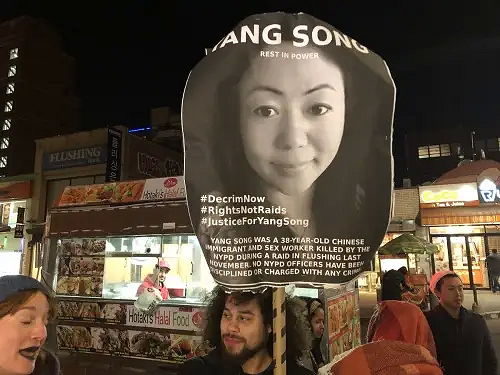 Advocates of decriminalization honor Yang Song at a vigil in 2018. (Image: Emma Whitford/Hyphen Magazine)
DSW Newsletter #43 (December 2022)
December 5, 2022 Decriminalize Sex Work (DSW) was proud to participate in the inaugural New England Sex Work Summit (NESWS) in Manchester, NH. It was hosted by New England sex work...
Read More