June 1-3, 2021
New York Transgender Advocacy Group (NYTAG) and many other advocacy partners from across the country are gathering in Tulsa, OK, for Tulsa 100, An Intersectional Pride Series. DSW and NYTAG's J. Leigh Oshiro-Brantly conceived of the event on their journey to "REMEMBER, ACTIVATE, and HEAL." Join the myriad different events taking place over the three days in person in Tulsa or virtually from anywhere in the world!
What: Three days of in-person and virtual events will honor the memory and legacy of Black Wall Street and Oklahoma's BIPOC LGBTQIA+ and Art Communities. Taking place over the first week of Pride Month 2021 and the centennial of the Tulsa Race Massacre, as well as International Whore's Day, the events will include streamed conversations with Oklahoma Black artists, advocates in criminal legal reform, leaders in the BIPOC community, trans, queer, and sex work community, and will feature healing and art therapy for BIPOC, LGTBQIA+, and Tulsa residents.
When: June 1-3, 2021
Where: Living Arts of Tulsa Gallery, the Greenwood District of Tulsa, OK and live on Zoom.
Register here: www.bit.ly/nytagtulsa100
Among the important discussions taking place is "Sex Work Decriminalization and Incarceration in Oklahoma," moderated by Melissa Broudo, DSW's legal director. The panelists include Marlon Ladd (Langston University professor, Black filmmaker, former Oklahoma VICE police officer), Chase Overstreet (former Tulsa assistant DA and former public defender), Mistress Mia Darque (black queer sex worker/‍advocate), and Janay Clougherty (criminal defender from Still She Rises, Tulsa).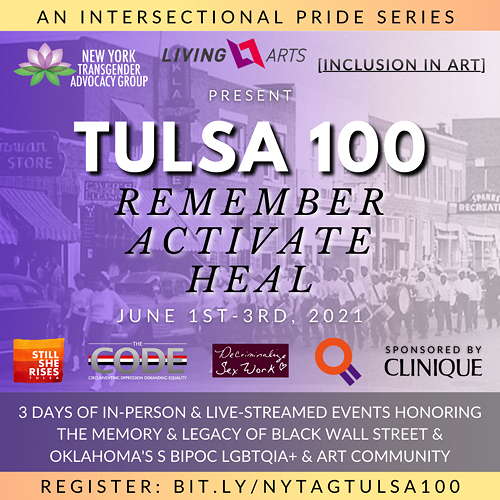 Courtesy of NYTAG.
DSW Newsletter #26 (May 2021)
May 15, 2021 A relentless activist for justice, truth, marginalized groups, and simple human decency, Norma Jean Almodovar is a force of nature. With incredible courage, grace, and a great...
Read More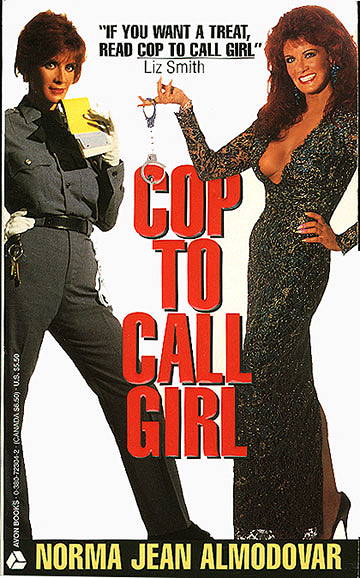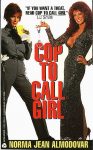 Hero of the Month: Norma Jean...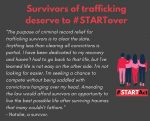 NY Senate Passes the START Act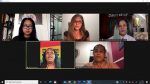 DSW Staff Share Their Expertise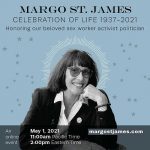 Remembering Margo St. James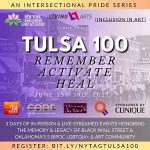 Mark Your Calendars