February 10, 2022
After a multi-year effort to decriminalize consensual, adult sex work in Victoria, the Sex Work Decriminalisation Act 2021 passed the upper house by 24 votes to 10, clearing its final hurdle to becoming law. Though the bill will go back to the lower house for another vote, it has a clear majority behind it. Sex workers and supporters are celebrating this hard-won victory while acknowledging that there is still much work to be done to realize the full human rights of sex workers.
The reforms under the new law will not be in full effect until December of 2023. Repealing the Sex Work Act of 1994 is the first step in the two-year-long process. The state will also do away with its registry requirements for sex workers, mandated STI tests, and street-based sex work will be partially legalized in some parts of the state. The Equal Opportunity Act has been amended to make it unlawful to discriminate against an individual based on their "profession, trade or occupation." Sex work will now be regulated through standard planning, occupational health and safety, and other regulations that apply to all businesses in Victoria.
Sex work in Victoria is currently regulated by a legal model that allows sex work to occur under very specific conditions, as laid out by the Sex Work Act of 1994. Licensed providers are able to operate regulated brothels and escort agencies. Independent sex workers must obtain a license and submit to mandated health testing. Any sex work that occurs outside this schema is criminalized. Advocates criticize this system for creating an unequal industry, where about 80% of the workers are still criminalized. These are usually the most disadvantaged and marginalized sex workers, "particularly migrant sex workers, gender diverse sex workers, they're the ones that are usually in that illegal underground area and the consequences of that is many feel they are not able to report unfair work practices and crimes to police," reports Matthew Roberts, spokesperson of Sex Work Law Reform Victoria. Even for legal sex workers, because of the registry, their personal information is public information, showing up on police checks and sometimes interfering with custody or housing cases.
Upper House MP Victoria Patten has campaigned for decriminalization for decades. She led a 2019 review of sex work laws that recommended decriminalization to protect the human rights, health, and safety of sex workers in Victoria. "This campaign really started in the early 1980s and we have seen iterations of legislation designed to control and effectively stigmatize sex workers," Patten told ABC News. "We have legislation currently in place that is not fit for purpose. It doesn't work on any meaningful level, it doesn't protect anyone and, in fact, it does quite the opposite."
Sex worker groups consulted throughout the process have largely been supportive of the bill. Still, there is some concern that the bill as written will leave some sex workers without protection. "In our campaigning, we've been very upfront that this is not decriminalization unless it's decriminalization for all of us," said Jules Kim, chief executive at Australia's largest sex worker organization Scarlet Alliance. "We're still really committed – and I think the sex worker community is out [rightly] celebrating [the bill] – but we're committed to continu[ing] pushing for further reforms. … We'll continue to fight really hard to ensure that the many positive elements of the bill extend to everybody." Concern over equal protections centers around street-based sex work and the fear that laws regulating where and when street work can occur will encourage law enforcement to continue harassing, surveilling, and arresting sex workers. The government has introduced new offenses to prohibit street-based sex workers from operating in certain areas such as those close to schools, childcare facilities, and places of worship. "Unfortunately the bill does fall short in some areas," Vixen Collective acting manager Dylan O'Hara said. "It does need strengthening to ensure that all parts of our sex worker community can enjoy the benefits of decriminalization. We need this to be full, genuine decriminalization that extends to all sex workers."
Still, the new law is a critical step in combatting the discrimination sex workers are subject to while accessing banking, housing, education, employment, and other resources. A 2020 study conducted by the Centre for Social Research found that 96% of workers had experienced discrimination in the past 12 months. Kim says "the bill will go a long way in addressing these issues and improving our access to work health and safety, our access to redress in the same ways that other workers are able to."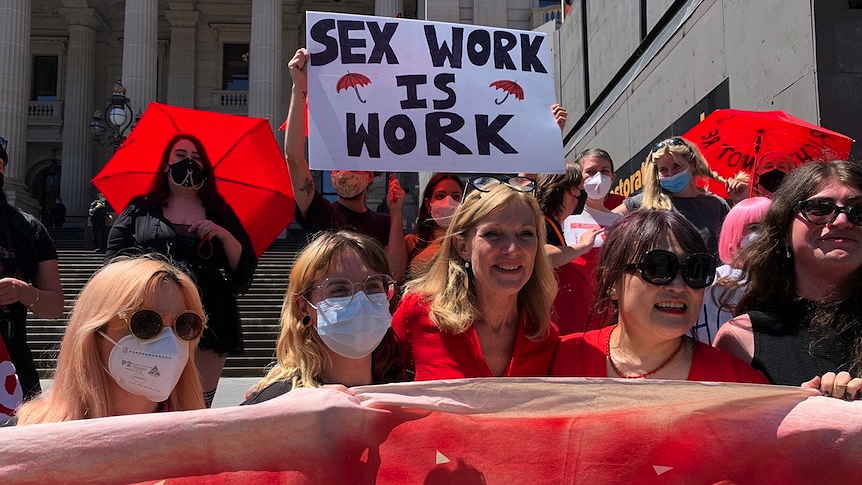 ​​MP Fiona Patten poses with sex workers and supporters of the decriminalization bill on the steps of parliament. (ABC News, 2022)
DSW Newsletter #33 (February 2022)
February 15, 2022 Decriminalize Sex Work (DSW) released a historic report which examines arrest and conviction data for prostitution and human trafficking-related offenses using legal, socio-political, and historical context. In "By the Numbers: New York's Treatment of...
Read More