February 11, 2022
A dangerous bill was approved by the Senate Judiciary Committee, reigniting a fiery debate around online sexual content regulation and freedom of speech. S3538 was introduced by Senator Lindsay Graham late last month. The EARN IT Act targets protections stipulated by Section 230 of the Communications Decency Act (CDA), ostensibly to help combat online sexual exploitation. Human rights and privacy groups have organized to vehemently object to the bill's censorship and question whether EARN IT will actually combat sexual abuse. Over 60 organizations, including the American Civil Liberties Union and the Electronic Frontier Foundation, authored a letter to the committee urging them not to consider this dangerous bill.
The suspicion is warranted, particularly given the impact of SESTA/FOSTA, passed in 2018, which shares many similarities with the EARN IT Act. SESTA removed section 230 protections from websites that host sexual content, opening up online platforms to liability for what is posted on their sites. The result has been a massive online crackdown by websites on sexual content and the shuttering of a number of online platforms. Not only does this challenge the right to freedom of expression, but it creates potential risks for sex workers and survivors of sexual exploitation. EARN IT would take this a step further by mandating monitoring and reporting of child sexual abuse imagery (CSAM). While this may seem like a positive aim, its enforcement imposes greater unintended harm.
First, EARN IT would compel companies to disclose information to the National Center for Missing and Exploited Children (NCMEC). Online platforms already conduct thorough investigations for content that might be abusive towards minors and report it on a voluntary basis. Legal experts worry that if that reporting is legally mandated, and tech companies are acting on behalf of law enforcement, they will be subject to the same constitutional restrictions that states are, which might present difficulties for existing prosecutions. The result would be new restrictions on how tech companies can scan for CSAM. Some states already have laws prohibiting such information sharing, which EARN IT would contradict.
Secondly, after SESTA/FOSTA became law in 2018, many anti-trafficking service providers reported that the law actually increased the likelihood of their clients experiencing exploitation. With the emergence of websites like Backpage and Craiglist's Erotic services page (ERS), much of sex work migrated online because it provided massively increased safety protections for workers. Using online platforms, sex workers were able to connect with buyers more easily, allowing them more options and the ability to screen clients for safety. A study out of Baylor University actually found that the staggered rollout of ERS reduced female homicide by 17.4%.
Since SESTA/FOSTA, many sex workers have experienced massive online censorship of their content. Fearing liability, online platforms have begun blocking sexual content creators unilaterally, even when there are no signs of abuse. This has had a chilling effect on the community's ability to earn a living, screen clients, and engage in safe workplace practices. With fewer options, workers are forced to accept clients without the ability to perform safety checks, putting them at risk. Trafficking-survivor service providers also reported similar impacts for their clients. Law enforcement even protested the law, saying that as websites wiped sexual content from their platforms for fear of liability, many of the leads they had on existing trafficking cases completely disappeared. "The shutting down of Backpage was like turning on a light in a dark room full of cockroaches," reported a DPS commissioner interviewed by the Samaritan Women Institute for Shelter Care. "The cockroaches fled, now we are trying to find out where they fled to."
SESTA/FOSTA has had collateral consequences for other businesses that acquire clients online, like massage therapists. As a result, the Electronic Frontier Foundation sued on behalf of 2 plaintiffs to invalidate the law.
Though no senators on the Judiciary Committee explicitly objected to the EARN IT Act, many heeded the concerns of technologists, industry groups, civil liberties advocates, and LGBTQ interest groups who have warned about human rights and freedom of expression abuses. Bill proponents claim that encryption and other privacy tools are used by predators to evade online detection, but these same tools also provide crucial protection for online users. "Proponents want to frame this as protecting children versus the Internet," said India McKinney, director of federal affairs at the Electronic Frontier Foundation (EFF), a nonprofit focused on digital civil liberties. "The way we see it is this bill still won't protect children against really horrible things, and will hurt additional groups of people."
To oppose the EARN IT Act and combat online censorship, visit the EFF's campaign page here and contact your representatives. Visit https://decriminalizesex.work/advocacy/earn-it-act/ to easily send a letter to your elected officials stating your opposition to the EARN IT Act advancing!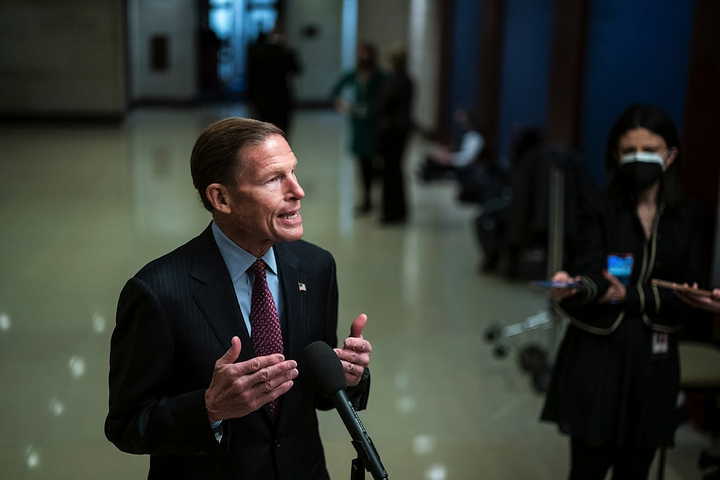 Sen. Richard Blumenthal (D-CT) is a co-sponsor of the Earn It Act. (The Washington Post, 2022)
DSW Newsletter #33 (February 2022)
February 15, 2022 Decriminalize Sex Work (DSW) released a historic report which examines arrest and conviction data for prostitution and human trafficking-related offenses using legal, socio-political, and historical context. In "By the Numbers: New York's Treatment of...
Read More