June 24, 2022
DSW organized "To Brothel or Not To Brothel? Why the Freedom of Sex Workers Impacts Us All" at this year's FreedomFest in Las Vegas. DSW's communications director, Ariela Moscowitz, was joined by a senior editor at Reason, Elizabeth Nolan Brown, who regularly writes on the intersections of sex, speech, tech, crime, politics, panic, and civil liberties, and Savannah Sly, a long-time sex worker rights activist, for this critical discussion. Avens O'Brien, a writer, advocate, and entrepreneur, moderated the panel discussion.
The speakers first touched on the four legal models used to govern prostitution around the world: legalization, criminalization, the Entrapment/Nordic/Equality model, and decriminalization. Prostitution is criminalized across the U.S. except for several rural counties in Nevada, where it has been legalized. Under this model, sex workers are subject to the stringent guidelines set forth by the state and the managers of the brothels they can exclusively work at. Legalization creates a two-tier system, whereby individuals who either could not or would not comply with the regulations remain criminalized and therefore in danger. Nevada has the highest arrest rate per capita of any state for prostitution-related offenses, despite having legalized prostitution in those several rural counties. Legalization places power in the hands of the government and third parties or managers, while criminalization and the Entrapment model give all of the power to clients and the government. Decriminalization is the only model that centers power with the worker, allows for the attainment of their full human rights, and also improves public health and safety.
The reasons to decriminalize consensual adult sex work are numerous and compelling. They are based in evidence, in reason, and in the principles that those of us who value liberty, freedom, bodily autonomy, privacy, and choice hold dear. Proponents of the criminalization of consensual adult sex work perpetuate the harms that laws based in ideology, racism, and misogyny have caused sex workers. These ideologists stoke moral panic with their conflation of consensual adult sex work and human trafficking. Setting aside the principles that make criminalizing consensual adult sex work preposterous and irreconcilable in a society that values freedom and dignity, prohibition — whether it be of drugs, alcohol, or sex — invites brutality to thrive. Sex work is not inherently dangerous or exploitative. It is the criminalization of prostitution that forces sex work "underground" and makes sex workers vulnerable to violence. Criminalization denies sex workers the ability to access justice and adequate medical care, and it traps them in a vicious cycle of arrest and incarceration.
Because of criminalization, sex workers have long been subjected to the censorship and surveillance many Americans are just beginning to become aware of and fear. It is naive to think the surveillance, censorship, discrimination, danger, and denial of bodily autonomy sex workers face under U.S. laws does not affect others. Broad government overreach, framed as efforts to combat trafficking, has led to laws such as 2018's SESTA/FOSTA which undercut the most crucial statute protecting freedom of speech on the internet. It does nothing to help victims of trafficking, as concluded by a recent government study, and actually endangers the safety, health, and human rights of consensual sex workers and trafficking victims. Legislators continue to introduce similar bills, such as the EARN It Act, again under the guise of combating trafficking, which gained a fair amount of traction in 2022. If passed, it could effectively end freedom of expression and encrypted and open communication on the internet as we know it.
Just last week, the ACLU revealed records showing that the Department of Homeland Security has been purchasing massive quantities of cell phone location data, skirting the Fourth Amendment, which protects against warrantless government searches and seizures. This is a blatant violation against this right. The Supreme Court has ruled that because cell phone data reveals so much of a person's private life, it deserves full Fourth Amendment protections. The government has bought the ability to access billions of location points from millions of phones that can be used to identify and track individuals, revealing all of their activities and associations. Sex workers have long been aware that their search history, text messages, and location data could all be used against them and have guarded against this while also advocating for policies that protect free speech and digital privacy.
With the recent overturn of Roe v. Wade, many have become concerned that the digital footprints of people seeking abortion services, along with advocates and providers, can be used against them. Digital surveillance has already been used against pregnant people when they experienced a miscarriage or stillbirth, and as abortion becomes increasingly criminalized and digital privacy is increasingly eroded, this will happen more often. Sex workers have long been aware of the dangers of digital surveillance and have been sounding the alarm bell with too few heeding their warnings. Perhaps now that others will be impacted, sex workers' experience, expertise, and advocacy will be acknowledged and utilized to defend against the government's encroachment on fundamental rights.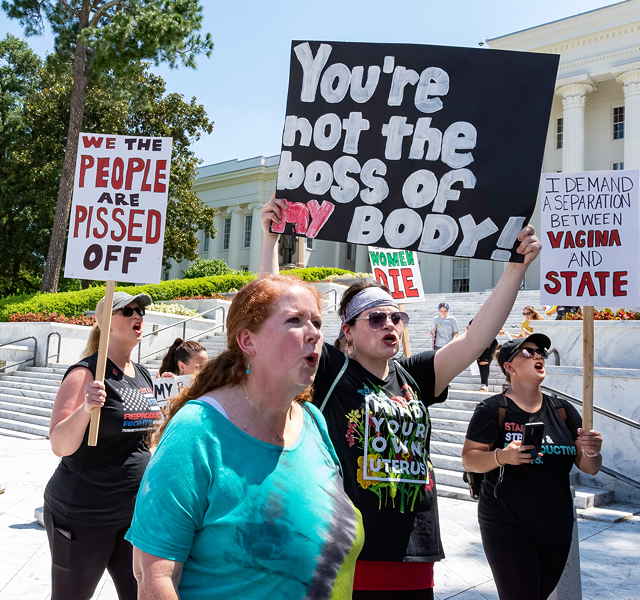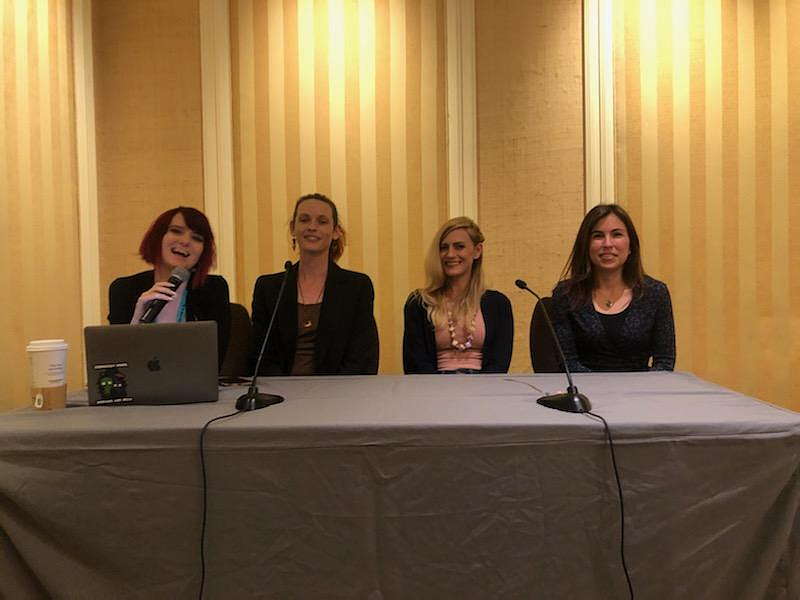 Avens O'Brien, Savannah Sly, Elizabeth Nolan Brown, and Ariela Moscowitz speaking at FreedomFest.
DSW Newsletter #38 (July 2022)
July 9, 2022 Nicole Gilliland was awarded $1.7 million in damages after a jury found that she had in fact been discriminated against by Southwestern Oregon Community College (SWOCC) because of her past work in pornographic films....
Read More