November 30, 2019
Two years ago, during a raid on the Flushing massage parlor where she worked, 38-year-old Yang Song jumped from the building's third-floor window, rather than face the vice officers who were running up the stairs. Yang died at New York-Presbyterian Hospital the following morning.
Yang Song had been arrested months before on prostitution charges. Her case was referred to the Queens Human Trafficking Intervention Courts (HTICs), and a court date had been scheduled for December. Hyphen magazine's interview with Yang's family following her death confirmed that she had been sexually assaulted while in police custody.
An officer had confiscated her money and her phone and then demanded sexual services. An immigrant working in a criminalized industry, Yang felt powerless to refuse. She bravely reported the assault to the local precinct and helped them identify the police assailant.
This victory was short-lived and costly for Yang. Following the report, vice agents began to harass and threaten her. They pressured Yang to become an undercover informant, to turn in clients and friends. When Yang refused, law enforcement targeted her in repeated stings. With the assault in recent memory and a December court date scheduled, facing re-arrest would have meant prison time and possible deportation, not to mention the prospect of another attack, or worse.
Yang's experience at the hands of law enforcement is an illustration of why sex workers are unlikely—and in some cases unable—to report crimes committed against them (especially by the police). Following her death, a report issued by the Queens District Attorney's office denied any wrongdoing on the part of law enforcement.
The raid took place months after NYPD pledged to curb prostitution arrests. A 2017 report by the Urban Justice Center revealed that arrests of Asian-identified people for prostitution and unlicensed massages increased by 2700% from 2012 to 2016. Fully 87% of the arrests for unlicensed massages were of Asian migrant women.
Tragedies like this are enabled by bad laws that systematically disenfranchise immigrants and sex workers. Police raids are traumatic and violent, treating supposed victims as criminals. Arrests do not help, saddling defendants with court fees and criminal records that further limit their ability to find another job. HTICs, established in Queens Criminal Court in 2010 and later expanded to NYC's other four boroughs, fail to identify trafficking survivors and neglect to provide workers with the services they need, such as employment, housing, education, and healthcare.
A report by the Yale School of Public Health found that courts increase harm by providing a way for ICE to target immigrants.
Criminalization of prostitution allows discrimination and government-sponsored violence to thrive. Yang Song's tragic death brought these realities to light. In a world that pities, condemns, or erases them, sex workers continue to demand rights. Organizations like Red Canary Song and Womankind advocate for Asian sex workers and survivors of trafficking in New York. Red Canary Song held a beautiful vigil to honor Yang Song's life on November 30 of this year.
Help support the rights and safety of all by visiting DSW's Take Action page.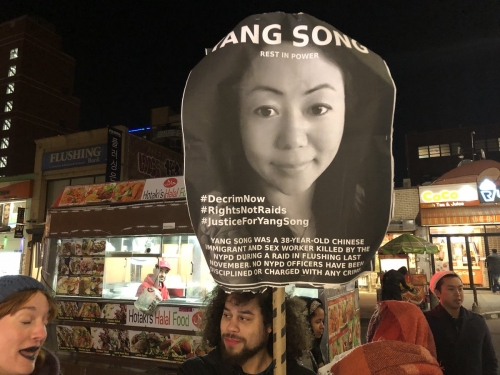 Marchers honor Yang Song at a vigil in 2018 and call for decriminalization to prevent more harm. (Photo: Emma Whitford/Hyphen magazine, 2019)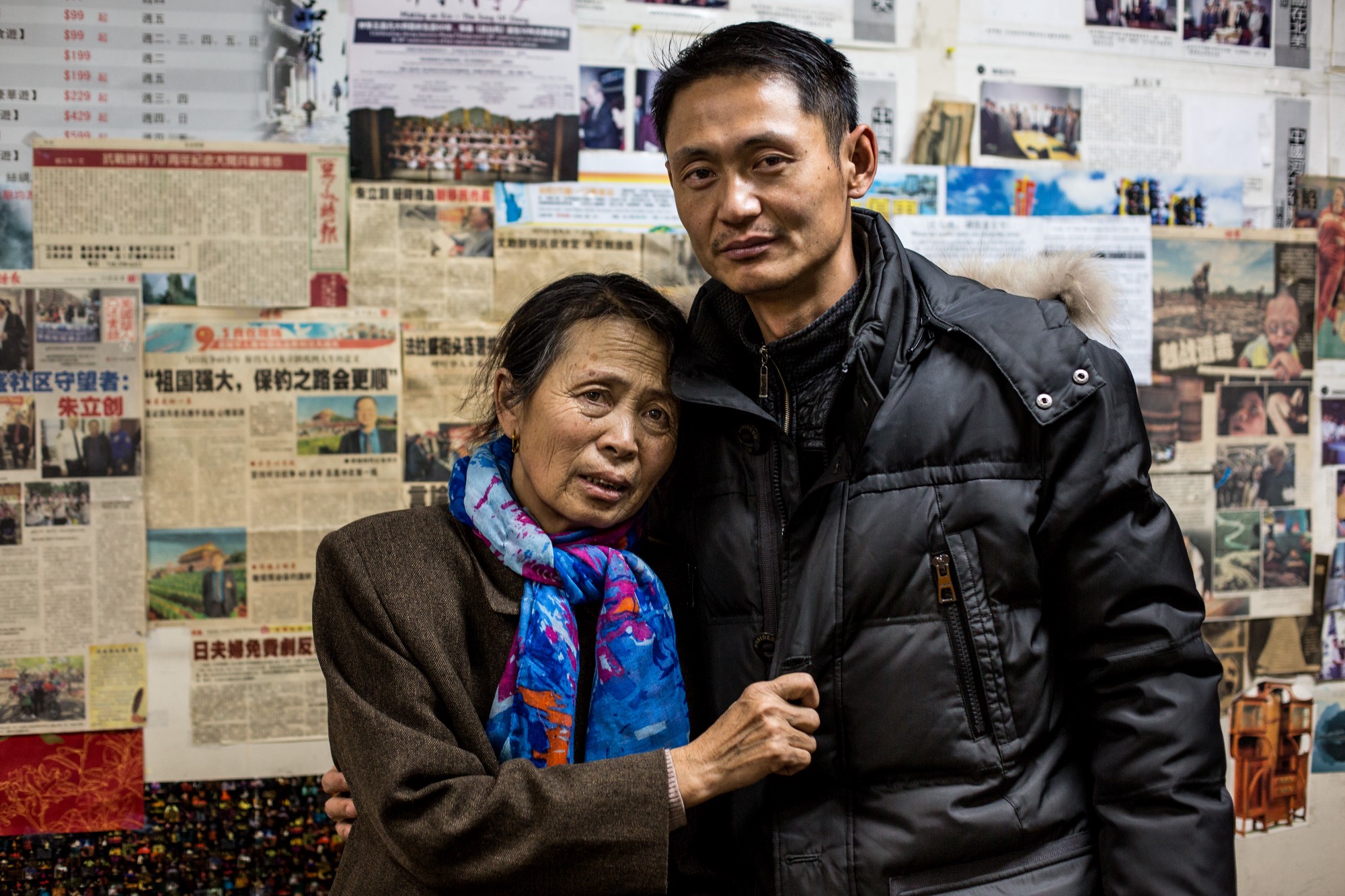 Yang Song's family traveled to New York the month after her death in the hopes of gaining insight into the circumstances surrounding her death. Yang's mother, Yumai Shi, and brother, Hai Song, are pictured in the office of the Flushing Neighborhood Watch Team's office on 40th Road, across the street from where Yang fell. (Photo: Scott Heins/The Appeal, 2019)