December 2, 2019
Congressman Ro Khanna (D-CA) , who was one of only 25 votes opposing FOSTA/SESTA (SESTA) in 2018, has announced a bill to study this new federal law. The bill, which would cause the National Institutes of Health (NIH) to study SESTA's harmful effects, would "establish the risks sex workers face on a day to day basis: the risk of violence, safety, [and] dignity." There is no evidence that SESTA has reduced trafficking, while there is significant evidence it causes increased violence and economic desperation.
In addition to broader concerns about SESTA's limitation of free speech on the internet, the law negatively impacts sex workers' ability to protect themselves against violence and predators posing as clients. By restricting online advertisements of sexual services, SESTA removes safety networks used to vet potential clients and drives sex workers onto the streets.
In a Rolling Stone article, Tamika Spellman of HIPS DC estimated that there had been a 75-80% increase in street-based sex work since SESTA became law. Maxine Doogan, president of ESPLERP, says that SESTA has caused sex workers to lose their housing and has reduced workers' bargaining power when negotiating with clients, forcing them to make riskier decisions.
Lived experience is backed up by hard data. A 2019 study by economists Scott Cunningham, Gregory DeAngelo, and John Tripp showed that the former "erotic services" section on Craigslist, a platform for sex workers to advertise and screen clients, reduced the overall female homicide rate by a staggering 10-17%. This finding comports with economic theory: Reducing the restrictions on any industry expands available economic opportunities and increases bargaining power, particularly for those at the bottom of the economic scale. With the balance of power shifted towards workers, those they interact with change their behavior.
Despite ample evidence of SESTA's harmful effects, there is a lack of comprehensive research into the scope of SESTA's impact. A short survey of trafficking-victim service providers, conducted by the Samaritan Women in July 2018, found disastrous consequences. Shelters have seen an uptick in aggravated assaults since the law was implemented and have had to increase capacity to meet the growing need.
Violence, abuse, and the number of victim/exploiter relationships have gone up according to service providers. There is no way to determine if SESTA is the direct cause, but the correlation is clear. One interviewee said that "pimps have been actively seeking out prior victims with the promise of clients since it's more difficult for those involved in the industry to find customers on their own."
Law enforcement officers working in anti-trafficking, who relied on sites like Backpage.com for intelligence gathering and sting operations, have had to abandon several pending investigations. As trafficking and violence escalates, law enforcement's front line of defense has been severely compromised. Additional research is needed to asses the longer-term impact of these harms.
With the Woodhull Freedom Foundation's constitutional challenge to SESTA still pending in the U.S. Court of Appeals, winning this case would be an essential step in potentially overturning the law. Rep. Khanna's bill is a historic step towards incorporating the voices of impacted community members into federal legislation. Visit DSW's Take Action page to contact your U.S. House member in support of this vital legislation.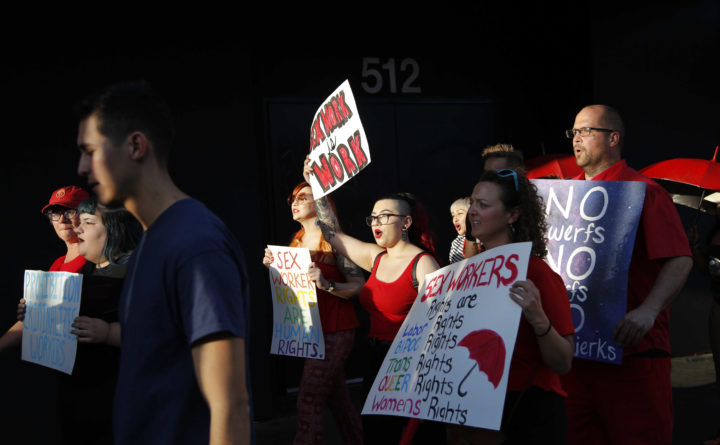 Marchers in Las Vegas demonstrate against SESTA in June. (Photo: John Locher/Bangor Daily News)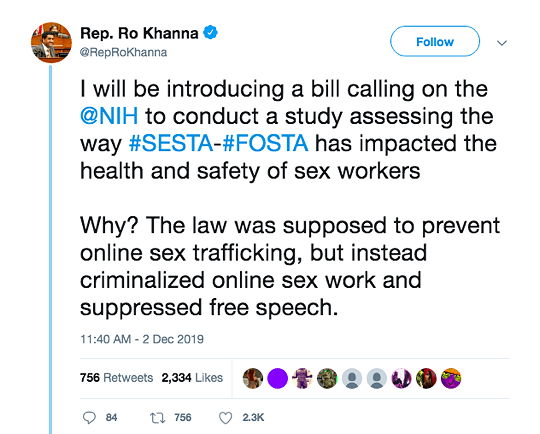 U.S. Rep. Khanna announced his bill on December 2.
DSW Newsletter #9 (December 2019)
November 20-22, 2019 DSW attended the National Association of Criminal Defense Lawyers' (NACDL's) 2019 Defending Sex Crimes Seminar, an annual event that brings together defense attorneys and criminal justice reform...
Read More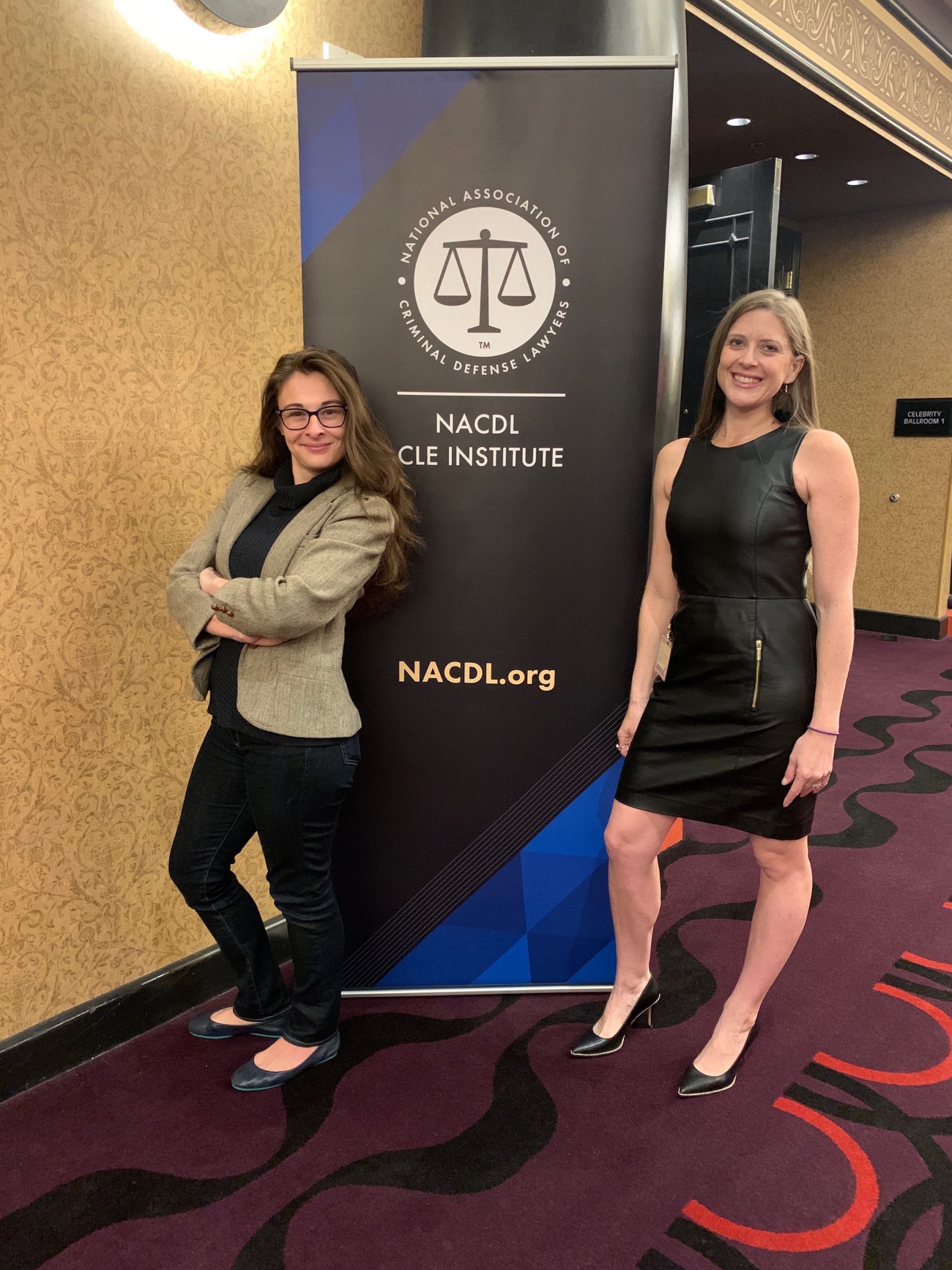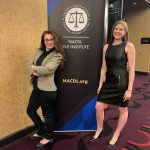 Defense Lawyers Understand the Harms of...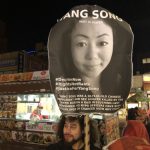 Remembering Yang Song: Wife, daughter, New...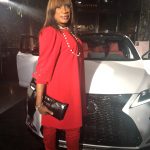 DSW Welcomes Two Incredible New Team...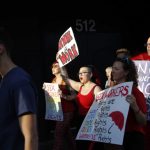 Bill To Study SESTA's Harms To...