November 20, 2021
Transgender Day of Remembrance (TDOR) is observed each year to commemorate and honor lives lost to acts of anti-transgender violence. TDOR originated in 1999, following the murder of Rita Hester, a transgender woman who was stabbed to death in her Boston home in 1998. Transgender rights activist Gwendolyn Ann Smith (profiled in this newsletter) hosted an event to Commemorate Hester's death, and TDOR was born.
TDOR is critical to recognizing the violence and persecution that transgender and gender-nonconforming (TGNC) individuals face on a daily basis in the United States. TGNC history is often left out of educational curricula and crimes against TGNC folks are vastly under-reported, in large part as a result of stigmatization and a lack of safety and support for TGNC individuals within social and governmental institutions. These dynamics are only augmented for trans folks of color. Transgender women of color who engaged in sex work were targeted by criminals in Los Angeles County for three decades with impunity. Law enforcement coded these cases as "No Humans Involved" and refused to investigate.1
Rita Hester's death sparked a movement but her unsolved murder symbolizes an uphill battle. 2021 is on track to be the deadliest year for TGNC individuals yet. There have already been 47 murders of Transgender people in the United States. 2020 set a record with a high of 44 deaths. According to the Human Rights Campaign, at least 231 transgender and gender-nonconforming people have been killed in the U.S. since January of 2013. Five out of six of these killings are of women and four out of five of the transgender women killed have been Black.
Still, as Kiara St. James, Executive Director and co-founder of the New York Transgender Advocacy Group (NYTAG) reminds us all, TDOR is also a celebration. "We cannot leave impressionable, young folks with the narrative that they could be next. We have to do better. There are so many amazing TGNC folks who have accomplished great things and they are gonna share their knowledge — I want TDOR to be that kind of event. … Acknowledge the epidemic of murders that continue to impact our community but we also want to let people know there's hope, and here's how to protect yourself."
Many incredible organizations across the country hosted incredible TDOR events this year. To name just a few: In Albany, In Our Own Voices commemorated the day with their event entitled Liberation for all; Freedom to Thrive. Make the Road NY also hosted a memorial in Queens, NY, and events were also hosted by the LGBTQ Community Center and Bridges4Life. Looking into 2022, we wish our community members safety, health, and happiness. DSW is proud to stand in solidarity in the fight for TGNC/NB rights and dignity.
---
1 ​​https://www.amnestyusa.org/from-margin-to-center-sex-work-decriminalization-is-a-racial-justice-issue/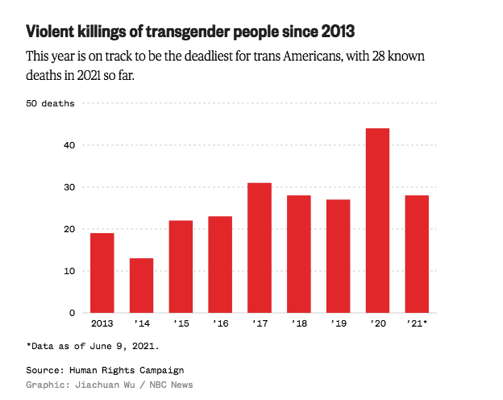 (NBC News, 2020)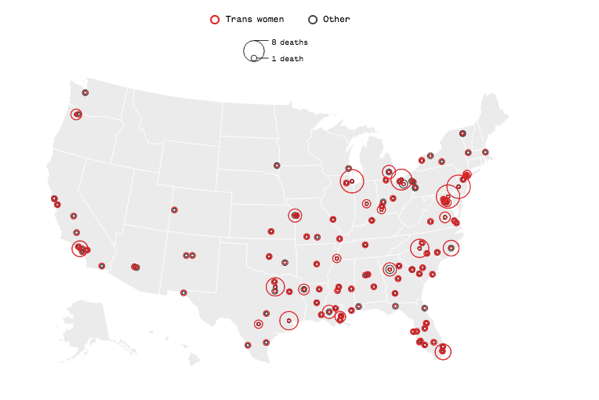 Of the 231 transgender and gender-nonconforming people who have been killed since 2013, a disproportionate number of the killings have happened in the South, and five out of six were of women. (NBC News/ 2020)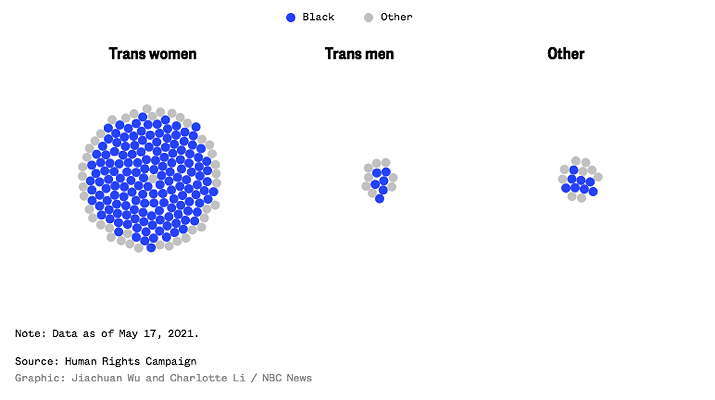 Black trans women make up the vast majority of those who have been killed. (NBC News)
DSW Newsletter #30 (November 2021)
November 16, 2021 In a historic and long-fought victory, New York Governor Kathy Hochul signed the Survivors of Trafficking Attaining Relief Together (START) Act into law. The START Act (A459/S674), sponsored by Senator Jessica Ramos and Representative...
Read More