December 2, 2021
The Oregon Sex Workers' Committee (OSWC) collaborated with Woodhull Freedom Foundation to present a discussion on decriminalization and marginalized communities. The panel was hosted by the Johns Hopkins Center for Public Health and Human Rights and featured prominent community members and advocates from across the country. It brought together these tremendous individuals to exchange their expertise and experiences around sex work, education, and the policies that we must pass to save lives. The panelists spoke eloquently about the complexities of circumstances that lead people to engage in sex work. They bravely shared stories of past traumas and how these experiences have shaped their commitment to decriminalization to allow sex workers, and other criminalized and marginalized communities, to fully realize their rights, and to achieve safety and health.
The event began with an introduction from moderator Bianca Beebe, a sex worker, MPH candidate at JHU, and the co-chair of OSWC. Beebe also lives and works in New Zealand, the only country in the world to have decriminalized sex work on a national level, and advocates for decriminalization based on her experiences working under that model. Panelists then took turns introducing themselves and what brought them to this work:
* Tamika Spellman (she/her) is the Policy and Community Engagement Manager for ​​Honoring Individual Power & Strength (HIPS) D.C. She came to HIPS after being a client of the organization for several years. As a sex worker, a transgender woman of color, a former drug user, and someone living with a disability, Spellman has an innate understanding of the importance of decriminalization and other harm-reduction policies in this work. She has testified on behalf of HIPS at DC city council hearings, spoken on several harm reduction panels, and is managing SWAC (DECRIMNOW).
* Joaquin Remora (he/him) is an advocate for Transgender empowerment and liberation with 10+ years of experience working to promote racial equity, harm reduction principles, and LGBTQ cultural competency. He has done crisis intervention, housing, and social services work in many settings, including at St. James Infirmary in San Francisco. Remora is currently the Director of Housing at Our Trans Home SF, a project of St. James Infirmary. As a young trans man, Remora remembers realizing how many parts of our society and the things we are told are designed to keep people separated and living lives of suffering. He wanted to change that and ​​is now dedicated wholeheartedly to inspiring and teaching empathy and creating momentum towards social change.
* Esther K (she/her) is a Lead Organizer with Red Canary Song, an Asian-American sex worker-led group focusing on migrant massage business workers outreach. Since 2019, she has been doing anti-trafficking and decriminalization work with Chinatowns across the United States through RCS, involving sex workers in anti-trafficking initiatives. She is also a consultant with the Sex Workers Project at the Urban Justice Center. A first-generation Taiwanese immigrant, K does not identify as a sex worker but began doing sexualized labor out of necessity after being rejected from a number of other forms of work. She eventually moved to Chicago and began working for an anti-trafficking organization that was very pro-law enforcement. There, she saw the immense harm caused by anti-trafficking groups who endorse criminal-legal solutions, and the danger this imposes on the communities they purport to serve.
* Keyanna Monae (she/her, they/them) a teenager from central Virginia recently relocated to Baltimore, Maryland hoping to become an activist and advocate, fighting HIV/AIDS, state-sanctioned violence against trans and queer folks, and ensuring that all youth have access to accurate, comprehensive education on sexuality & health. Monae was forced to leave home at the age of thirteen and began participating in survival sex work. She knew that she identified as a woman, but after being rejected for coming out as gay, she hid that part of herself. Contending with homelessness and poverty at such a young age, Monae says that sex work both "saved me and damaged me." She is committed to educating and supporting her community so that no child has to experience what she went through, with a firm belief that every challenge in life provides an opportunity for a breakthrough.
The OSWC advocates for decriminalization as an essential component of a public health framework that recognizes and protects the human rights of sex workers, but also emphasizes that decriminalization is not the end of the road for sex workers' rights: it's just one of many important steps in the long pursuit of equity and justice. Watch the full discussion here.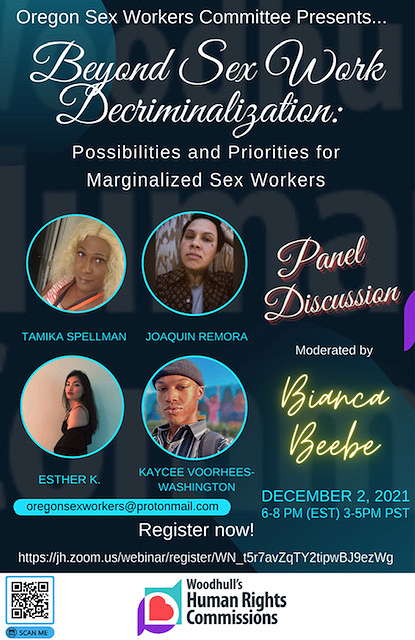 (Woodhull Freedom Foundation, 2021)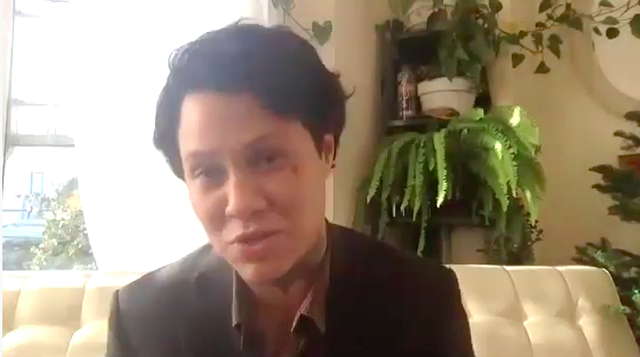 DSW Community Engagement Consultant Joaquin Remora spoke about his experiences with sex work and as an advocate for trans rights. (Woodhull Freedom Foundation, 2021)
DSW Newsletter #31 (December 2021)
December 13, 2021 In a historic move, the Burlington, VT City Council unanimously supported a resolution to remove harmful, stigmatizing, and archaic language around prostitution from its city charter. Burlington voters will now have the opportunity to...
Read More