December 17, 2021
Each year, International Day to End Violence Against Sex Workers (D17) brings together community members, advocates, and allies from around the world to honor the lives of those who have been lost to violence and abuse and to renew their commitment to promoting rights, health, safety, and visibility for sex workers and related communities.
This annual event was first recognized in 2003 when community members in Seattle, Washington, came together to remember the victims of the Green River Killer. That year, Gary Ridgeway pled guilty to 48 counts of murder, though he is suspected of having nearly 80 victims, most of them sex workers or runaways. In an interview, Ridgeway describes having targeted prostitutes because they were easy to pick up discreetly and he "knew they would not be reported missing right away and might never be reported missing. I picked prostitutes because I thought I could kill as many of them as I wanted without getting caught."
Ridgeway was not alone, nor was his logic incorrect. ​​Peter Sutcliffe (the Yorkshire Ripper), Jack the Ripper, Robert Hansen, Robert Pickton, Joel Rifken, Steve Wright, Benjamin Atkins, Donald Murphy, and Richard Cottington are all serial murderers who have admitted to targetting sex workers for their crimes either because they believed it would make them harder to catch, or because they believed sex workers were immoral and expendable. A recent spate of murders in St. Louis is thought to have been carried out by a single individual targeting sex workers. A 2011 study out of Indiana University found that between 1970-2009, 22 percent of confirmed serial murders were known sex workers and prostitutes. These numbers increased throughout the study, reaching a high of 69% from 2000-2009.
These heartbreaking statistics are backed up by antipathy on the part of law enforcement. "No Humans Involved" or NHI is a designation that has historically been used by ​​police, politicians, and judges when looking at crimes committed against sex workers and other marginalized individuals, a tacit acceptance of the continued violence against these communities and the belief that they are unworthy of human rights.
Importantly,  D17 is also a day to recognize the hard work and dedication to justice and human rights of so many organizations and individuals promoting rights for sex workers, survivors of human trafficking, LGBTQIA individuals, racial justice, immigration reform, and more. It is a celebration of solidarity in the face of oppression and systematic inequality. During the week leading up to D17, sex worker communities and social justice organizations around the world stage actions and vigils to raise awareness about violence and marginalization, and how to combat them.
This year, Gays and Lesbians Living in a Transgender Society (GLITS) was hoping to host an event at Nowadays in Brooklyn, NY, on the evening of December 16. Titled "Whore Dynasty," it would have featured Barbara Tucker, an award-winning recording artist. Unfortunately, the night was canceled due to the increasingly high rate of COVID-19 infections.
Other organizations hosted their own events and honored lives lost in a variety of ways. NYTAG hosted the third annual Marsha P. Johnson Community Leader Awards remotely on the afternoon of December 17, honoring the work of six intersectional community leaders who have made critical contributions to the rights of sex workers, transgender, and gender-nonconforming communities. The honorees spoke on the significance of D17, sex workers' rights, the legacy of Marsha P. Johnson, and their visions and strategies for the future. The Colectivo Intercultural TRANSgrediendo screened "CAER," a feature-length documentary on trans female migrant sex workers.
To read the names of sex workers who have lost their lives to violence and criminalization this year, see the SWOP USA D17 webpage.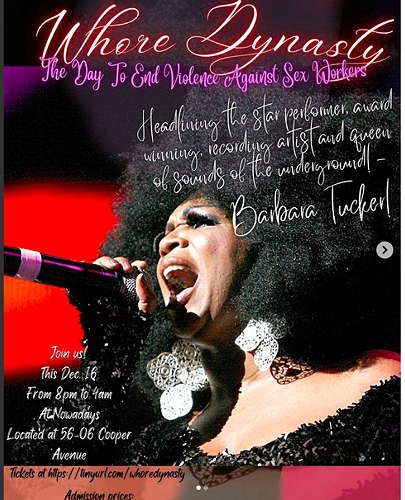 (GLITS, 2021)
(New York Transgender Advocacy Group, 2021)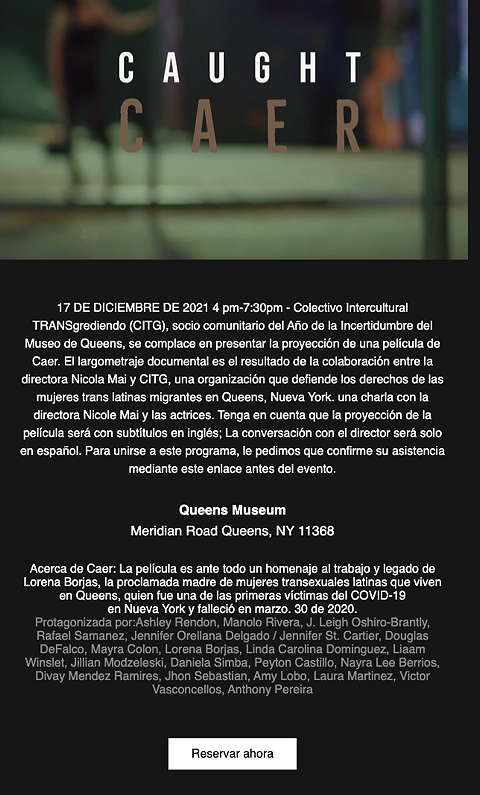 (The Colectivo Intercultural TRANSgrediendo, 2021)
DSW Newsletter #31 (December 2021)
December 13, 2021 In a historic move, the Burlington, VT City Council unanimously supported a resolution to remove harmful, stigmatizing, and archaic language around prostitution from its city charter. Burlington voters will now have the opportunity to...
Read More