Marsha P. Johnson Honored by Governor Cuomo as He Endorses "Walking­ While­ Trans" Repeal
February 1, 2020
Marsha P. Johnson is the first to be honored by DSW's monthly hero campaign. Ms. Johnson, who passed away on July 6, 1992, was a queer liberation activist and one of the most prominent figures in the Stonewall Uprising of 1969. She worked as a prostitute for much of her life and is a fixture of the intersection between transgender, gender non-confirming, non-binary, and LGBTQI liberation and sex worker rights. Marsha's legacy is critical to movements fighting for New York's most vulnerable communities. Throughout her life, she spoke out against oppressive policing; advocated for sex workers, prisoners, and people with HIV/AIDS; and founded one of the first safe spaces for transgender and homeless youth.
Gov. Andrew Cuomo (D-NY) announced that he would rename East River State Park after Marsha P. Johnson during his speech at the Human Rights Campaign's Greater New York gala. In the same address, Governor Cuomo formally endorsed legislation to repeal a loitering statute known as the "Walking While Trans Ban." Walking While Trans has historically enabled law enforcement to arrest transgender women, particularly those of color, for merely walking down the street or wearing provocative clothing. This harmful and discriminatory law is responsible for a significant number of prostitution-related arrests in New York City.
The governor's endorsement is an essential step towards repealing Section 240.37 of New York State's penal law, an initiative sponsored by Senator Brad Hoylman (D-Manhattan) and Assemblymember Amy Paulin (D-Westchester). The repeal failed to pass last session after being stalled in the Senate Codes Committee. The #WalkingWhileTransBan coalition applauded the governor in a written statement. They said, "We look forward to working together with the Governor to ensure Black and LatinX women and TGNC [transgender and gender-nonconforming] communities are no longer arbitrarily targeted for gender-based stop-and-frisk policing."
New York City is taking important steps to address its history of erasure and criminalization of TGNC individuals of color. The NYC police department updated its patrol guide last year to ban the targeting of individuals based on "gender, gender identity, clothing, and location." Last year, Mayor Bill de Blasio (D) announced that the city would be building a monument on Christopher Street dedicated to Johnson and fellow transgender activist Sylvia Rivera.
The re-dedication of East River Park and recognition of Johnson's and Rivera's work are sorely needed to educate communities about the true history of gay liberation in New York and beyond. Pride has historically been portrayed as an exclusively white, gay, and cisgendered male movement. Statues of LGBTQ individuals, particularly those of color, are markedly absent from the city's monuments.
There is no better way to honor the legacy of this fearless visionary than to protect the rights of the communities she spent her life championing. If you are a New York State resident, in honor of Ms. Johnson's life and legacy, and to help build a safer and more just community for all, please urge your representatives to repeal Walking While Trans. You can do so by contacting your two state legislators through DSW's Take Action page.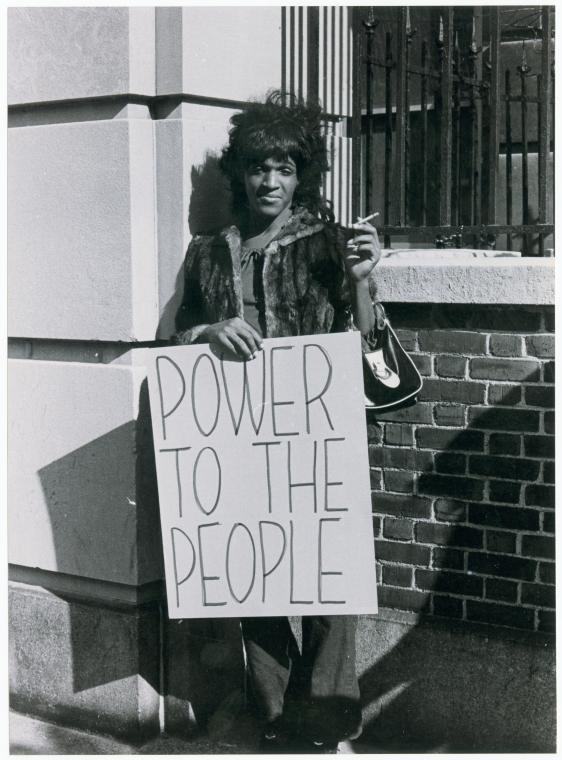 Marsha P. Johnson protests Bellevue Hospital's treatment of street people and gay people, circa 1968-75. (Photo: Diana Davies/NY Public Library)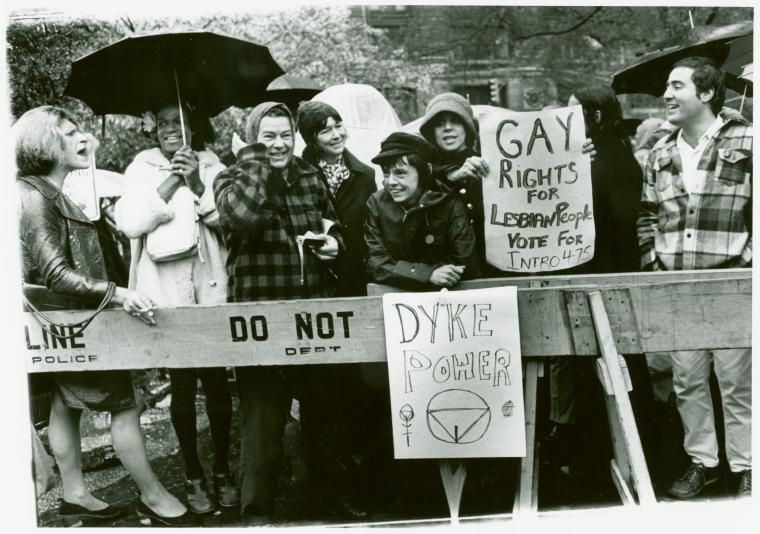 From left to right: Sylvia Rivera, Marsha P. Johnson, Jane Vercaine, Barbara Deming, Kady Vandeurs, Carol Grosberg, and others lead a protest at City Hall (Photo: Diana Davies/Courtesy of the New York Public Library, Manuscripts and Archives Division)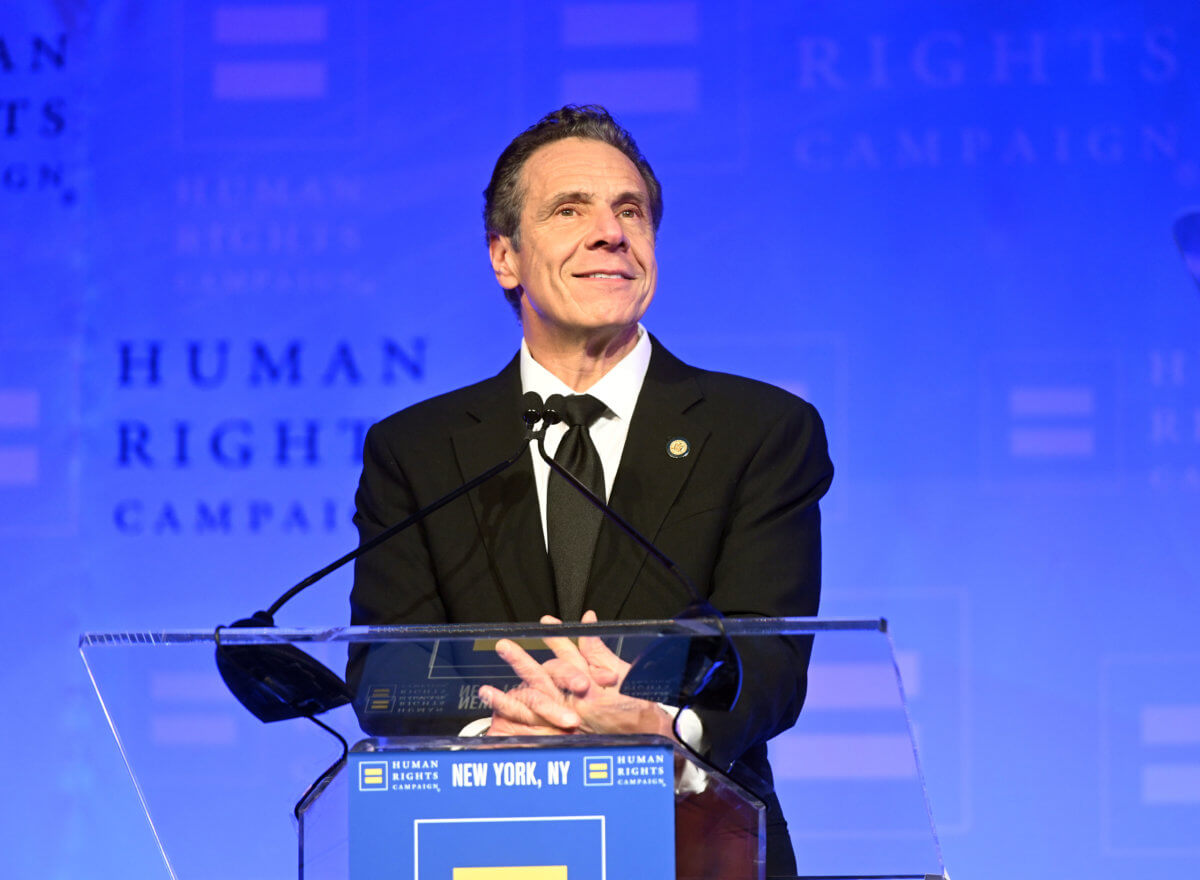 Gov. Andrew Cuomo (D) addresses the crowd at the Marriott Marquis during the February 1 Human Rights Campaign's Greater New York gala. (Photo: Matt Tracy/Gay City News)
Marsha P. Johnson (Photo: Netflix)