September 14, 2023
New York legislators were invited to attend a webinar on A7471 (Kelles) / S1966 (Sepúlveda), a bill that would grant immunity from prosecution for prostitution to victims and witnesses of crime. The webinar, "A Decade Wasted: How Immunity Could Have Solved The Gilgo Beach Murders," explained why sex workers and survivors of trafficking need protection in reporting crimes to encourage New York State legislators to co-sponsor the bill.
The webinar was hosted by assembly sponsor Dr. Anna Kelles of District 25 and moderated by DSW Legal Director Melissa Sontag Broudo. Assemblymember Kelles opened the webinar by emphasizing that the investigation into the murders of sex workers on Long Island was hindered by the inability of sex workers who had valuable information about the crimes to report them to local law enforcement. Four panelists provided their unique perspectives on the importance of this legislation. Laura Mullen, Survivor Advisory Board co-founder and president at ECLI-VIBES, spoke about her experience as a survivor and an advocate on Long Island who would have been safe to aid in law-enforcement investigations if the immunity policy was in place at the time of her exploitation. Abigail Swenstein, Esq., staff attorney at the Exploitation Intervention Project of the Legal Aid Society, is a public defender who works with sex workers and survivors of trafficking in New York City. She explained how her clients sometimes cannot seek justice for their own victimization because of criminalization. Jonathon Junig, Esq., chief of the Human Trafficking Unit at the New York County District Attorney's Office, discussed the challenges to prosecuting crimes when victims and witnesses cannot safely collaborate with prosecutors and explained that his office's non-prosecution policy for prostitution has made it easier to prosecute violent crime. Ceyenne Doroshow, founder and director of G.L.I.T.S. and star of HBO's The Stroll and Last Call, described her lived experience as a sex worker in New York City and the great challenges she has faced when seeking help from law enforcement.
The webinar was well attended by legislative staff from both the senate and assembly. It ended with Assemblymember Kelles again urging her colleagues in both chambers to join her and senate sponsor Luis Sepúlveda in co-sponsoring this critical and common sense legislation that will protect sex workers and trafficking survivors and aid in law-enforcement investigations across New York State.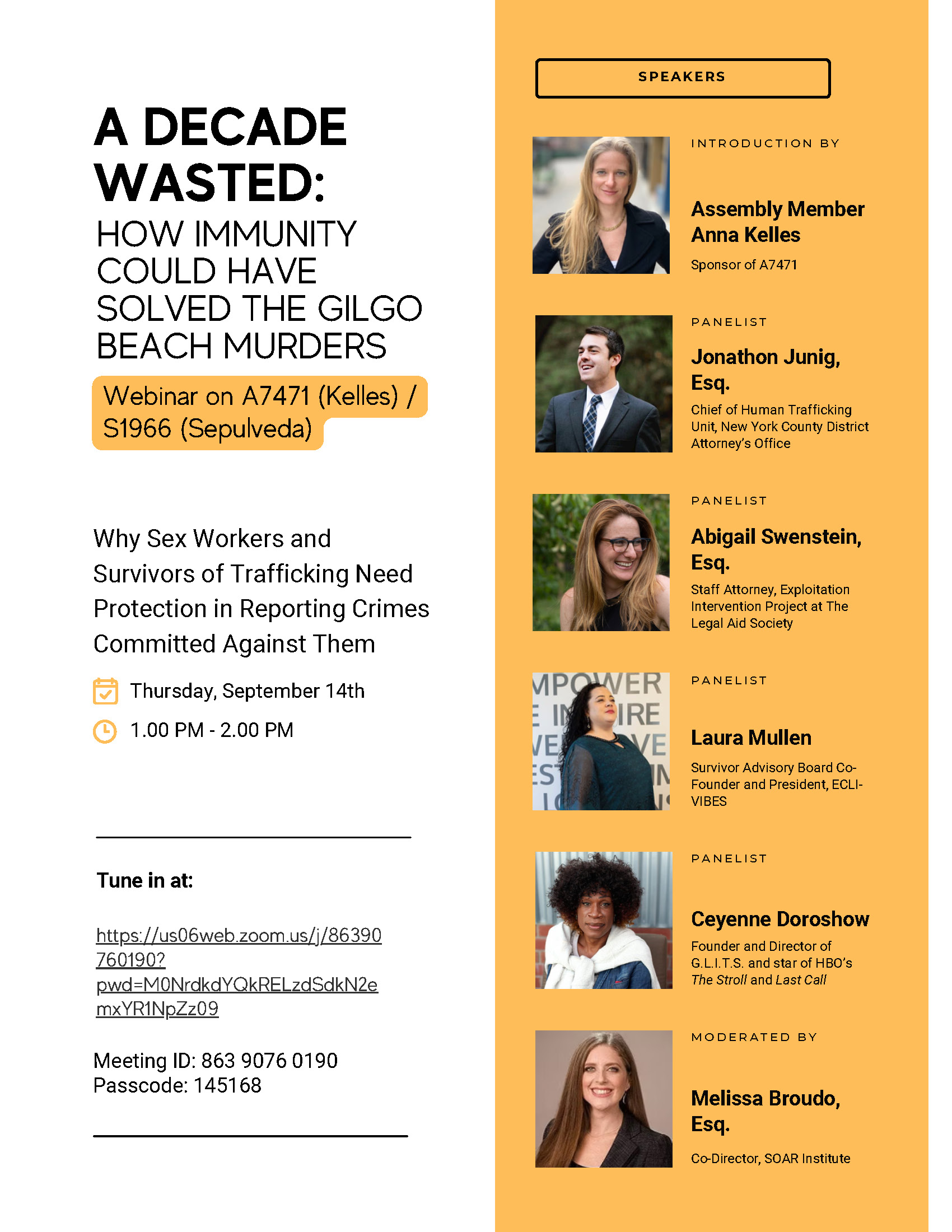 DSW Newsletter #49
September 15, 2023 The Rhode Island special legislative commission to study ensuring racial equity and optimizing health and safety laws affecting marginalized individuals has released a report documenting its findings and...
Read More