May 2, 2022
Throughout the month of May, DSW staff participated in a number of panels and discussions highlighting the harms of criminalization, pending legislation on sex work, and reminding sex workers of their rights!

DSW Legal Director Melissa Broudo joined the New York County Lawyers Association for their May 2 webinar, "Pending Legislation on Sex Work Decriminalization."
The New York County Lawyers Association provided this description of the program: The criminal justice system's approach to sex work has changed in recent years as some area district attorneys' offices have pledged to stop prosecuting some sex work related offenses, while some continue to prosecute those accused of patronizing and third parties.
Still, the continued criminalization of sex work disproportionately affects the LGBTQ community, communities of color and immigrant communities where, for many, sex work remains a means of survival in the face of economic insecurity.
Pending legislation in Albany (the "Stop the Violence in the Sex Trades Act" S3075/A849) aims to decriminalize sex work between consenting adults and allow workers a safe and secure environment, without the stigma and fear of judgment, arrest, and incarceration. Meanwhile, the "Sex Trade Survivors Justice and Equality Act" proposes asymmetrical criminalization [or client criminalization], eliminating penalties for some sex work related offenses, while levying fines against customers, roommates, drivers, and others. Both bills would continue to criminalize sex trafficking, exploitation, and coercion.

DSW was proud to sponsor and participate in Equality New York's 2022 advocacy day. The day was filled with compelling and educational panels, discussions, and legislator meetings. DSW Research and Project Manager J. Leigh Oshiro-Brantly, volunteer attorney Alison Kolins and Legal Director Melissa Broudo traveled to Albany to take part in the event. Melissa Broudo moderated "The Criminalization of Sexuality: From Banned Books to Prison Walls," during which panelists "explored the linkage from repressive/no sexual health education (banned books/banned teachings) to criminalization of people for gender expression and sexual acts (i.e. prostitution). The continuum of stigmatization and marginalization across these divergent — but connected — issues is central to understanding the continued backlash queer and trans folks receive when there are cultural and legal shifts. Silencing, shaming, stigmatizing, and ultimately criminalizing people for who they are or what they do with their bodies is a continuum that must be examined and fought."

J. Leigh Oshiro-Brantly hosted the 2022 Transgender, Gender Non-Conforming, Non-Binary, and Intersex (TGNCNBI) Advocacy Day, spearheaded by New York Transgender Advocacy Group and the New York State Gender Diversity Coalition. The full day of programming included "Sex Work Issues and Legislation," during which DSW Staff Attorney Rebecca Cleary and Ceyenne Doroshow discussed the fight to decriminalize sex work and lift up sex workers, the 2021 repeal of the "Walking While Trans Ban," the pending immunity bill, and Supreme Court Justice Alito's leaked draft opinion on abortion rights and its connection to sex work.

Melissa Broudo and J. Leigh Oshiro-Brantly traveled to DomCon in Los Angeles where they shared information about the critical need to decriminalize consensual adult sex work throughout the conference and also presented "Sex Work, Fetish Work, and the Law." Their presentation explained the different legal and regulatory bodies that affect people involved in all forms of sex work, including fetish work — even in ways that one may not expect. They also discussed how to navigate legal digital spaces post-SESTA/FOSTA.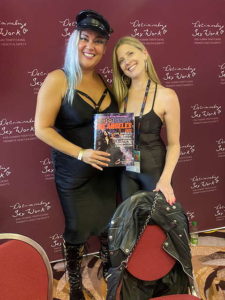 J. Leigh Oshiro-Brantly and Melissa Broudo pose at DomCon.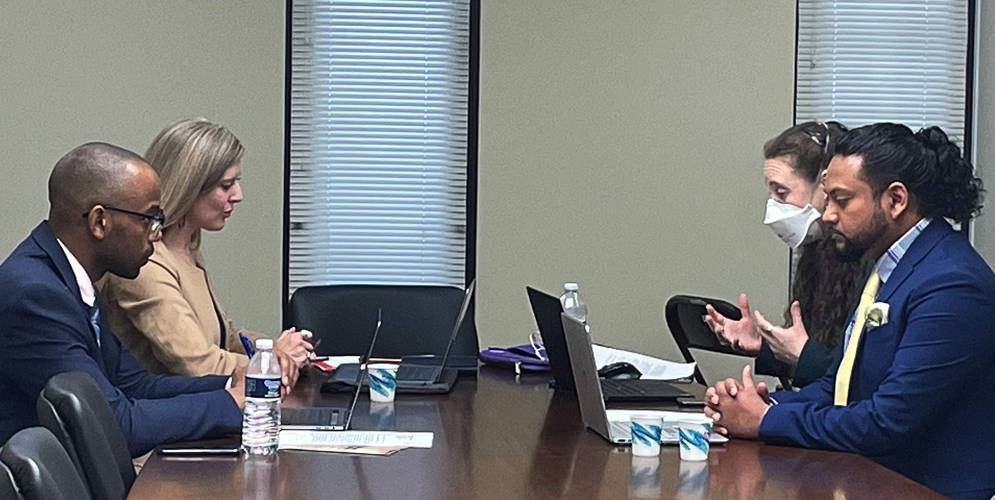 Melissa Broudo moderates "The Criminalization of Sexuality: From Banned Books to Prison Walls" during Equality NY's Advocacy Day.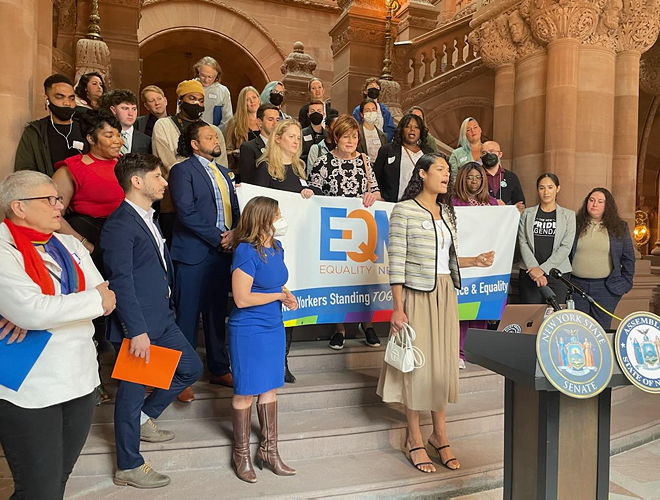 J. Leigh Oshiro-Brantly and Melissa Broudo join other advocates for a press conference during Equality New York's Advocacy Day.
DSW Newsletter #36 (May 2022)
May 10, 2022 The Vermont Senate voted to pass Burlington's charter change, striking harmful language from the city charter. In March, 69% of Burlington residents voted to support equity, safety, and dignity by opting to remove the...
Read More