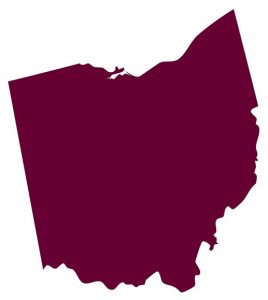 Prostitution in Ohio
HB 314: In Committee (2019-2020)
In July 2019, Representative Adam C. Miller (D) introduced HB 314 to the Ohio House of Representatives. The bill's full title is "To enact section 109.661 of the Revised Code to create the anti-prostitution grant program fund and to make an appropriation." The Anti-Prostitution grant program would be created in the state treasury and administered by the Attorney General. The Attorney General must adopt rules that follow Chapter 119 of the Administrative Procedure Act (APA), which establishes procedures for anti-prostitution programs, including how organizations apply for funding and how to distribute said funds.
Central to the legislation is the stipulation that any organization receiving funding from the program is required to use the money for services and programming aimed at reducing the supply and demand for prostitution. The definition of these "aims" is left up to the Attorney General. Harm-reductive services are sacrificed in favor of punitive anti-prostitution measures that will increase stigmatization and discrimination.
Section 2 of the bill stipulates that the Director of Budget and Management will transfer 1 million dollars in each of FY 2020 and FY 2021 from the GFR to the Anti-Prostitution Grant Program Fund. The Attorney General will then distribute appropriations to organizations that meet the criteria he/she has established.
The result of this bill is multiple 1 million dollar grants to prostitution diversion programs, rather than resources put in the hands of the people who need them most. Under this bill, there is also a danger that access oriented services, such as funding for STI prevention or workplace safety provisions, would be cut or penalized in favor of more punitive programs.
HB 314 is currently in committee. The first hearing was held on January 23rd, 2020.
SB 247: In Committee (2019-2020)
An omnibus criminalization bill was introduced in the Senate on November 26, 2019. The bill amends sections 119.062, 2907.24, 2923.31, 2929.13, 2950.01, 4510.07, and 4510.13 and enacts sections 109.96, 2907.231, and 2907.251 of the Revised Criminal Code.
These amendments separate solicitation charges for the buying and selling of sex, creating an added misdemeanor offense for clients in an attempt to deter demand. Evidence shows that increasing penalties and criminalization of clients does little to impact the size of the market. In Northern Ireland, where laws exclusively target clients, sex workers face increased instances of violence, stigma, and marginalization. Demand has not decreased under partial decriminalization, and sex work advertisements spiked following the law's passage.
In addition to prohibiting a person from engaging in prostitution, the law makes it a crime to receive the proceeds, or otherwise benefit, from sex work. The measure is intended to target traffickers, but in effect, penalizes workers' friends, family members, or any third party they might hire to keep them safe while working. Those "benefiting" from prostitution include sex workers' children and dependents who are of age. The law creates the Sexual Exploitation Public Database, a registry for those convicted of buying, benefitting from, or facilitating prostitution, magnifying stigma and surveillance of both clients and anyone who directly or indirectly receives proceeds from the sale of sex.
This law puts up enormous barriers in the lives of sex workers. Not only could their children be criminalized, but landlords, health care practitioners, and hotel owners could be held liable for allowing sex workers to patronize their services. Increasing the difficulty sex workers face in accessing medical care and housing, and pressuring them to engage in street-based work poses enormous safety and health risks to both those working in prostitution and communities at large. Study after study shows that street-based sex workers are much more likely to face violence and assault and are vulnerable to client pressures not to use protection. The bill includes a $190,000 two-year appropriation for the Attorney Generals office to enact these statutes.
Attorney General Yost collaborated with Ohio lawmakers on the bill, sponsored by Senators Tim Schaffer (R) and Teresa Fedor (R). State representatives Jena Powell (R), Rick Carfagna (R), and Cindy Abrams (R) introduced the House version of the bill. The Attorney General announced at a news conference that the legislation is intended to cut down on demand for sex work by increasing penalties and shaming those who pay for it. "Basic economics works under the premise of supply and demand – and right now we have a demand problem in Ohio," Yost said. "Our goal is to reduce the demand and, in return, rescue victims from this modern-day slavery. Making that a reality starts by unmasking and penalizing those who buy sex or profit from human trafficking." (Gallion Inquirer, 2019)
SB 247 is currently in committee, referred to the Senate Judiciary Committee on December 26th.