August 26, 2019
What we can learn from public support of full decriminalization in the United Kingdom
There is renewed debate among Members of Parliament, unions, and human rights and anti-trafficking groups concerning sex work policy reforms. A study conducted by RightsInfo, a U.K. Human Rights Advocacy Organization, found recently that 49% of the British public would support decriminalization legislation. As the law stands, buying and selling sex among adults is not a crime in the U.K.—but the law does prohibit public solicitation, owning or managing brothels, or any organization between sex workers.
Fiona Bruce, Conservative MP and chair of the Conservative Party's Human Rights Commission, announced in July that she intended to table a bill that had been proposed. The bill would have amended the "complex, confusing and inconsistently applied" laws on sex work in the U.K. But current U.K. law is out of step with public opinion. Niki Adams of the English Collective of Prostitutes, a group that is dedicated to advocating for decriminalization, reports that the public is "horrified that sex workers suffer so much violence and understand that the prostitution laws, which force women to work in isolation," increase the dangers that they face from clients, pimps, and others. In 2015, a poll conducted by YouGov found that 54% percent of the public would support full decriminalization provided it were consensual. The latest poll reinforces these findings, gauging more specific support for the decriminalization of "brothel-keeping" (49% in favor) and street prostitution (44% in favor).
Professor Teela Sanders, criminology expert at the University of Leicester, criticizes sex work laws in the U.K. that do not reflect the "more liberal attitudes towards sexuality" reflected by popular surveys. She suggests that "if politicians were brave enough to think about the impracticalities of current laws and how damaging they are, then there would not be a backlash." Currently, about 72,800 sex workers live in the U.K. Laws "prevent sex workers from working together in safety … criminalizing vulnerable women [which] contributes to the underreporting of a wide range of crimes committed against sex workers and other community members," says Dr. Rosie Campbell, OBE, from York University. In the last three years, there have been 186 prosecutions and 177 convictions for brothel-keeping, 54% of which were against women. In the same period, there were 915 prosecutions and 814 convictions for street solicitation. The majority of these convictions targeted women.
The U.K. example makes it clear that sex work law affects us all. Decriminalization is an intersectional issue that touches on body autonomy, workers' rights, gender and racial equality, and public health. The role of government is to protect the rights, health, and safety of individuals and communities, not to criminalize and endanger consenting adults with false moral claims; popular opinion recognizes this. In the U.S., we have a long way to go. But we can look to the positive changes in places like New Zealand, and even the U.K., who have taken steps towards decriminalization, for our path forward.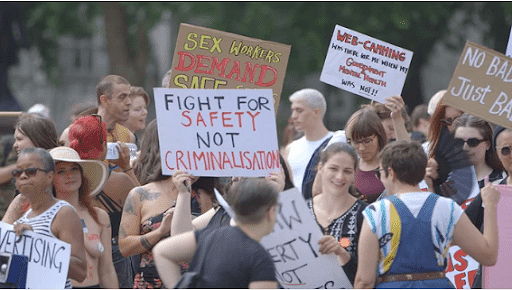 Activists from the English Collective of Prostitutes demonstrate against legislation that coerces women into working alone in their Make All Women Safe campaign. (Photo: Jake Hall/Vice UK, 2019)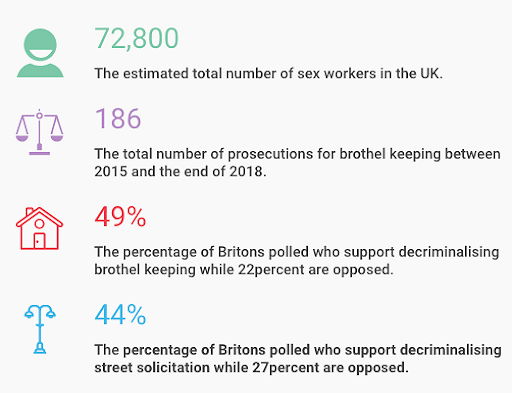 Statistics on sex worker and public opinion in the U.K. (Image: RightsInfo.org, 2019)
DSW Newsletter #6 (September 2019)
September 5, 2019 DSW attended the International Human Trafficking and Social Justice Conference in Toledo, Ohio. The conference has been an annual event since 2004, bringing together researchers, survivors, allies,...
Read More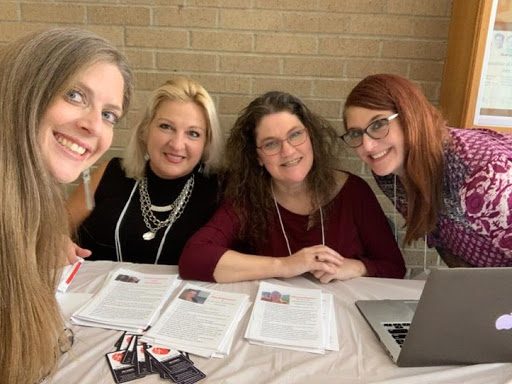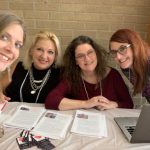 DSW Attends International Human Trafficking and...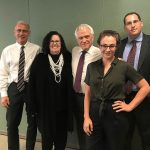 DSW Supports the Fight Against FOSTA...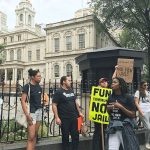 Historic Prison Reform in NYC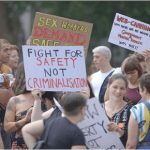 Could Britain Be Next?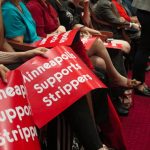 Dancers Unite! Historic Legislation on Stripper...